Kabbage from American Express' September 2022 installment of Small Business Recovery Report, which polls 550 small-business leaders and tracks the recovery trends and growth outlook of U.S. small businesses, presented some surprising and encouraging findings.
The report reveals that respondents nearly doubled revenue year-over-year between July 2021 and July 2022 while profits remained flat amidst economic hurdles such as inflation and supply chain disruptions.
In the previous version of the Small Business Recovery report, from June 2022, 80% of respondents said they were confident they could withstand a potential U.S. recession. The data from the latest report helps illustrate why small-business owners (SBOs) are so optimistic. Cross-analyzing the survey results between July 2021 and July 2022, the data shows U.S. small-businesses revenues have increased on average by 87%.
This trend is on point for Stefan Kalb, CEO of Shelf Engine, a grocery store forecasting business that results in more products on the shelves and less spoilage. "We're one of the few fortunate businesses that prospers amidst economic challenges, as they create more demand for our solutions," he says. "The grocery industry operates on razor-thin margins and needs every tool at its disposal to cut costs. That's especially true now, as rising inflation means consumers are carefully watching every dollar they spend." 
Managing Revenue When Costs Are High
Not every business is in as good a position as Shelf Engine, however. While overall profits among U.S. small businesses have slightly declined four percent, 75% of respondents report feeling impacted by inflationary pressures and 56% of respondents expect economic pressures to last through summer 2023. SBOs are doing their best to manage increasing costs.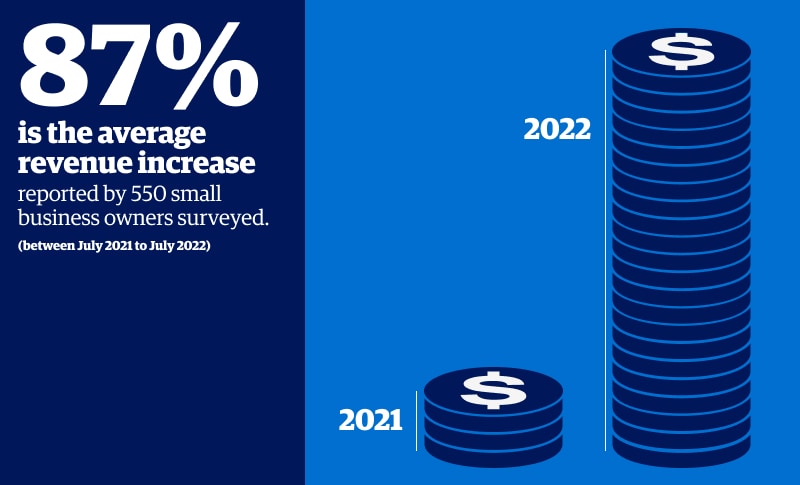 Kristina Schlegel, CEO and founder of California-based food crafting company Make Bake, has noticed these trends in her own business. "We've definitely seen our revenue grow as we've expanded our wholesale business from 50 to nearly 200 retailers in the last 12 months," she says. "But inflation in our supply chain has certainly cut into those profits. As a business, we're also in that 'messy middle' – incurring more costs in product development, marketing, and trade shows to get to the next level as a brand. And it's challenging to be in a growth phase of your business while your costs are rising so quickly."
We looked at what's been working well for us over the last 12 months and doubled down on those activities. It's tempting to want to do new things, but this strategy has paid off and has allowed us to grow the business and not operate under duress in the process.
—Kristina Schlegel, CEO and founder, Make Bake
In response to economic headwinds, 37% of Small Business Recovery Report respondents plan to raise prices, 22% aim to negotiate better deals with suppliers, and 22% are cutting lower margin products and services. An additional 33% of small businesses plan to prioritize customer relations and strengthen customer loyalty.
Tom Griffiths is CEO of Hone, an enterprise training company. His measures to "stay lean and save money" include being fully remote, both for the reduced real estate footprint and the ability to hire outside of the most expensive markets and simplify the company's already competitive pricing structure.
Schlegel has negotiated better pricing from suppliers and has invested more in building her brand so she could justify raising her own prices. "We make edible stickers for baking and food crafting with kids. We now use better photography and storytelling and provide a premium experience that helps people delight their kids, and so they're a little less price sensitive," she says.
Make Bake has also narrowed its focus. "When the costs of adding new product categories, marketing in new channels, and hiring more help all go up, what is already a small business budget gets stretched even thinner," she explains. "So we looked at what's been working well for us over the last 12 months and doubled down on those activities. It's tempting to want to do new things, but this strategy has paid off and has allowed us to grow the business and not operate under duress in the process."
Prioritizing Customers to Increase Loyalty
At Shelf Engine, Kalb saw that his grocery store customers were facing challenges on multiple fronts: inflation, supply chain disruptions, labor shortages, intensifying competition, and more. "To succeed, they needed flexibility to customize solutions to their specific concerns. In response, we decided on a new pricing option," he says. "Traditionally, our customers paid a fee on every item we ordered for them that sold. Now they can choose a flat fee per month if that fits their needs better. The flat fee makes it easier for customers to budget during unpredictable times."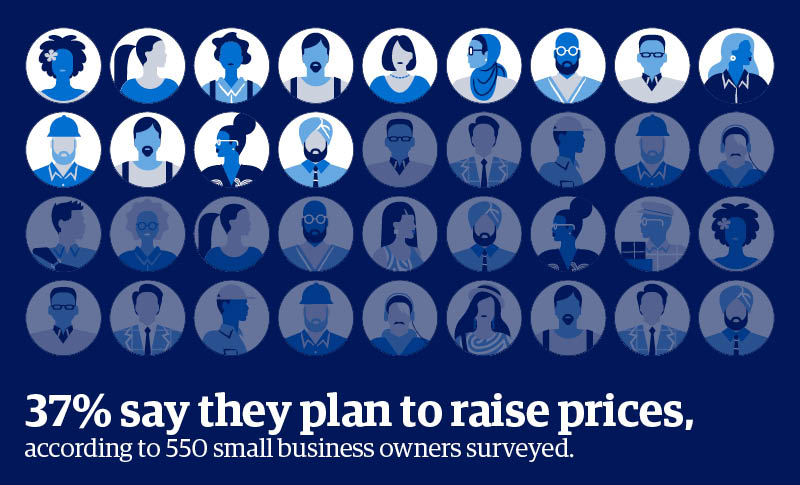 Prioritizing customers was a pervasive theme in the conversations with small-business owners. Tom Griffiths of Hone shared that during the pandemic period, he was most focused on helping his corporate customers get a higher return on investment on their training budgets and delivering measurable impacts for their teams. It remains very important to him that participants trained by Hone have a noticeable, sustained, behavior change and that they are better at their jobs because they used the platform.
"We're expanding our toolset to help learners apply their training to everyday interactions and deepening our course catalog in areas like manager development, DEI, collaboration, and people skills so that our customers' teams are well-equipped to navigate today's environment," he says. "This will positively impact the performance of more companies and in turn reach more customers."
Shelf Engine's strategy is to increase customer loyalty and win new business by educating grocers about the value of intelligent forecasting. "We're investing in marketing to let current and prospective customers know how our technology helps people, the planet, and profits," says Kalb. "Many grocers offer more or less the same products or services at similar prices. The secret sauce that makes a business stand out is the customer experience. Using intelligent technology like ours frees up staff time from ordering products so employees can focus on wowing their customers." 
SBOs like Schlegel have certainly illustrated the creativity and resiliency of the respondents in the Small Business Recovery Report. Her strategy is a version of "do right by your brand and your customers and the money will follow." "I've always believed that investing in a great brand backed by quality products and earnest customer service creates loyal customers. People can try to copy your product, but it's a lot harder to mimic the authenticity of your brand," she says.