Business Cards
Cards
Business Cards
Payment Solutions
Payment Solutions
Payment Solutions
Resources
Resources
Other Resources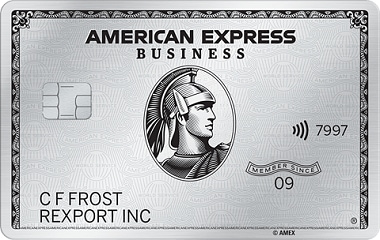 The Business Platinum Card® from American Express
The Business Platinum Card® from American Express
Traveling for business doesn't have to feel like work
Get 5X Membership Rewards® points on flights and prepaid hotels on amextravel.com‡
50% more points on qualifying large business purchases‡ and 35% Airline Bonus.‡
$200 Airline Fee Credit. Select one qualifying airline and then receive up to $200 per calendar year in statement credits when incidental fees, such as checked bags and in-flight refreshments, are charged by the airline to your Business Platinum Account.*‡

$595 annual fee

No interest charges because you pay your balance in full each month.‡

For months when you may need additional time to pay, we offer a feature that allows you to pay certain purchases over time with interest. If eligible, you may be given the option to enroll in the Pay Over Time feature‡, and if you choose to enroll, you will accrue interest on all eligible purchases when you choose to carry a balance.
*American Express relies on accurate airline transaction data to identify incidental fee purchases. If you do not see a credit for a qualifying incidental purchase on your eligible Card after 4 weeks, simply call the number on the back of your Card. See terms & conditions for more details.
Get a Decision in as little as 30 seconds
♦︎‡†Offer & Benefit Terms
| 
¤Rates & Fees
The Business Platinum Card® from American Express
Traveling for business doesn't have to feel like work
Featured Business Platinum Card® Benefits
Membership Rewards® Points
5X points
on flights and prepaid hotels on amextravel.com.‡
1.5X points
on each eligible purchase of $5,000 or more (that's an extra half point per dollar). Up to 1 million additional points per calendar year.‡
1X points
for each dollar you spend on eligible purchases.‡
Terms and limitations apply.
---
Up to $200 annual Dell statement credit
Get up to $100 in statement credits between January and June and up to $100 in statement credits between July and December for U.S. purchases with Dell on your Business Platinum Card when enrolled. That's up to $200 in statement credits annually.‡
---
American Express Global Lounge CollectionSM
We're #1 where it counts. With more than 1,200 airport lounges across 130 countries and counting, the American Express Global Lounge CollectionSM* offers travelers more lounge options than any other card on the market. Enjoy the highest levels of luxury at any of our own networks, The Centurion® Lounge and The International American Express lounges, or visit one of our partners including Delta Sky Club® when flying Delta or a Priority PassTM Select lounge once enrolled.‡

*Based on comparison with other U.S. credit card programs, as of 5/2018.
---
Business Platinum Card® Benefits & Details
Premium Travel and Transportation

for comfortable, VIP experiences

5X Membership Rewards® Points5X Membership Rewards® points on flights and prepaid hotels on amextravel.com.‡

35% Airline Bonus‡Use Membership Rewards® Pay with Points for all or part of an eligible fare and get 35% of those points back, up to 500,000 points back per calendar year.*

*Eligible fares include First and Business Class tickets with all airlines available through American Express Travel, as well as any fare class with your selected qualifying airline.‡

American Express Global Lounge Collection‡We're #1 where it counts. With more than 1,200 airport lounges across 130 countries and counting, the American Express Global Lounge CollectionSM* offers travelers more lounge options than any other card on the market. Enjoy the highest levels of luxury at any of our own networks, The Centurion® Lounge and The International American Express lounges, or visit one of our partners including Delta Sky Club® when flying Delta or a Priority PassTM Select lounge once enrolled.‡

*Based on comparison with other U.S. credit card programs, as of 5/2018.

No Foreign Transaction Fees¤Do business globally and pay no foreign transaction fees on your purchases.‡

American Express will not charge any foreign transaction fee on the purchases you make outside of the United States with your Card. However, there may be circumstances where ATMs or merchants charge a fee on foreign transactions.

$200 Airline Fee CreditSelect one qualifying airline and then receive up to $200 per calendar year in statement credits when incidental fees, such as checked bags and in-flight refreshments, are charged by the airline to your Business Platinum Account.*‡*American Express relies on accurate airline transaction data to identify incidental fee purchases. If you do not see a credit for a qualifying incidental purchase on your eligible Card after 4 weeks, simply call the number on the back of your Card. See terms & conditions for more details.‡

Fee Credit for Global Entry or TSA Pre

✔

®Receive a statement credit every 4 years after you apply for Global Entry ($100) or every 4.5 years after you apply for TSA Pre

✔

® ($85) with an eligible Card. If approved, you can get expedited screening at select airports. If approved for Global Entry, at no additional charge, you will receive access to TSA Pre

✔

®. Each Additional Card on eligible Card accounts is also eligible for one statement credit for an application fee every 4 years for Global Entry or every 4.5 years for TSA Pre

✔

®. To receive the statement credit, the application fee must be charged on the eligible Additional Card .‡ To read the full terms and conditions, visithere.

Fine Hotels & Resorts® ProgramReceive this exclusive suite of benefits with each Fine Hotels & Resorts® booking: Room upgrade upon arrival, when available1‡, Daily breakfast for two people, Guaranteed 4pm late check-out, Noon check-in, when available, Complimentary Wi-Fi, Unique amenity valued at US$100, such as a spa or food and beverage credit.2‡ See Program terms and conditions for additional details.‡ To book your stay, visit americanexpress.com/fhr or call Business Platinum Travel Service at 1-800-553-9497.1Certain room categories are not eligible for upgrade.
2Special amenity varies by property.

MARRIOTT BONVOYTM GOLD ELITE STATUSAs a Business Platinum Card Member, you can upgrade to Marriott BonvoyTM Gold Elite status without meeting any stay requirements. Terms and limitations apply.‡

Hilton Honors Gold StatusWith Hilton Honors Gold status, you can enjoy benefits at hotels and resorts within the Hilton Portfolio and earn reward stays faster with Hilton Honors Bonus Points.‡

Business Platinum Travel ServicePlatinum travel counselors specialize in providing custom itineraries and tailored recommendations to help you make the most of your travels.‡

Trip Delay InsuranceIf you purchase a round-trip entirely with your eligible Card on or after January 1, 2020 and a covered reason delays your trip more than 6 hours, we may be able to help. Terms, conditions and limitations apply.1*1Coverage is provided by New Hampshire Insurance Company, an AIG Company.

*Coverage is provided by New Hampshire Insurance Company, an AIG Company, at no-additional-cost to the Card Member. Coverage is subject to certain terms, conditions and limitations, including limitations on the amount of coverage. This benefit provides secondary coverage. For more information about the coverage, please see the Guide to Benefits at americanexpress.com/TDTerms.

Trip Cancellation and Interruption InsuranceIf you purchase a round-trip entirely with your eligible Card on or after January 1, 2020 and a covered reason cancels or interrupts your trip, we may be able to help. Terms, conditions and limitations apply.1*1Coverage is provided by New Hampshire Insurance Company, an AIG Company.

*Coverage is provided by New Hampshire Insurance Company, an AIG Company, at no-additional-cost to the Card Member. Coverage is subject to certain terms, conditions and limitations, including limitations on the amount of coverage. This benefit provides secondary coverage. For more information about the coverage, please see the Guide to Benefits at americanexpress.com/TCITerms.

Platinum Level Rewards and Services

to get more out of your Card

1.5X Points on Large PurchasesGet 50% more points on each eligible purchases of $5,000 or more (that's an extra half point per dollar). Up to 1 million additional Membership Rewards® points per calendar year.‡

Business Platinum Card ConciergeDelegate your to-do list and enjoy efficiencies. Business Platinum Card Concierge offers you complimentary assistance with arranging lunch meetings, procuring concert tickets to entertain clients, booking ground transportation and more. Turn to Concierge anytime, day or night wherever you are. Simply call the number on the back of your Card and say "Concierge" when prompted or send your Concierge request to PlatinumRequests@concierge. americanexpress.com from the e-mail associated with your American Express account.‡

Preferred Seating ProgramGet access to premium seats for select cultural and sporting events, based on availability.‡

Car Rental Loss and Damage Insurance♦As a Card Member, You can be covered for Damage to or Theft of a Rental Vehicle in a Covered Territory when You use your Eligible Card to reserve and pay for the Entire Rental and decline the collision damage waiver at the Rental Company counter. Please read important exclusions and restrictions. Not all vehicle types or rentals are covered. Coverage is not available for vehicles rented in Australia, Italy and New Zealand. This product provides secondary coverage and does not include liability coverage.

Global Dining CollectionWith the Global Dining Collection, you get special access to reservations and extraordinary experiences at restaurants that the Business Platinum Card Members love, as well as the opportunity to meet some of your favorite chefs at exclusive culinary events.‡

Baggage Insurance Plan♦Travel more comfortably knowing you can be covered for lost, damaged, or stolen Baggage when you purchase the Entire Fare for a Common Carrier Vehicle ticket (e.g. plane, train, ship, or bus) on an Eligible Card. Coverage can be provided for up to $2,000 for checked Baggage and up to a combined maximum of $3,000 for checked and carry-on Baggage. The coverage is also subject to a $3,000 aggregate limit per Covered Trip. For New York State residents, there is a $2,000 per bag/suitcase limit for each Covered Person with a $10,000 aggregate maximum for all Covered Persons per Covered Trip. Please read important exclusions and restrictions.

Premium Global Assist® HotlineWith Premium Global Assist® Hotline, when you travel more than 100 miles from home, we can provide you with 24/7 medical, legal, financial or other select emergency coordination and assistance services. Emergency medical transportation assistance may be provided at no cost, if authorized and arranged by Premium Global Assist Hotline. Card Members may be responsible for the costs charged by third-party service providers.

Premium Car Rental PrivilegesEnjoy complimentary membership in premium car rental programs, including special upgrades and discounts‡.

Expense Management Tools

to help you track and organize expenses

Employee CardsGet the most out of your Business Card by adding Employee Cards. Earn Membership Rewards®‡ on eligible employee purchases, plus track employee spending with alerts and summary reports.‡

Account ManagerLet someone you trust give you a hand.
Assign a trusted employee or business partner to be an Account Manager on your Business Card account.‡ They can handle tasks like reviewing statements, making payments, and disputing charges on your Business Cards, so you're free to focus on other aspects of your business.‡

American Express® Business AppSimplify the way you and your employees manage Business Card receipts with the American Express® Business App.‡

Account AlertsSet Account Alerts to help you avoid late payments, notify you of irregular activity, and monitor Employee Card spending.

Year-End SummaryAt the end of the year, see a summary that categorizes your spend by month and purchase type, and helps you track your business expenses down to the last detail.‡

Online StatementsView your purchase history, prepare reports, and budget your expenses.

Amex® AppEasily manage your account, pay your bill, check your balance, view your benefits and more from your mobile phone or tablet.‡

Vendor Pay by Bill.com‡You can make the most out of paying your business bills and you can earn Membership Rewards® points. Improve your cash flow and take advantage of Card benefits when you use your Card to pay bills with Vendor Pay by Bill.com.
Take advantage of Vendor Pay by Bill.com by enrolling your Card. The Basic plan has no monthly fee for the first user and no fee for a second user for six months. After six months, the second user will have a fee of $15 per month. Enrollment required.

Even More Benefits

for Card Members

Extended Warranty♦With Extended Warranty♦ you can shop with less worry knowing the terms of the original manufacturer's warranty can be extended up to one additional year. Applies to warranties of 5 years or less on Covered Purchases in the United States or its territories or possessions.

Purchase Protection♦As a Card Member, your Covered Purchase can be covered for up to 90 days from the Covered Purchase date when you charge the Covered Purchased item with your Eligible Card account. Please read important exclusions and restrictions.

Dispute ResolutionIf there is a fraudulent or incorrect charge on your statement, American Express will work with you to help resolve the issue.‡

Amex OffersAmex Offers is a simple and easy way to make your life more rewarding. With offers for shopping, dining, travel, and more, there's something for everyone. Adding offers to your Card is quick, easy, and best of all, incredibly rewarding.‡
♦︎‡†Offer & Benefit Terms
| 
¤Rates & Fees
♦︎‡†Offer & Benefit Terms
| 
¤Rates & Fees