Business Cards
Cards
Business Cards
Payment Solutions
Payment Solutions
Payment Solutions
Resources
Resources
Other Resources
Due to the impact of COVID-19,
for eligible Card accounts approved from December 1, 2019 through May 31, 2020 for which you are eligible for a welcome offer, the period to make eligible purchases to earn your welcome bonus will be extended for an additional 3 months. Eligible Cards are U.S. Consumer and Business Cards issued by American Express National Bank to a Basic Card Member.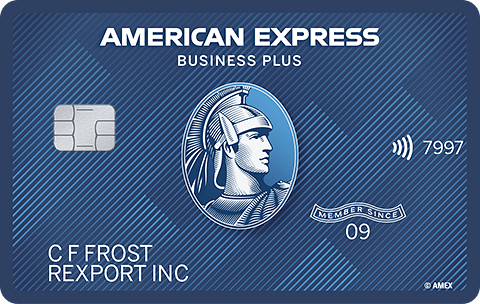 Blue Business® Plus Credit Card from American Express
Blue Business® Plus Credit Card from American Express
Fuel your vision with 2x points‡
Earn 2X Membership Rewards® points on everyday business purchases up to $50,000 with no category restrictions‡
$0 annual fee‡
Get a Decision in as little as 30 seconds
♦︎‡†Offer & Benefit Terms
| 
¤Rates & Fees
Blue Business® Plus Credit Card from American Express
Fuel your vision with 2x points‡
Featured Blue Business® Plus Credit Card Benefits
Membership Rewards® Points
Earn points fast with 2X points and no category restrictions, all without an annual fee.‡
2X points
on the first $50,000 in purchases each year‡
1X points
on purchases thereafter‡
---
Expanded Buying Power
Make business purchases over your credit limit* when you need to with no penalty or enrollment, and still earn Membership Rewards® points on those purchases. At the end of your billing cycle, the portion above your credit limit is due in full and you still get to choose whether or not to carry the remaining balance with interest. Use it to invest in new equipment, replace old equipment, take advantage of bulk and early pay discounts and more.‡
*The amount you can spend above your credit limit is not unlimited. It adjusts with your use of the Card, your payment history, credit record, financial resources known to us, and other factors.
---
Blue Business® Plus Credit Card Benefits & Details
Expense Management Tools

to help you track and organize business expenses

Employee CardsThere is no annual fee for additional Employee Blue Business® Plus Credit Cards. Plus, When you add an Additional Employee Card Member to your account, you earn Membership Rewards® points on their eligible purchases in addition to the points you earn on your own Card.‡

Account ManagerWhen you designate an Account Manager, you can allow trusted individuals - like an assistant or business partner - to access and manage your Business Card account. So you can trust your Account Manager to get the work done when you can't be there.‡

American Express® Business AppSimplify the way you and your employees manage Business Card receipts with the American Express® Business App.‡

Account AlertsSet Account Alerts to help you avoid late payments, spot you of irregular activity, and monitor Employee Card spending.

Year-End SummaryAt the start of each year, we provide access to a Year-End Summary of charges so you can review your annual spending. Log into your American Express online account to view an interactive overview of your spending in pie or bar charts, organized by categories like travel and restaurants. You can also download or print your information to help prepare for your taxes and manage your spending.‡

Online StatementsView your purchase history, prepare reports, and budget your expenses.

American Express® AppTrack spending and rewards, find offers, make a payment, and get important account alerts in real-time with the American Express® App.‡

Vendor Pay by Bill.com‡You can make the most out of paying your business bills. Improve your cash flow and take advantage of Card benefits when you use your Card to pay bills with Vendor Pay by Bill.com.
Take advantage of Vendor Pay by Bill.com by enrolling your Card. With the Basic plan, there is no monthly fee for the first user. Additional fees may apply based on plan type and number of users.

Customer Service

and 24/7 support, whenever you need us

Relationship Care® ServiceGet round the clock, world-class customer support from our special brand of Relationship Care® service. Simply call the number on the back of your Card to speak to one of our Customer Care Professionals who are specially trained to understand the needs of small business owners and can provide you with business-savvy support. We are committed to serving your unique needs and helping you unlock the power of your Card.

Global Assist® Hotline‡When you travel more than 100 miles from home, you have 24/7 access to medical, legal, financial or other select emergency coordination and assistance services, including medical and legal referrals, assistance with cash wires, passport replacement, missing luggage and more. Card Members are responsible for the costs charged by third-party service providers.

Car Rental Loss and Damage Insurance♦︎As a Card Member, you can be covered if your eligible rental car is damaged or stolen when you use your eligible Card to reserve and pay for the entire eligible vehicle rental and decline the collision damage waiver at the rental car counter. Please read important exclusions and restrictions. Not all vehicle types or rentals are covered. Coverage is not available in Australia, Italy, and New Zealand. This product provides secondary coverage and does not include liability coverage.

Even More Benefits

for Card Members

Dispute ResolutionIf there is a fraudulent or incorrect charge on your statement, American Express will work with you to help resolve the issue.‡

Amex OffersAmex Offers is a simple and easy way to make your life more rewarding. With offers for shopping, dining, travel, and more, there's something for everyone. Adding offers to your Card is quick, easy, and best of all, incredibly rewarding.
♦︎‡†Offer & Benefit Terms
| 
¤Rates & Fees
♦︎‡†Offer & Benefit Terms
| 
¤Rates & Fees