Small to Mid-Sized Businesses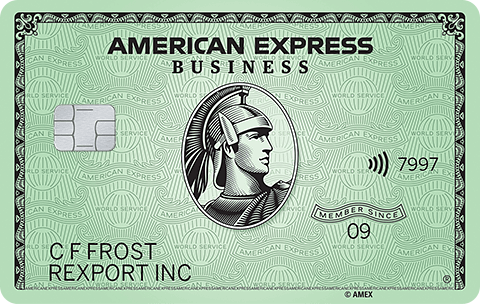 Business Green Rewards Card from American Express
Earn unlimited points
for your business.‡
Earn Membership Rewards® points when you make purchases on your Card.‡
$0 intro annual fee for the first year, then $95†¤
No interest charges because you pay your balance in full each month. For months when you may need additional time to pay, we offer a feature that allows you to pay certain purchases over time with interest.  If eligible, you may be given the option to enroll in the Pay Over Time feature, and if you choose to enroll, you will accrue interest on all eligible purchases when you choose to carry a balance.‡¤
♦︎‡†Offer & Benefit Terms
| 
¤Rates & Fees
Business Green Rewards Card from American Express
Earn unlimited points
for your business.‡
Featured Business Green Rewards Card Benefits
Membership Rewards® Program
The Membership Rewards program keeps it simple. Just use your Card for purchases, large or small, and watch the points add up. Plus, there's no limit to how many points you can earn, and don't worry about expiration dates because there aren't any.‡
---
Membership Rewards® Points
You can use Membership Rewards® points towards eligible charges you make on your Card, such as retail, dining, entertainment and more.‡
1X points
for each dollar you spend on eligible purchases.‡
2X points
for each dollar you spend on eligible purchases at amextravel.com.‡
Terms and conditions apply. To learn more, please visit the Membership Rewards site.
---
Business Green Rewards Card Benefits & Details
Travel & Transportation

perks and protection when you're doing business on the road

Membership Rewards® Pay With PointsYou can use Membership Rewards® points for all or part of your flight, hotel booked and paid in advance, and vacation or cruise booking with American Express Travel.‡

Car Rental Loss and Damage Insurance♦︎As a Card Member, you can be covered if your eligible rental car is damaged or stolen when you use your eligible Card to reserve and pay for the entire eligible vehicle rental and decline the collision damage waiver at the rental car counter. Please read important exclusions and restrictions. Not all vehicle types or rentals are covered. Coverage is not available in Australia, Italy, and New Zealand. This product provides secondary coverage and does not include liability coverage.

Roadside Assistance HotlineYour car dies or blows a tire and you're stranded. Now what? Luckily you're a Card Member. Call the number on the back of your Card for Roadside Assistance Hotline.‡ Coordination and assistance with obtaining emergency services like towing, changing a flat, or boosting a battery are a phone call away and you can use your Card to pay. And soon you'll be on your way. Third-party service costs are your responsibility. There are some vehicle exclusions and other important restrictions.

Baggage Insurance Plan♦︎Travel more comfortably knowing you can be covered by the Baggage Insurance Plan♦︎ for eligible lost, damaged, or stolen baggage when you purchase the entire fare for a Common Carrier ticket (e.g. plane, train, ship, or bus) on your eligible Card. Coverage can be provided for up to $1,250 for carry-on baggage and up to $500 for checked baggage. For New York State residents, there is a $10,000 aggregate maximum limit for all Covered Persons per Covered Trip. Please read important exclusions and restrictions.

Global Assist® HotlineWhen you travel more than 100 miles from home, you have 24/7 access to medical, legal, financial or other select emergency coordination and assistance services, including medical and legal referrals, assistance with cash wires, passport replacement, missing luggage and more. Card Members are responsible for the costs charged by third-party service providers.‡

Travel Accident Insurance♦︎Worry less about the unthinkable happening to you on your Covered Trip. If an accident causes your Death, membership can provide added financial security to your beneficiaries. Travel Accident Insurance♦︎ can cover travel by plane, train, ship, or bus when you purchase the entire fare on your eligible Card. Please read important exclusions and restrictions.

Expense Management Tools

to help you track and organize expenses

Employee CardsThere is $0 annual fee for each additional Employee Business Green Rewards Card. Plus, every Card can get Membership Rewards® points on purchases your employees make.‡

Account ManagerWhen you designate an Account Manager, you can allow trusted individuals - like an assistant or business partner - to access and manage your Business Card account. So you can trust your Account Manager to get the work done when you can't be there.‡

Spend ManagerSMSpend ManagerSM is a feature available to help you manage your Card expenses by allowing you to add receipts and notes to your transactions either via desktop or your mobile device.‡

Connect to QuickbooksLabel and transfer your transaction data from your American Express online statement directly into your QuickBooks account.‡

Account AlertsSet Account Alerts to help you avoid late payments, notify you of irregular activity, and monitor Employee Card spending.

Year-End SummaryAt the end of the year, see a complete summary that categorizes your spend by month and purchase type, and helps you track your business expenses down to the last detail.‡

Online StatementsView your purchase history, prepare reports and budget your expenses.

Mobile and Tablet AppsEasily manage your account, pay your bill, check your balance, view your benefits and more from your mobile phone or tablet.

Even More Benefits

for Card Members

Extended Warranty♦︎With Extended Warranty♦︎ you can shop with less worry knowing the terms of the original manufacturer's warranty can be extended up to two additional years*. Applies to warranties of 5 years or less that are eligible in the U.S. Please read important exclusions and restrictions.
*For residents of Indiana, Guam, Puerto Rico, and Northern Mariana Islands, Your coverage will continue to match the original warranty period for warranties of less than one (1) year or provide one (1) additional year if the warranty is between one (1) and five (5) years.

Purchase Protection♦︎When something you buy breaks or is stolen, Purchase Protection♦︎ can have you covered. Use your Card for eligible purchases, and your purchases can be protected from accidental damage or theft for up to 120 days* from the moment you buy them. Please read important exclusions and restrictions.
*For residents of New York, Indiana, Guam, Puerto Rico, and Northern Mariana Islands coverage duration remains at 90 days.

Dispute ResolutionIf there is a fraudulent or incorrect charge on your statement, American Express will work with you to help resolve the issue.‡

Amex OffersAmex Offers is a simple and easy way to make your life more rewarding. With offers for shopping, dining, travel, and more, there's something for everyone. Adding offers to your Card is quick, easy, and best of all, incredibly rewarding.
♦︎‡†Offer & Benefit Terms
| 
¤Rates & Fees
♦︎‡†Offer & Benefit Terms
| 
¤Rates & Fees