How many times have you jumped online to search for a business near you or to find a specific product? And how rarely do you navigate beyond the first page of search results?
Your answer is likely to reveal why it's so important for small businesses to show up when potential customers look for your brand, services or products. In many cases, these are qualified leads ready to visit or even make a purchase. But ranking in search results can be tricky.
With over 90 per cent of Aussies turning to Google for their online searches1, who better to give digital marketing advice than Google's own? The latest in our Amex Idea Exchange Master Class Series, Stand Out Online, provided a digital marketing crash course from two Google strategists, Tom O'Connor and Georgia O'Sullivan.
To make sure viewers get a sense of practical application, Jane Cay, founder of birdsnest, shared her experience with how online presence helped her brick-and-mortar store thrive – along with why you don't need to be a technical whiz to do the same. Here are some quick takeaways from their discussion.
Why does search matter to small businesses?
Georgia explained that showing up online is important regardless of your industry or business type. It's easy to understand why e-commerce businesses need to get in front of potential customers, but even brick-and-mortar stores selling in-person services have to show up for users who are researching details like location or opening hours.
"The key takeaway here is that your website is now the new front door for your business," said Georgia.
With both a digital and a physical presence, Jane's business is a perfect example.
"Search represents about 40 per cent of the traffic to our site, and paid search makes up about 90 per cent of the total revenue we achieve," she said.
This online presence – one that extends into multiple channels, including social – has helped the business flourish despite two major economic crises.
"We launched at the beginning of the financial crisis in 2008. By 2011, we had champagne one Friday night because we realised that our website traffic was the equivalent of our entire town walking through our store in a day."
Tom noted that, before COVID-19, Google was already driving 130 million connections between users and Australian businesses. Now, online usage is skyrocketing, with 1 million new Australian households shopping online.2
Understanding components of search
Georgia took viewers through the components of a search results page and how businesses can use each one to reach potential customers during "micro-moments" – the exact moment when a user is looking for your product or service.
Georgia and Tom started with Google My Business and Google Ads. Georgia started by taking the audience through creating and maintaining a My Business profile, while Tom moved toward explaining the role of paid ads and reiterated how non-linear user journeys can be.
"First a user might Google 'how to fix a broken fridge.' They might then read an article with a few steps involved. They might visit an online store to check prices for sockets, ratchets and wire cutters. Then finally end up on YouTube where they watch a DIY tutorial. Now after all that, they might think, 'You know what? This is just too tough,' so they go to Google Maps to search for a local handyman and book an appointment."
That last part of the journey is a micro-moment, and paid ads can help businesses reach users at this critical point. Unlike traditional marketing campaigns, these ad campaigns don't always require big budgets, while the ability to track user behaviour makes it easier to measure and tweak the investment. Tactics also encompass moments beyond the search results page itself, with display and video representing some of the most popular types of campaigns.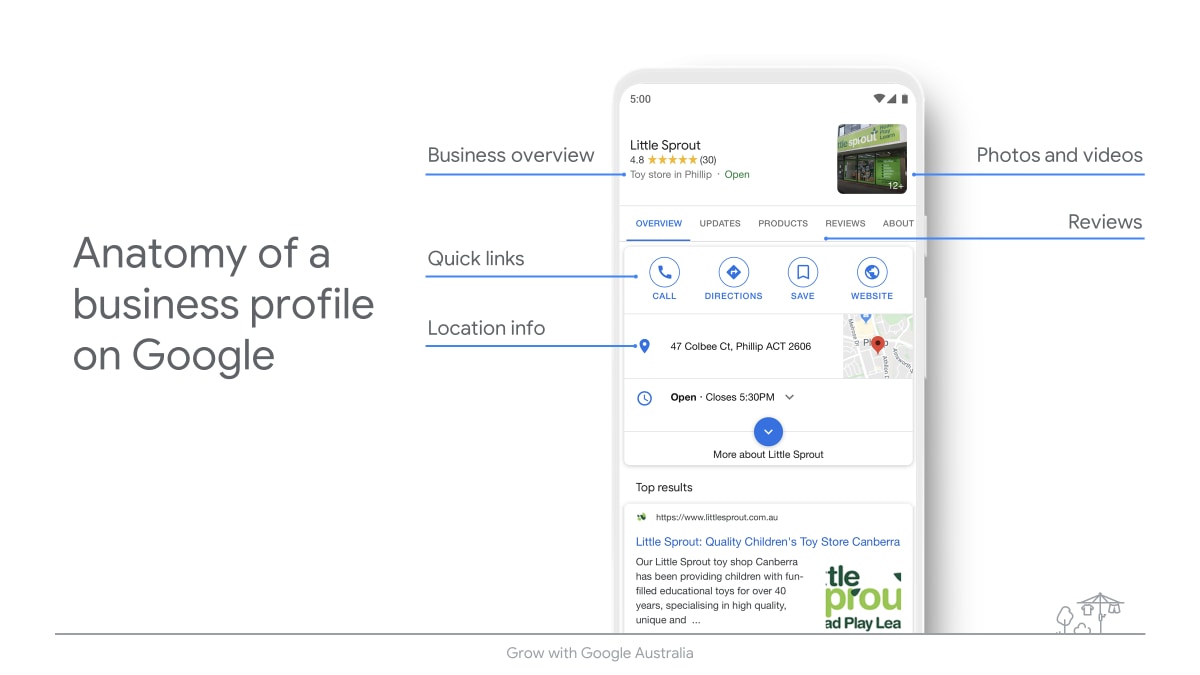 This only scratches the surface of Tom and Georgia's advice, but they listed three important, free tools and one major resource for standing out online: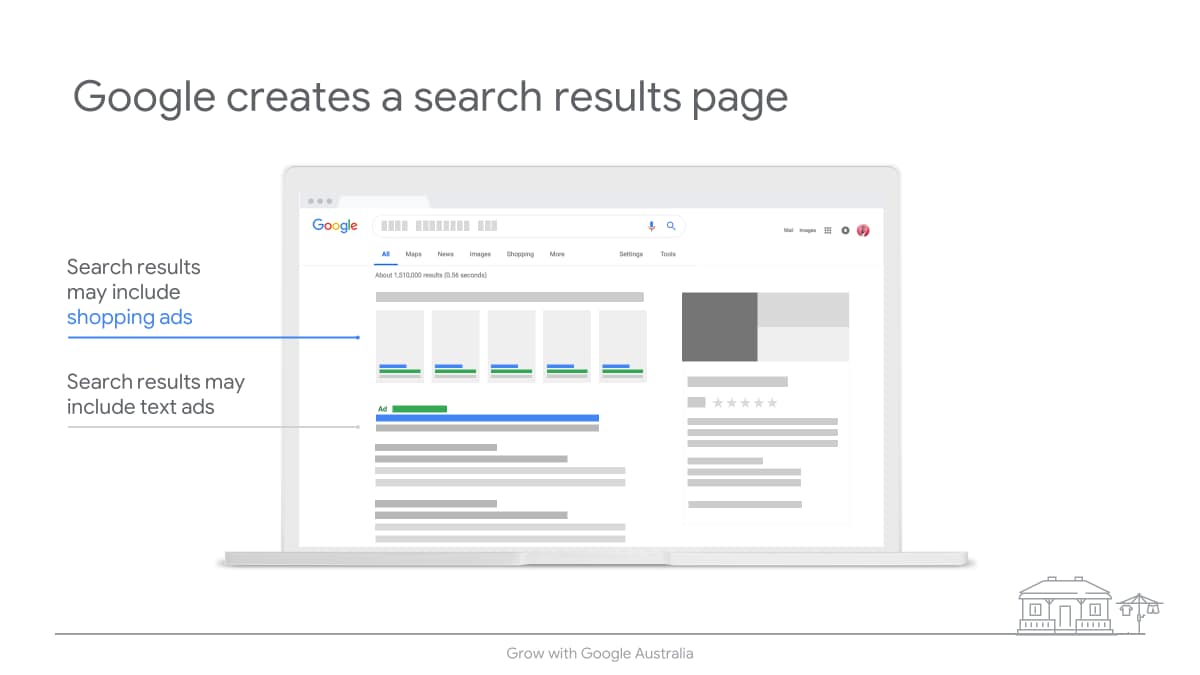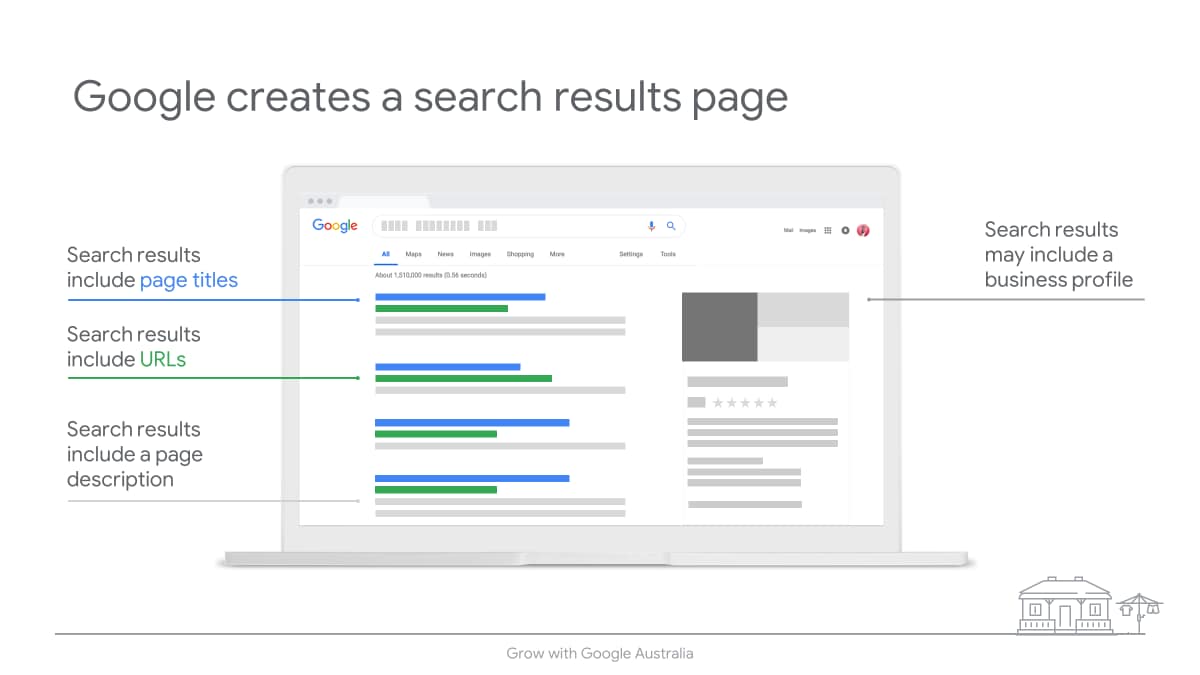 When in doubt, prioritise experience
Showing up online and navigating search algorithms often boils down to making users' lives easier. Is your business easily spotted on Google My Business and Google Maps? Are the details accurate? Is your website fast, and is it easy for users to find the information they're looking for?  Are you using clear, straightforward language? How easy is it for customers to engage with you?
These are principles that don't stop at digital marketing or online search.
"You can have the best marketing in the world but ultimately it's about looking after the customer you have," said Jane. "People talk about these scary algorithms but a lot of it comes down to delivering a good experience for your customer. So, if you have a fast site that's easy to navigate on mobile, that'll help you be more easily found."
This guides many of birdsnest's marketing and customer experience decisions, including a highly customisable on-site experience that allows them to search by body shape or outfit type. Despite personalised search functions and email marketing, Jane says they also include handwritten notes and attentive customer service.
"We decided that when we went online, we still wanted it to feel personal. In the end, I think it all comes back to putting the customer at the centre."
This edition of our Master Class Series ranged all kinds of in-depth advice for standing out in search results and setting up campaigns that get you noticed across the internet. Don't miss the full masterclass.
Takeaways
Consumers increasingly go online to search for products or research businesses. Even if you don't have an e-commerce business, it's a growing priority for your business to show up when customers are searching for information.
Google My Business is one of the first elements a user will see on search results pages and, for many, it will inform their decisions about local businesses. It's critical to keep this profile up-to-date, including your opening hours, address, photos and website URL.
Search, display and video campaigns allow you to bid on prime real estate in search results pages and beyond, getting in front of users throughout the increasingly complicated customer journeys that happen during the online research process.
Google provides a variety of free tools, resources and courses for small business owners to help them understand these topics and more. But Jane pointed out that the broadest rule tends to be a fantastic customer experience – what's good for your customer is often good for your business's chances at standing out online. "Really, nothing beats understanding and solving your customers' needs."
1 Statcounter GlobalStats. Search Engine Market Share Australia
2 Australia Post. Inside Australian Online Shopping: October 2020 update