As more advertisers and brand marketers realize the value of social media, they are flocking to set up Pages on Facebook, the largest social network of them all.
The stats are impressive. 50 percent of Facebook's more than 500 million active users are creating and consuming content on the social network on any given day, and the average U.S. user spends nearly six hours per month browsing around on the social network.
With the shift to growing social media consumption, brands should be taking every step to improve their presences on social platforms, starting with the behemoth that is Facebook.
Whether your business is new to the platform or it has been around for years, there is always room for improvement. Here are five quick and easy ways to make your Facebook stream more lively for fans.
1. Showcase your customers.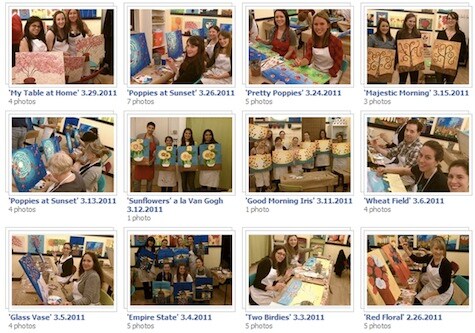 Paint Along NYC, a New York City-based company offering painting workshops, uses Facebook to build its online community. After each painting class, the instructor uploads photos of the attendees with their works of art to the Paint Along NYC Facebook Page. Each photo album is labeled with the date of the class and the item that was painted, so that customers can easily find and tag their pictures.
During class, the instructor makes sure that attendees are aware that their photos can be found on the company's public Facebook Page.
2. Have a sense of humor.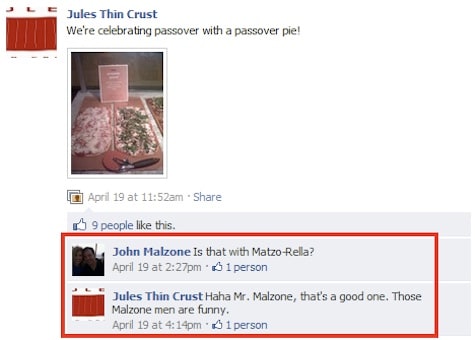 Humor is said to increase a person's levels of happiness and hope, so why not share happiness via Facebook?
Jules Thin Crust, a group of organic pizza shops in Pennsylvania, runs its Facebook Page with humor and community in mind. Operated by owner John Ordway and multiple store managers, the Jules Facebook Page has a very homey feeling. The Jules social media team doesn't take itself too seriously—an advantage that many small businesses have over large branding-dominated corporations. When Facebook fans joke around, Jules Facebook admins are comfortable jumping right in there with the fun. The casual tone used by Jules staffers—and the fact that they personally know some of the fans—makes the updates more personable, relevant and relatable.
Want to read more about upgrading your Facebook Page? Check these out:
3. Give them something to consume.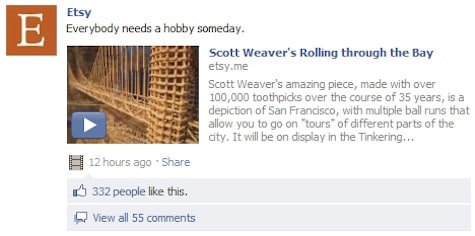 With such high engagement stats, Facebook has brands and content creators turning heads. Etsy, the commerce platform for handmade goods, is among the brands on Facebook that understands its following and then creates and curates content to fit its needs.
As expected, Etsy's Facebook Page features a stream of the quirkiest products that are offered on its site. But the page also features a fair amount of original and curated content, including blog posts and videos that would be of interest to its followers. Some of the content originates from the Etsy Blog. While many of the links and videos are purely for fun, these pieces often start conversations among Etsy fans on the Page.
4. Ask questions.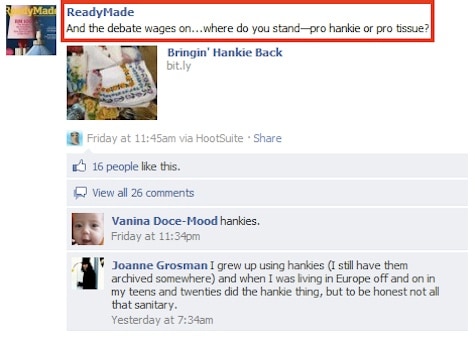 It's not enough to be broadcasting promotional messages—brands should make an effort at engaging with their audiences. Asking questions is a great way to kick off that two-way dialogue.
Take a look at any brand page on Facebook—it's quite likely that posts with questions get more action than ones without questions. ReadyMade magazine mixes up the format of posts on its Facebook Page. Posts with questions seem to prompt more conversation, especially if the question is easy to answer. People are inclined to offer their opinions, especially when it's so simple to get involved.
5. Take us behind the curtain.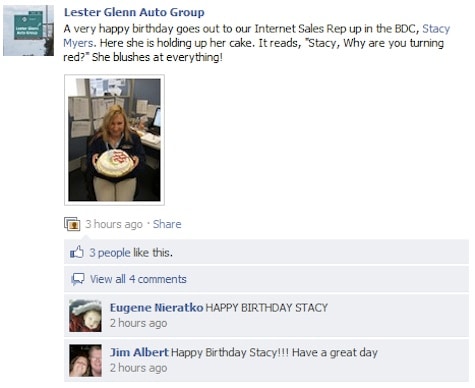 Whether you own a restaurant, a tech startup or a construction company, your customers are interested in who works at your company and what goes on behind the scenes. And so, providing a glimpse behind the curtain can be an effective and engaging way to populate your Facebook Page.
You may think there aren't many ways to make a car dealership more interesting or welcoming, but a well-run Facebook Page helps one New Jersey dealership exude a friendly vibe. Lester Glenn Auto Group uses Facebook to promote the cars it sells, announce philanthropic projects and make small talk with customers. Recent posts about holidays and summer camps have seen success relative to other posts, probably because of their non-promotional and down-to-earth tone.
The page also features lots of pictures from inside the dealership, including ones that highlight employees and events. A recent post celebrates the birthday of Internet Sales Rep Stacy Myers. These depictions of life at the dealership give fans a look inside the company, and help humanize the brand.
Your Suggestions
Facebook can be a difficult medium for businesses to crack, since it's one of the more personal social platforms out there. What tips would you suggest for brands hoping to liven up their Facebook streams?