Think back to your last meal out. What drove your dining decision? Was it a celebrity chef you admire? A new plant-based restaurant committed to environmental sustainability? A restaurant cloaked in millennial pink that you just needed an Instagram shot of? Chances are, there was more than just the food that influenced your restaurant choice.
Restaurants are no longer mere outlets for dining or entertainment, but brands that we want to align with. Brands that we revere as extensions of our own personalities and values. The decisions we make about where to dine and how we spend our money says something about who we are, and in some cases, who we aspire to be. Today, we look to restaurants to be inspired, to connect us with communities and to offer us opportunities to create the change we care about. In response, a new crop of socially responsible restaurants and food retail ventures are finding diverse and creative ways to build community awareness and charitable causes into their business models.
west~borne, a Los Angeles-inspired all-day cafe in New York City's Soho neighborhood, opened January 2018 with a distinct mission to serve and connect with its neighbors. Affiliated with the Robin Hood Foundation, a poverty-fighting organization that provides support to 200 different nonprofits, west~borne found donating a portion of every purchase to Soho-based The Door, one of Robin Hood Foundation's community partners, a natural fit. "It was important to me that our impact be tangible and close," says Camilla Marcus, west~borne's founder. "Something everyone both within our team and our larger west~bourne community could easily and personally connect with."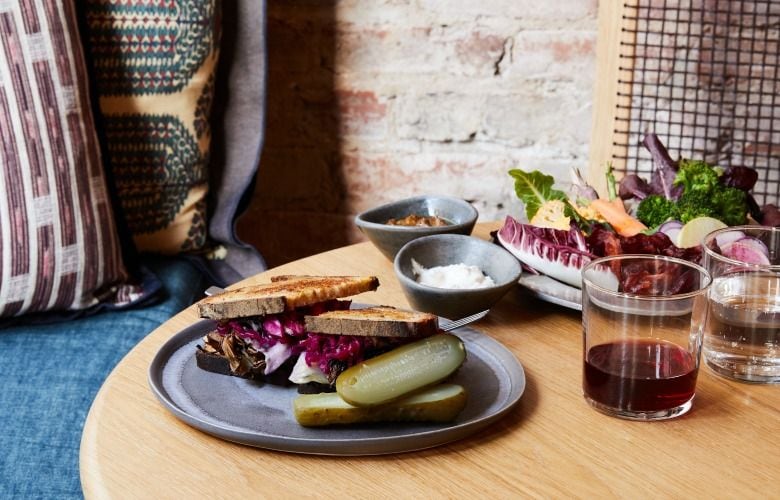 A dish at west~borne in New York City.
Above contributing financially to The Door, which provides youth development services, west~borne takes a fully integrated approach, hiring employees through The Door's program to train and work at the restaurant. What could have solely been a charitable relationship was instead transformed into a meaningful partnership with a valued neighbor. According to Marcus, "It was an instant cultural and strategic fit, and it was seemingly serendipitous as The Door had been looking for a hospitality partner around the same time to help further develop and hire from their internal job training programs."
I think that the biggest value of our philanthropic mission, aside from the impact that we make in our community, will be attracting and retaining talented people to the organization.
—Philip Crouse, owner, Seriously Water
A similar strategy is taken at New York City's Harlem-based Hot Bread Kitchen. A mission-led enterprise, Hot Bread Kitchen has been committed to training women, particularly low-income immigrant women from countries such as Burkina Faso, Mali, Pakistan and Bangladesh, and finding them careers in the culinary industry since 2008. In addition to learning the art of bread-making in the intensive, paid-on-the-job Bakers in Training program, Hot Bread Kitchen bakers are encouraged to share their culinary passions and recipes from their home countries. What rises is a special symbiotic relationship, where the women are not only being served opportunity, but are also serving Hot Bread Kitchen with their inspiration and unique knowledge.
Hot Bread Kitchen founder Jessamyn Rodriguez remembers, "I learned how to make Moroccan m'smen [a flaky, buttery flatbread] from one of our first trainees, Bouchra. I had first tasted m'smen when I was traveling in Morocco and was thrilled when the Arab American Family Support Center referred three strong candidates from Morocco to our training program. My first question was, 'Do you know how to make m'smen?' The rest is history! Now it's one of our best-sellers and we make thousands of pieces per week."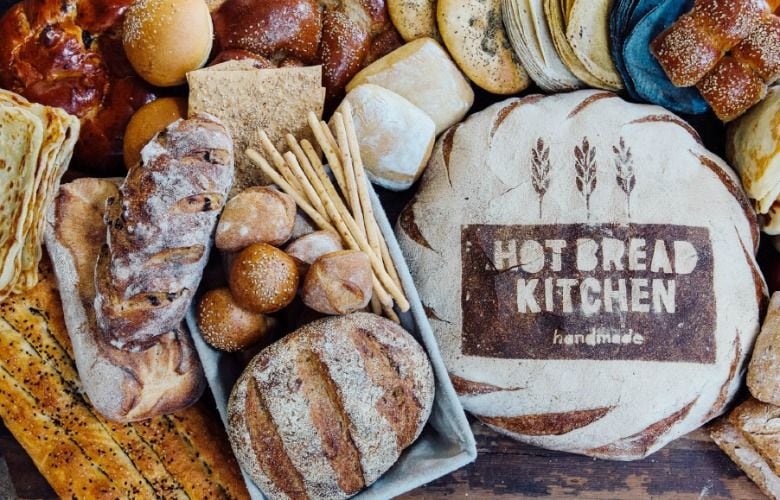 A few of Hot Bread Kitchen's offerings.
Since launch, Hot Bread Kitchen has trained and found fair wage jobs for over 200 women, representing 40 countries, through its Bakers in Training program. The company's multi-ethnic breads produced through the program are sold inside their headquarters in Harlem's La Marqueta food market, as well as various retailers nationwide. Looking through the shelves of today's grocers and popular fast casual restaurants, you'd be hard pressed not to see a colorful collection of food and beverage products with a socially responsible mission attached.
And for some food and beverage companies, that socially responsible mission is taking care of the environment. Seriously Water, a Brooklyn-based organic sparkling water, was serious about making a positive impact on the environment from inception. Mindful of the importance of recycling its glass bottles, Seriously Water owner Philip Crouse decided to partner with Sure We Can, a recycling center and community and sustainability hub, donating 1 percent of every bottle sale to its cause. Communicating its commitment to sustainable practices, Crouse recognizes that "it not only helps build brand loyalty with our strongest customers, but ultimately, I think that the biggest value of our philanthropic mission, aside from the impact that we make in our community, will be attracting and retaining talented people to the organization."
Another restaurant marrying sustainable practices with a mission-based approach is the 1-year-old Rooster Soup Co. in Philadelphia. Part of the Cooknsolo restaurant group, Rooster Soup Co. is a nonprofit restaurant, donating 100 percent of its profits to Broad Street Ministry and its Hospitality Collaborative initiative, a charity committed to serving meals to the city's most vulnerable residents. The meals are served fine dining-style, with table service and china. While Cooknsolo's co-owner Steve Cook was always interested in philanthropic pursuits, the initial idea for Rooster Soup Co. was born out of a food waste problem.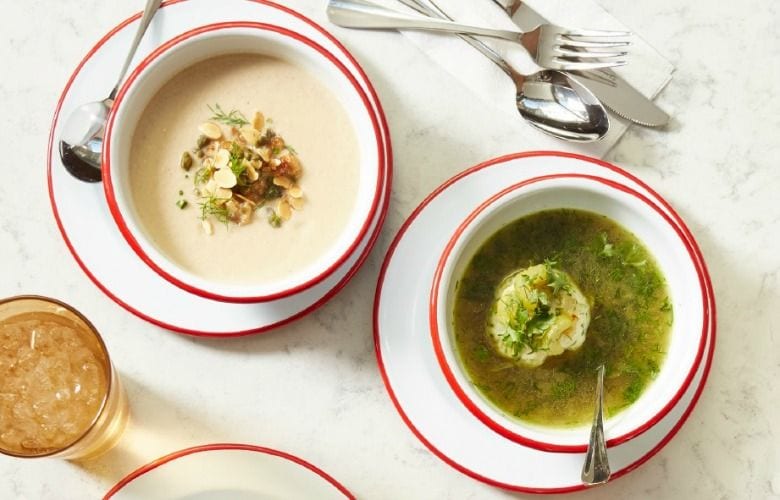 Dishes from Rooster Soup Co.
According to Cook, "The idea was first conceived out of the growth of Federal Donuts," Cooknsolo's counter-service doughnut and fried chicken spot, "where we realized 25 percent of the chicken weight we were bringing in, we were throwing out." With an excess of byproducts that could be re-purposed, Cook and his team identified that they could make soup with the leftover chicken parts, and the Rooster Soup Co. concept was hatched. Ultimately, says Cook, "what started out as a food waste problem became an opportunity." After a successful Kickstarter campaign in 2014, Rooster Soup Co. opened in 2017, where chicken from Federal Donuts makes up Rooster's matzo ball soup stock, further leveraging sustainable practices to help offset food costs and support the sustainable business model.
Today, other restaurants in the Cooknsolo portfolio are now re-thinking how they too can contribute their by-products to Rooster Soup Co.'s menu, creating the most effective contribution possible to Broad Street Ministry. Awareness for Broad Street Ministry's Hospitality Collaborative program is not only growing among the partner restaurants, but also among Philadelphia citizens and beyond. "Rooster offers an important story," says Cook. "People are drawn to the story and it's raised the profile of Broad Street in the community and around the country. Broad Street might even feel this more than the financial contributions made to the organization from Rooster."
The rippled positive effects that an integrated philanthropic mission could have on a restaurant or food venture's business model and customers, not to mention the organizations they support, are vast. What is certain, however, is that customers today are increasingly passionate about brands doing better for their communities. It appears the culinary world is listening and is ready to serve.
Photos from top: Getty Images, Nicole Franzen / Courtesy of west~borne, Courtesy of Hot Bread Kitchen, Michael Persico / Courtesy of Rooster Soup Co.