With its rapidly developing skyline, Jersey City, New Jersey is increasingly becoming a business and travel destination in its own right.
The waterfront hub is home to a thriving community of small businesses and public parks, offering small-town appeal with affordable lodging options for business travelers visiting New York City and New Jersey. You can travel to Manhattan by express bus, ferry, or New Jersey Transit and 24-hour PATH train service in less than ten minutes.
Whether you're searching for a co-working space to meet with your team or a strong cup of coffee on the go, the Shop Small® Map can help you search for and find local venues and shops to meet your business travel needs. By supporting local entrepreneurs, you'll engage in experiences that can make for a productive and unforgettable work trip. Start by engaging with these six businesses on your trip—and explore the Shop Small Map for more:
1. Indiegrove: Join the Local Co-Working Community
Located near the Grove Street PATH station in the heart of downtown Jersey City's pedestrian mall, within a few blocks of several hotels, this co-working space is ideal for business travelers in need of an office on the go. With meeting rooms rented by the hour and flexible short-term memberships ranging from ten to thirty days, Indiegrove also offers networking events and free one-time co-working Fridays for non-members.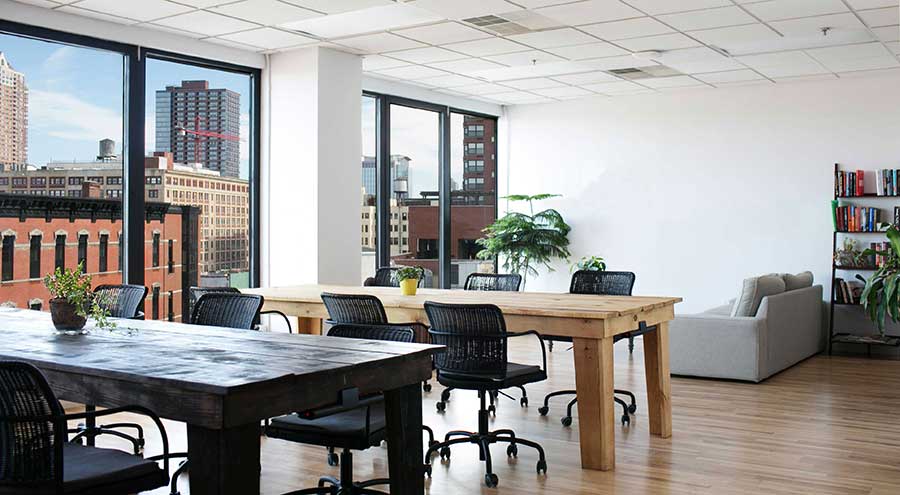 Co-working space Indiegrove features communal tables to help foster team collaboration. 
In addition to a cheerful atmosphere flooded by natural light and inspiring views, Indiegrove offers amenities like a communal kitchen; private phone booths; conference room projectors; Wi-Fi; copy, scan and print facilities; and long tables with plenty of space to spread out and connect with your fellow co-workers.
"We're an extremely well-connected community," says owner Zahra Amanpour, who opened the space in 2013 after working for New York City's Department of Small Business Services. "If you need any resources or support—from IT to graphic design—we probably have someone who can solve whatever problem you might have, especially if you're in town for a short time. We have more than 200 businesses in the space and also offer access to a private Facebook group with networking opportunities."
121 Newark Ave., Jersey City, NJ 07302; 201-589-2068; indiegrovejc.com
2. Bwè Kafe: Fuel Your Coffee Chats With Sustainably-Sourced Beans
With its altruistic mission and commitment to Small Business Saturday®, Bwè Kafe is built on community. The airy space, complete with communal tables and artwork from Haiti, lends itself to both casual lunch meetings and coffees on the go. Providing high-end coffee with beans sourced from Haiti, along with a wide selection of tea, chai, matcha and seasonal drinks, the social enterprise donates a portion of its proceeds to benefit educational opportunities for Haitian youths. The business run by Dale Ryan and her brother, Evan Ryan, also operates a Bwè Kafe location in nearby Hoboken, New Jersey.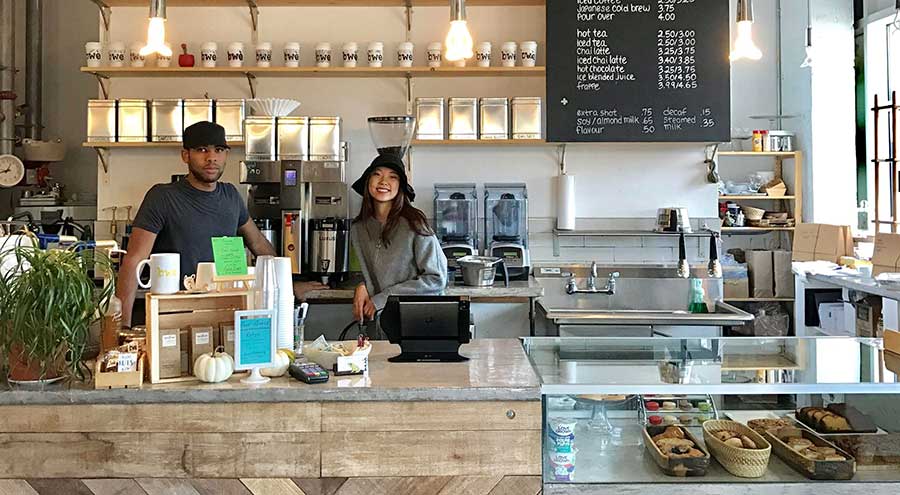 Bwè Kafe sources coffee beans from Haitii—and donates a portion of sales to benefit educational opportunies for the country's youth.
Since opening the Hoboken location in 2013, the Ryan siblings have learned to listen to feedback from customers and staff. "Initially we didn't offer a wide food selection," says Dale. "Your customers know what they want, and you have to adapt." Now they offer soups, sandwiches and pastries, including vegan and gluten-free options.
140 River Drive South, Jersey City, NJ 07310; 201-963-0333; bwekafe.com
3. DeCarlos Bespoke: Custom-Tailor Your Business Suit
"Enter as strangers, leave as friends," is the driving ethos behind DeCarlos Bespoke, specializing in custom tailored clothing. If you travel even semi-regularly to the New York City area, it may be worth crossing paths with the old-world craftsmanship of DeCarlos Morse, who works on suits, blazers, trousers and vests.
With an artist's eye and attention to detail, Morse operates from a welcoming storefront he considers to be an extension of his home. While his clients choose from a selection of curated fabrics, he likes to make them feel comfortable with hospitality. "Often people want to stay and play pool and have a bourbon with me," he says.
DeCarlos Bespoke founder DeCarlos Morse uses old-world craftmanship to tailor suits, blazers, trousers and vests.
In his day-to-day work and in the bigger picture, Morse takes the time he needs. Bespoke suits can take at least eight weeks to construct, meaning that Morse attracts discerning customers ready for an investment of time and money. For visitors to Jersey City seeking one of his high-end suits, for instance, Morse will construct it based on an initial fitting. He then arranges follow-up fittings for when clients are back in town, or he'll make a special trip to domestic locations with convenient airport access.
"Be patient with yourself and learn," he advises up-and-coming entrepreneurs. "Take your time and don't rush into starting your business. Do your homework. Your business calls you—you don't call your business."
11 Monmouth St., Jersey City, NJ 07302; 201-216-0770; decarlosbespoke.com
4. Kanibal & Co: Shop for Locally Made Gifts
For taking old-school meeting notes by hand or writing thank-you cards, stock up on paper products and pens from Kanibal & Co.'s eclectic stationery collection. While you're there, you can browse gifts made by local artists for loved ones back home, or drop in on one of the shop's monthly craft classes.
The store offers a rotating selection of one-of-a-kind jewelry, ceramics, clothing, vintage dishware and wall art curated by owner Kristen Scalia, who created Kanibal as an online shop in 2006 and opened a brick-and-mortar location in 2009.
In terms of Jersey City's quickly growing community of small businesses, Scalia thinks less about competition and more about what she can be doing better. "What have I been putting off that I can make a priority?" she asks herself, grateful for and motivated by the area's increased foot traffic. "The more businesses there are, the better we all are."
197 Montgomery St., Jersey City, NJ 07302; 551-200-9386; shopkanibal.com
5. Cellar 335: Get to Know Your Team Over Asian-Inspired Bites
After a long day of meetings, Cellar 335 is a great place to unwind and build rapport. Located a few blocks from the Grove Street PATH train station, the restaurant stands out for its unique concept and dramatic design. Spacious enough for large groups, with plush curtains to close off semi-private areas, it encourages breaking the ice with clients or bonding with colleagues over Korean-style chicken wings (spicy maple chipotle or lime-soy garlic) and tiki-style cocktails.
Every element of the urban industrial space is highly considered, from a living moss wall to spray-painted murals by local artists, to tufted banquettes with fabric buttons to match the wallpaper. "We paid very close attention to the smallest of details," says executive chef and co-owner Jamie Knott.
Although the restaurant is just a few months old, it's evolving, with a performing arts space opening upstairs in early 2017 and a live band that plays on Tuesday nights. Knott, who describes his solution-oriented management style as "highly involved and lowly attached," welcomes feedback from online reviews and adjusts accordingly, using them to his advantage. "Know who your audience is and play to it," he says, noting that happy hour is a big draw weekdays from 5 p.m. to 7 p.m. and Saturdays from 12 p.m. to 2 p.m.
335 Newark Ave., Jersey City, NJ 07302; 201-222-1422; cellar335.com
6. On Time Limousine: Schedule Service for When You Need It
Whether getting around Jersey City, to and from the airport or the Big Apple, Ashraf Seman aims to deliver a stress-free experience with the convenience of text message booking and confirmation.
Though he's all about getting you where you need to be on time, Seman says that his business is not about driving. "It's about establishing a relationship. I'm not after a one-time use. I'm after a long-term relationship," says the On Time founder with a professional history in customer service. His large customer base consists mostly of corporate accounts and repeat clientele driven by word-of-mouth.
He attracts these clients with flat rates regardless of variable traffic. With a fleet of comfortable sedans, SUVs and limos, he goes wherever his passengers want to go. "I once went as far as North Carolina," he says.
462 West Side Ave., Jersey City, NJ 07304; 800-990-0644; ontimelimousine.net
Support Local Businesses, at Home and on the Road
When doing business on your own turf, it's often easy to find the local services and stores that help keep you productive throughout your day. With tools like the Shop Small Map, you can help orient yourself to almost any domestic location you're traveling to for work. Take the time to connect with the local businesses and culture of a city, and you just may find your business trip even more enjoyable. Over 1.6 million more places in the U.S. started accepting American Express® Cards between 2013 and 2015.1
1Based on internal comparison of American Express small merchant locations in December 2013 to American Express small merchant locations in December 2015.
Photos from top: iStock; Courtesy of Indiegrove, Bwè Kafe, DeCarlos Bespoke