If you accidentally crossed paths with George Matouk Jr. inside of his company's textile plant in Fall River, Massachusetts, you probably wouldn't be able to distinguish him from the rest of his team. On a Friday in March, the 46-year-old CEO is wearing a blue ski vest over a red-and-white-checked shirt, rolled up at the elbow, and jeans. The only giveaway that he isn't an embroidery machine operator might be his designer loafers.
That's OK with Matouk, who feels strongly about transparency and removing barriers in the work environment. "This might sound strange, but we believe in both individualism and collectivism," he says. "We want all of our employees to benefit from a strong company and, at the same, to realize their full potential."
At a time when many American manufacturing companies are moving offshore, John Matouk & Co. Inc. is thriving by concentrating on a high-end niche in the market. "Our focus is on the ultra-luxury category," says the company's CEO. "And we treat quality as a religion."
From the lobby of Matouk's newly renovated headquarters, a floor-to-ceiling glass window frames an automated embroidery machine. Women sit behind industrial sewing machines in a bright, temperature-controlled space, as they manually add hems and monograms to sheets and towels. Next to them, another 20 or so workers inspect and hand-fold every item.
Matouk's CEO, George Matouk Jr.
Matouk bed and bath linens can be found at luxury boutique stores, department stores and, of course, online. Matouk also offers on demand "bespoke" services. Custom-embroidered linens from the company have found their way into the homes of well-known entertainment icons and Fortune 500 executives.
Owning a family business has given me a steady compass pointing squarely in the future.
—George Matouk Jr., CEO, Matouk
George Matouk Jr. grew up among industrial sewing machines, colorful spools of thread and huge bolts of mohair, rayon and cotton fabric at his family's textile operations in New York City, Puerto Rico and Massachusetts. The grandson of John Matouk, a Syrian immigrant who founded the company in 1929, George Jr. joined the family business after graduation from the Columbia University School of Business.
His father, George Sr., who ran the company for 36 years, relocated most of the the company's manufacturing to an old mill building in New Bedford, Massachusetts in 1985 to take advantage of low real estate costs and access to an experienced workforce—the area had been home to a thriving textile industry with roots dating back to the 19th century.
Matouk talks to stitcher Maria Domonte.
George Jr. took over as CEO in 2002 and consolidated both manufacturing and operations in Fall River in 2005. The new location offered a more efficient layout, closer proximity to distribution infrastructure and access to a more diverse pool of both traditional and high-tech workers from the Fall River area and nearby Providence, Rhode Island.
Matouk's operations and recruiting strategies have clearly worked. Since 2002, the company has increased annual sales from $6 million to $30 million, tripled the size of its Massachusetts-based manufacturing workforce, and invested heavily into training, equipment and infrastructure.
The extraordinary growth in sales is no accident. Matouk has developed custom lines and close relationships with its biggest retail customers, including Bloomingdale's and Neiman Marcus. The company is strategically positioned to cost-effectively distribute its product nationwide, and is now focusing on growing its online business, which currently represents just 3 percent of sales.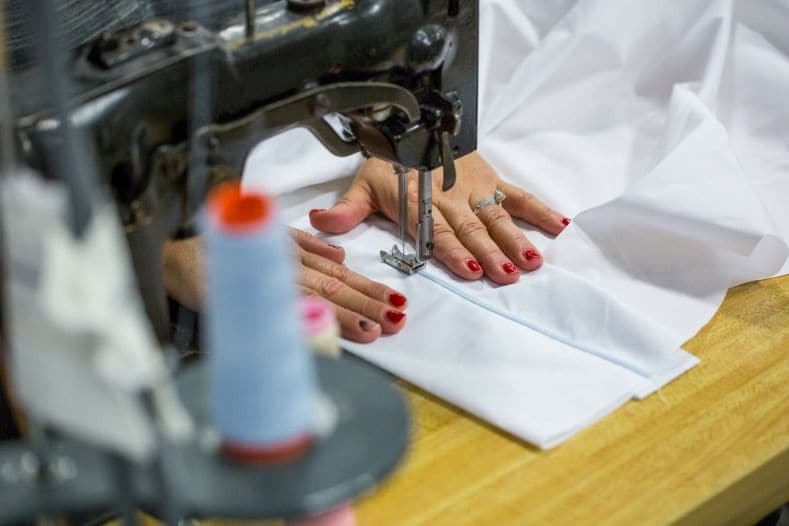 Matouk now employs 115 people at its factory in Massachusetts.
Today, the company employs 115 people at its sprawling 87,000-square-foot plant that seamlessly blends old and new technology. Matouk has a showroom and office in New York City, and sources artisanal-quality embroidery work from a contract-manufacturing partner in the Philippines.
One of the advantages of being the third generation to run a family business is that Matouk has the luxury of thinking long-term. "Owning a family business has given me a steady compass pointing squarely in the future," says George Jr. "I look at my primary responsibility to the enterprise and my predecessors as preparing the company for the fourth, fifth and sixth generations of Matouks."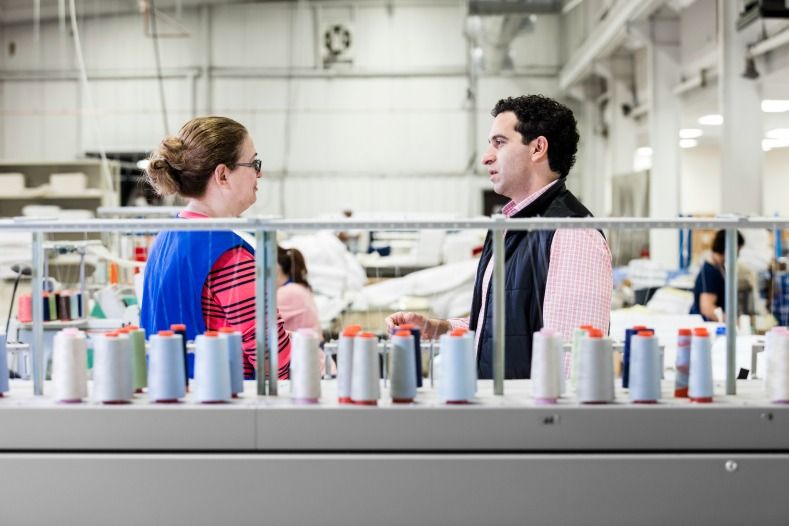 Matouk with employee Maria Pauao.
Moreover, he adds: "I don't have to worry about the next quarter too much, and I don't get obsessed with ROI calculations. Because of that, we can take advantage of every incentive that the government provides to encourage long-term capital investment when it makes strategic sense."
For example, the company tapped into a solar incentive program in Massachusetts to reduce energy costs, worked with the MassDevelopment economic development and finance agency for low-cost financing to support its expansion, and has participated in the Massachusetts Workforce Training Fund Program to help its employees learn new skills.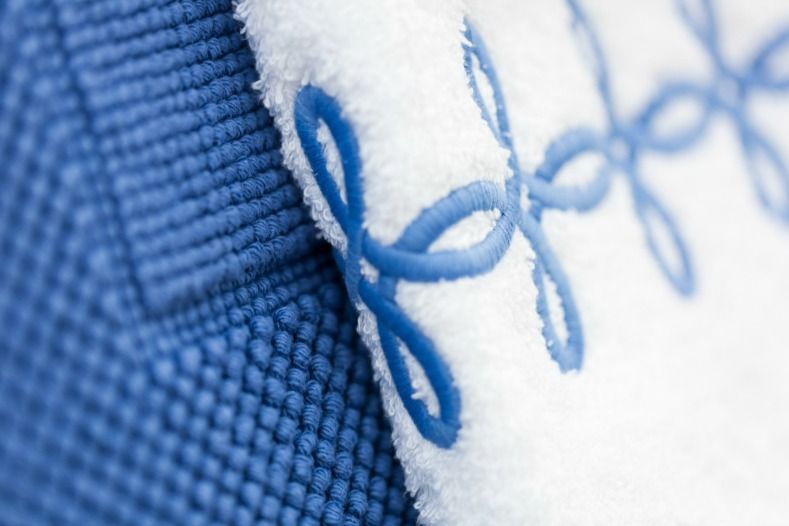 Matouk hopes to see his company become a household name in the luxury market.
Matouk's wife Mindy is the company's director of environmental design and consumer branding. The couple and their three daughters live just across the state line in Providence. And the fourth generation, while still young, is already interested in the business.
For example, on a recent train adventure from Chicago to Seattle with their three daughters, the Matouk family engaged in some guerilla marketing. "We outfitted a sleep cabin on the train with our luxury linens and bath towels and posted Instagram pictures along the way," says Mindy. "That's life for the Matouks: Work and play just come together naturally for us."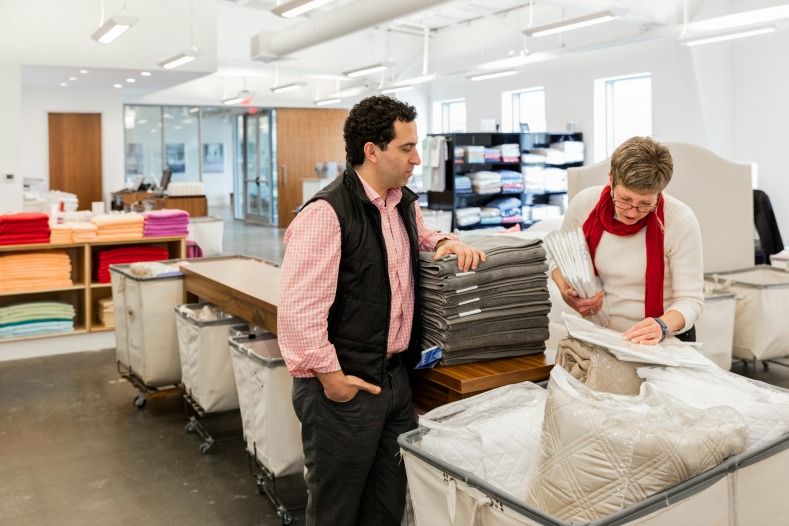 Matouk with assistant manager Bonnie Richards.
Looking ahead, George Jr. wants to build his brand into an international icon in its space. In addition to a growing web presence, Matouk also maintains high visibility in magazines ranging from House Beautiful to Architectural Digest.

George Jr.'s goal is to make Matouk a household name: "When luxury consumers who regularly spend thousands of dollars on shoes, handbags and watches—brands that they love and identify with—stop telling me that they don't really know who makes their sheets and towels, I'll know that our business goals will have exceeded all of our expectations."
Photos: Christopher Garrison