With most office workers toiling from home for the past 18 months, there's no surprise that new expense categories have emerged at many companies. The usual T&E submission that once included airfare, hotel, taxi rides and dinners now also contain work-at-home supplies and health monitoring equipment. These additional categories are aimed at keeping travelers safe while navigating the new world of work and travel. But they also add a layer of complexity that can be confusing to the traveler looking to get reimbursed. To avoid any unwanted surprises, corporations need to be clear and precise about what can be expensed – and what is still the responsibility of the traveler.
Corporate travel managers have had to move fast to authorize new types of expenses unheard of just two years ago. According to results from the Business Travel Trends & Insights survey conducted by BTN Group Content Solutions in August, four in 10 said they've made changes to authorizations due to COVID. Among that group, seven in 10 now approve COVID testing while nearly six in 10 reimburse for personal protective equipment (PPE) such as facemasks, face shields, and hand sanitizer, to take to business meetings. Even so, most corporate travel and expense managers have NOT added new expense categories due to COVID, leaving many employees on their own to cover the costs.
For employees that work at home, what were once perks have become necessities. With offices temporarily closed or their use optional, a whole new set of workers needed laptops, printers, webcams, chairs, and other equipment. Eight out of 10 travel managers authorized work-from-home equipment, and four in 10 also reimburse for internet access. However, travel managers were less agreeable on other types of legitimate, COVID-related expense categories. For example, just 37% pay for a hotel stay during quarantine, even though many destinations still require this. And only 4% will reimburse for renting a hotel room for remote office use.
Interestingly, only 7% of travel managers will reimburse for monthly charges for virtual conferencing applications. This is surprising considering their popularity and use for replacing face-to-face meetings — a recent Bloomberg survey of 45 large businesses found that 84% plan to cut travel spending post-pandemic, citing the "ease and efficiency of virtual software" as one of the primary reasons. Instead, the Business Travel Trends & Insights survey data likely means that employees are not being reimbursed for personal accounts and are required to instead use the corporate or enterprise account for virtual meetings.
Employees Assume Many Costs of Working from Home
How do employees feel about this? It appears a lot of workers are shouldering much of the cost of working from home, even though the pandemic is out of their hands. Looking at business traveler responses from the Business Travel Trends & Insights survey , the majority say that most home office expenses are still not covered, including catering for work meetings, computers and other equipment and monthly charges for virtual conferencing. Only three in 10 get reimbursed for internet access or renting hotel rooms for use as remote offices. Only one-quarter can expense hotel stays during quarantine for business travel. Duty of care is still top of mind for many companies, however, as six in 10 do get reimbursed for PPE and more than 50% get reimbursed for COVID testing.
When asked which expense categories were the most meaningful to them, 55% of business travelers mentioned PPE, which is often reimbursed. However, half said virtual conferencing applications were most important to them, which they may have to pay for themselves. Work from home equipment (e.g., printers, computers, and webcams) ranked third in importance.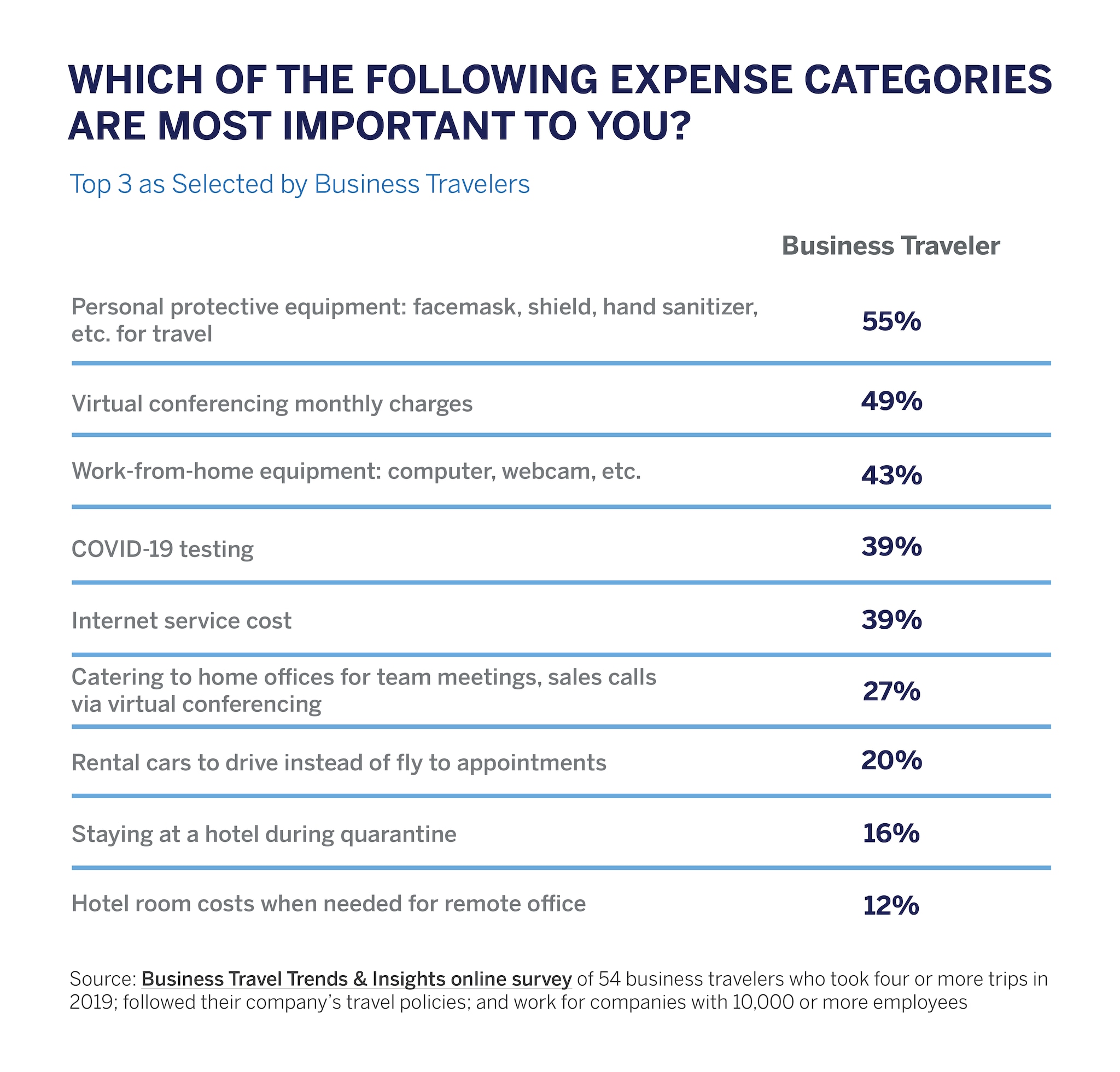 Here to Stay or Go Away?
With many changes made to expense categories due to the pandemic, employees must wonder how long these reimbursements will last. A recent Gallup poll found that 72% of white collar workers were still working from home by April, and "35% of full-time employees say they would continue working remotely as much as possible, if given the choice."
How much of these new expenses must employees incur on their own and for how long?
The truth is travel managers are mixed on this topic. With so many variables in play, the answer is hard to pin down. Recognizing a permanent change in behavior, three in 10 said they WILL keep all such expense categories in place even after COVID is no longer a threat. One-third are reevaluating how long to keep new expense categories in place, and one-quarter plan to maintain only some COVID-related expenses after the pandemic is over.
Conclusion
Expanding the list of accepted reimbursement categories is just one of many adjustments travel and expense managers have had to make in the past year and a half. Bending with the times, many have tightened the trip approval process or placed increased emphasis on duty of care. But extra COVID-related expenses are a direct hit to employee wallets – and good communication is required so that employees aren't left out in the cold. On a positive note, the lack of commuting expenses may balance things out and employees may not mind paying a little extra for the conveniences of remote working arrangements. Each company needs to evaluate the situation based on which expenses have been traditionally allowed (prior to COVID), which are inevitable and therefore should be reimbursed, and which might be more at the discretion of the employee. The bottom line is that while COVID might have accelerated the changes in work and travel, some changes will be permanent, and who pays for what will be debated for years to come.