Are you on the fence about whether you should outsource work or use in-house hiring to help grow your business? How do you weigh the pros and cons of in-house hiring vs. outsourcing? Both can have unique benefits and disadvantages, making it difficult to decide which to choose.
In-House vs. Outsourcing Pros and Cons
What is outsourcing?  
Outsourcing can involve freelancers, contractors, or specialized agencies to perform specific operational activities or projects within a company. For example, you might engage a technical support company for outsourcing your cybersecurity.
Other outsourcing services can include accounting, finance, human resources, marketing, advertising, lead generation, business development, data entry, IT services, manufacturing, and customer support, among others.
What is in-house hiring?   
In-house hiring is when you use current employees or hire new employees to handle all of the work internally. Cost, expertise, and flexibility can play a significant role in deciding between in-house hiring and outsourcing.
Let's examine the pros and cons of in-house vs. outsourcing to help you choose wisely.
The Benefits of In-House Hiring
Advantages of in-house hiring can include: 
Better communication: On-site team accessibility can make communicating more manageable with the individuals performing the work. You may reach in-house experts more quickly if unexpected issues arise.
Greater control: A freelancer may complete a job when they have time available using a first-come, first-served system based on prior commitments. With in-house hiring, on the other hand, you may be better able to control the timeframe for completing the project. It also may be easier for you to keep an eye on the quality of your services or products. 
Knowledge of your business: Your own employees are likely more familiar with your operations and systems already, which can allow them to use internal resources to complete a project. 
Promotes employees' growth: Keeping jobs in-house can help with staff development. Investing in your employees' development and giving them training and the opportunity to acquire new skills can help them grow. 
Fosters team cohesion: Having an in-house team work on projects can encourage unity and collaboration within the team. Face-to-face conversations can build trust, with team members contributing their share and supporting each other. In-house teams can share lunch and coffee breaks, further solidifying team bonds and cohesiveness. 
Reduces risks: In-house hiring may provide greater protection for your intellectual property. You may be able to better safeguard your confidential information and oversee any ethical issues more effectively.
Commitment and dedication: Your own employees, whether working remotely or on the premises, may be more invested in the company, more reliable, more accountable over the long term and show a greater commitment to the business.  
The Cons of In-House Hiring
The drawbacks of in-house hiring can include: 
Difficulty finding top talent: The scarcity of top talent can mean relying on freelancers and contractors to fill gaps, even if it's temporary.
Higher costs: Employee costs often include training, medical and dental benefits, disability insurance, a 401(k) plan match, wellness programs, and potential perks like free food and beverages. There can be overhead costs for infrastructure to accommodate employees and support staff. 
Recruitment effort and time: Finding, interviewing, negotiating, and onboarding can take time and money. 
Employee turnover: Employees resigning can jeopardize the continuity of your project, especially if you don't have anyone with the right training who can jump in immediately.
Employee burnout: Overloading employees with too much additional work, including while working from home, can lead to fatigue and exhaustion.
Employee absenteeism: Employees becoming ill can delay the progress of your project.
Slower project deliveries: It could take longer to complete a project because you may need more resources. A shortage of resources can include a need for more subject matter experts or individuals with specialized training and up-to-date or specialized technology or equipment. On the other hand, an outsourcing company may have plenty of available specialists to draw upon. 
The Benefits of Outsourcing
The benefits of outsourcing can include: 
Lower labor costs: One of the most important benefits to outsourcing can be saving money on salary, health and disability insurance, and other benefits. Instead, you can pay a flat fee for the work.
Quick access to high-level expertise: It can take less time to find talent due to online freelance databases and groups. Many freelancers specialize in a targeted discipline, such as web design, content creation, or paid search media. 
Flexibility: If you are unhappy with the contractor's unsatisfactory work, you can make changes quickly.  
Access to international skilled labor: International outsourcing can allow you to locate freelancers or contractors from a global pool with more specialized skills and abilities than you can find domestically. Global outsourcing can give you access to highly educated freelancers and the latest technology, equipment, and processes your business may not have.
Faster turnaround time: A shorter turnaround time can help you complete projects faster.
Avoid employee burnout: Outsourcing can help employers avoid burnout amongst their full-time staff.
Focus on core business operations: Outsourcing can free up some time for urgent business needs and core tasks that drive long-term revenue.
Improved scalability: Outsourcing can help a business scale up while keeping costs down. 
The Cons of Outsourcing  
The disadvantages of outsourcing can include: 
 Security risks: Your contractor or freelancer may need access to sensitive data, which can pose a security threat. 
They don't understand your business: Let's take a simple example, such as outsourcing some of your accounting functions. The work of an accountant can generally involve more than just crunching numbers. A freelance accountant may not understand your business and, as a result, may not understand your challenges, when your busiest times are, and how you can prepare for potential cash flow problems.
Inconsistent services: Different locations can have different design, engineering, and content creation styles. For example, a freelancer in the U.K. may have a different way of working than a California-based freelancer, so not choosing talent with experience in your country and area may cause unforeseen challenges.
Fewer employee growth opportunities: Using outside talent can rob in-house employees of opportunities to learn new skills and develop their expertise, ultimately hurting their growth.
Lack of control: One of the most significant drawbacks of outsourcing can be a lack of control over business processes, delivery timelines, and work quality.
Can hurt team spirit: Unless outsourcing is to tap into highly specialized expertise, existing staff might feel inadequate if they believe you're outsourcing because you don't trust their skills to handle the project. They may also start to worry about job security. Clear communication about why you're outsourcing can be helpful.
Lack of dedication: Contractors can have a different long-term dedication and commitment than your in-house staff, since they're likely juggling other projects.
Communication problems: Different time zones, unreliable internet, and the inability to immediately address questions or concerns can create communication gaps that can affect the timely completion of work. Also, there is a risk of miscommunication.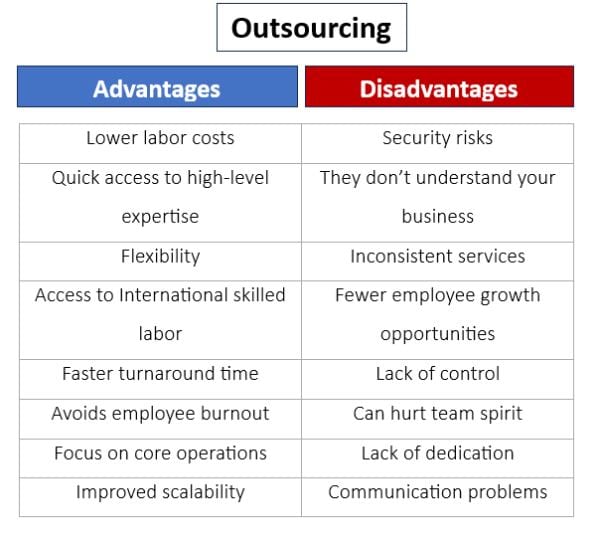 Choosing the Right Option
Which is better: Hiring In-House or Outsourcing?
Whether to outsource or use in-house hiring can be a complex decision. In each situation, the context can vary depending on the company, the industry, the business model, and other variables such as your strategic goals and available resources.
Here are a few questions to ask yourself:
Reasons you might consider outsourcing:
Is it a short-term, one-off project where the talent is needed only for a few months? For short-term goals, you can hire contractors specialized in their field, which can be quicker and easier than training in-house employees.
Is the function or project a part of your core business? If not, you might outsource it to better focus on your core business to drive revenue.
Do you have the time and budget to hire or train in-house employees to handle the function or project? If not, it might be more cost-effective to find outsourced talent.
Are you pressed for time? Outsourcing may offer a prompt solution to expedite the process. 
Reasons you might consider in-house hiring:
Is there a long-term need for this work? In this case, in-house employees may be a good option for a long-term goal that requires close attention and management.
Is this function or project a core part of your business operations? If you outsource it, you may fall short of capitalizing on the dedication of your existing employees.
Do the activities encompass sensitive and proprietary information? In-house hiring can prevent the threat of confidential information being leaked. 
Do you want control of every aspect of your project? Using in-house hiring can help you be fully informed every step of the way, deal with any roadblocks, and make timely decisions and adjustments. It can allow you to better control quality. 
The Takeaway
Many businesses utilize a blend of talented in-house staff supported by some outsourced expertise. Depending on your needs, it can help to evaluate the pros and cons of each and choose the best path for you and your business.
A version of this article was originally published on January 18, 2016.  
Photo: Getty Images