For many business travelers getting back on the road in 2021 was a welcome change as many companies gave their employees the green light to travel again. Despite some obstacles and setbacks, business trip made their return—only they were different this time. Smaller meetings and events, mixing live and virtual elements, and greater scrutiny of trips became the norm, along with the notion that anything could change last minute, and plans would need to be altered. Most of us learned to live with the uncertainly and take advantage of opportunities to travel. Increased vaccination rates across the globe along with some FOMO–fear of missing out–brought both business and leisure travelers to the skies at levels not seen since 2019. From June to December 2021, the U.S. Transportation Security Administration had repeatedly reported processing 2 million or more passengers a day at airport security checkpoints, with some days during the holiday peak nearing 2019 levels.
To manage health and safety protocols while maintaining business momentum and employee morale, travel managers have had to reset their goals. Therefore, it's no surprise that increased duty of care and well-being was the number one business priority for travel programs for more than two-thirds of travel managers responding to the Business Travel Trends & Insights survey conducted by BTN Group Content Solutions in November 2021.  The pandemic has also accelerated company initiatives to protect the environment and reduce carbon emissions and other pollutants. Less travel had proven a boon to the environment during lockdown, and companies are resetting their priorities to make smarter and better decisions regarding their carbon footprint. Now is a good time to revisit those goals, especially considering the convenience of virtual meeting technologies. For this reason, nearly six in 10 travel managers cited meeting sustainability objectives for travel as their top business priority—ranking second only behind duty of care.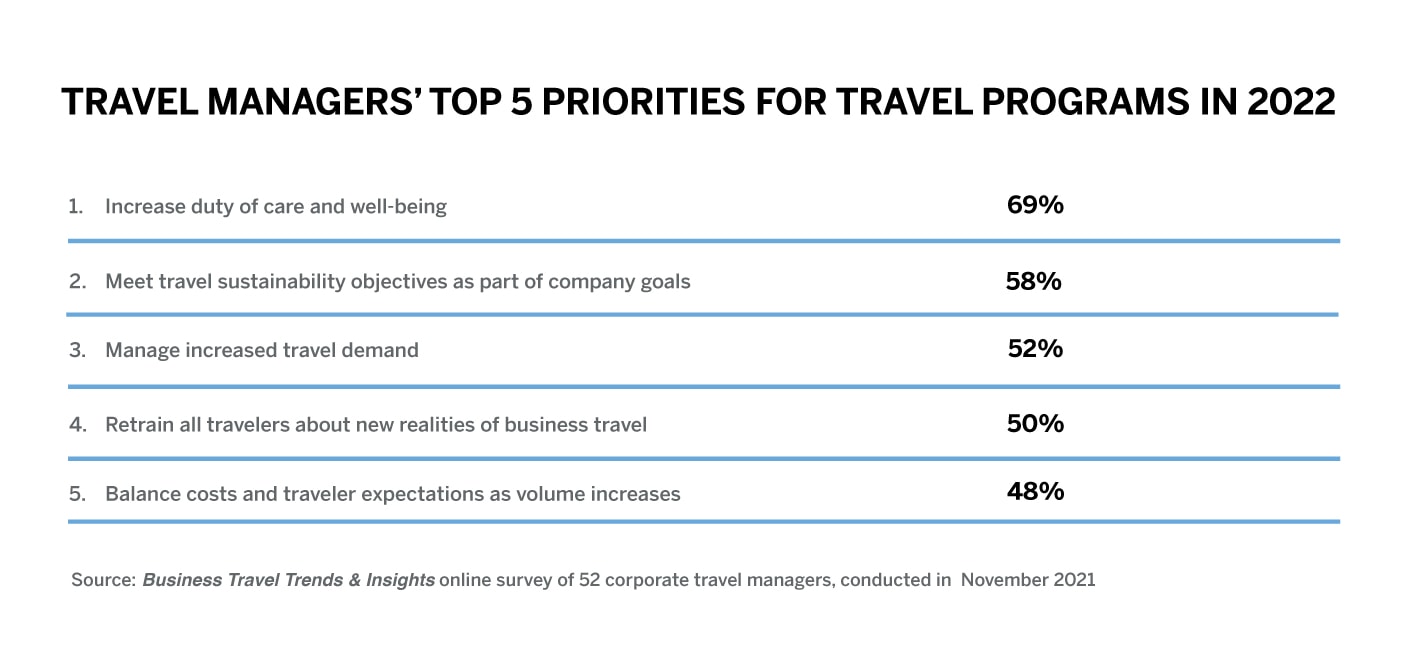 Managing Traveler Expectations
Handling the resurgence of employee travel in 2022 will no doubt be complicated, and half of travel managers cited "managing increased travel demand" and "retraining travelers about the new realities of business travel" as top priorities. Nearly half also see challenges in balancing costs and traveler expectations as volumes increase. Four in 10 said they will put more emphasis on evaluating each trip based on business value.
Amid the pandemic, companies have been applying stricter rules and limiting certain types of trips. According to an August 2021 report published by Deloitte Insights, nearly seven in 10 travel managers and other stakeholders plan to limit travel frequency as travel increases to control travel costs, and nearly half said they will likely require stricter travel policy compliance. However, most travel managers in the Business Travel Trends & Insights survey did not cite policy enforcement as a business priority for 2022. About one-third said they would more tightly enforce policies and increase compliance but only one-fifth plan to bring more T&E spend under management. Finally, most travel managers said they wouldn't tighten guidelines, but they don't expect to relax them either.
Time to Renegotiate?
Which other initiatives will top travel managers' lists this year? With shifting expectations and priorities, companies plan to reevaluate their existing relationships with preferred suppliers and industry partners. Seven in 10 travel manager respondents to the November Business Travel Trends & Insights survey plan   to review technology needs and options such as booking tools, expense management and mobile apps, and nearly six in 10 plan to invest in new tools and upgrades. Meanwhile, six in 10 are poised to renegotiate contracts with existing supplier partners, and half plan to identify new sustainability or carbon offset partners. Apparently, although they feel it's important to reevaluate relationships and stay abreast of new technology, most travel managers are satisfied with their current relationships. One-third plan to identify new supplier partners, and less than one-fifth plan to identify a new travel management company (TMC) partner.
What Business Travelers Want
As companies navigate budgets, sustainability goals, business tools and safety concerns, many employees just want to reconnect with colleagues and make new contacts. Business travelers are eager to get back to in-person meetings and even back to the office. When business travelers were asked in the Business Travel Trends & Insights November survey to rank what was "extremely" important to them, four in 10 said attending in-person training sessions, and one-third cited meeting regularly (in person) with co-workers and industry colleagues, regardless of place. At the same time, roughly one-quarter did feel it's "extremely important" to commute to the office (and six in 10 felt it was "important") either regularly or sporadically as needed. Business travelers are also itching to get back to events—nearly four in 10 said attending industry meetings, conferences and trade shows was extremely important to them. One-quarter, however, thought it was also most important to replace face-to-face meetings with virtual technology where appropriate.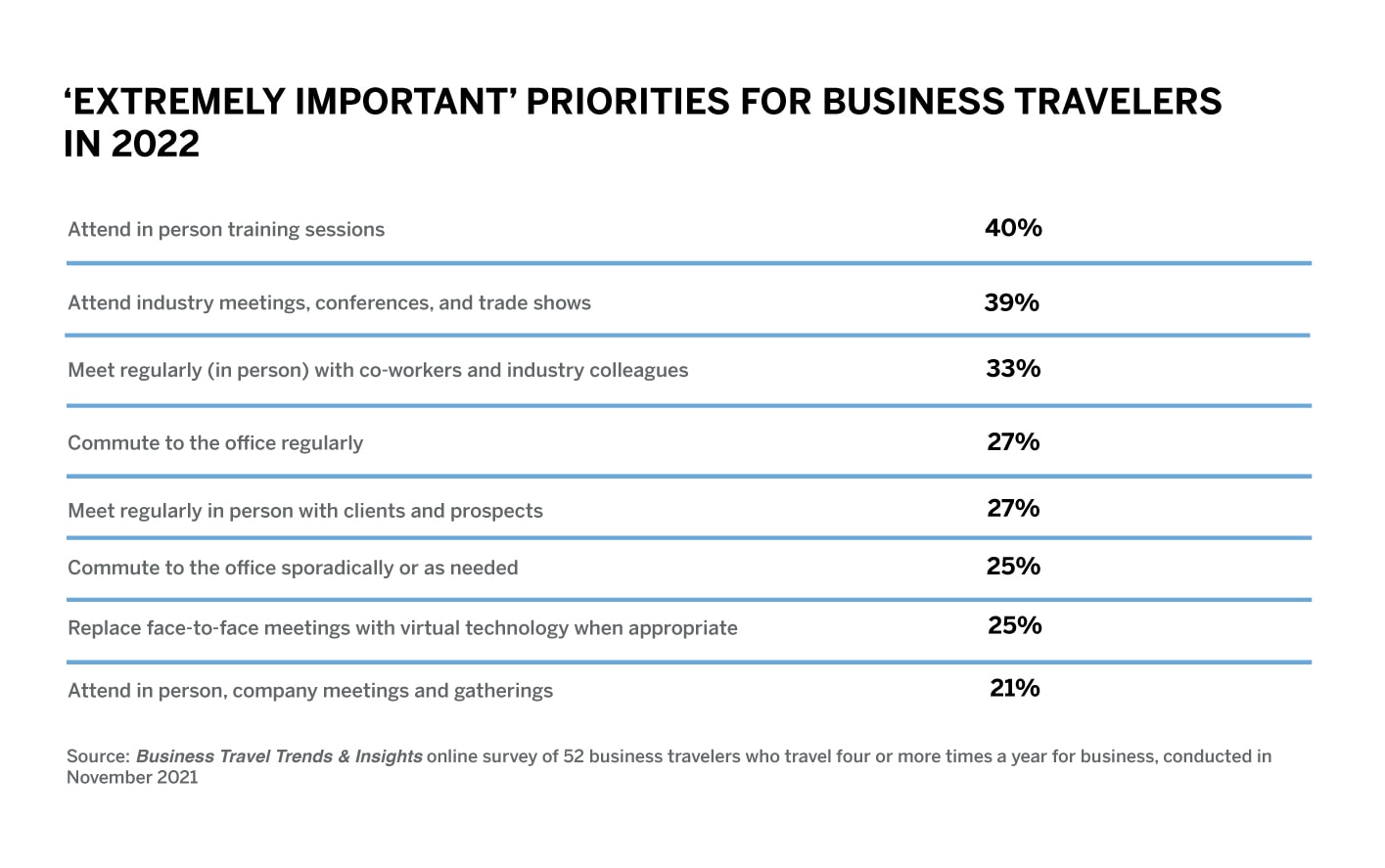 There's apprehension about what the travel experience will be like in 2022 as many variables are still in play. The past two years have brought unprecedented change to travel programs and shifting priorities toward safety and sustainability instead of policy enforcement. But there is also optimism that the virus can be managed, and travel can get back to some semblance of "normal." Travel programs will continue to take new forms as the year progresses: Nearly six in 10 travel managers in the November Business Travel Trends & Insights survey plan to analyze travel and spending in 2022 so they can reinvent how and why we travel.
In conclusion, employees want to stay active through networking, prospecting, customer relations and collaboration. Travel managers must understand employee expectations as they manage costs, safety, and demand so they can re-shuffle priorities in real-time and find it easier to transition as the pandemic becomes an endemic.