Tight budgets, pandemic uncertainty, and the adoption of virtual meeting options have led to some serious rethinking around the travel approvals process. No longer simply a matter of cost control, several more variables now come into play before business trips are given the green light. Who is traveling? For what purpose? To what destination? For how long? Seemingly every element of the trip is scrutinized, making employee travel more of a privilege than a certainty. So, how do corporations make decisions in this complex landscape? This is a big question for organizations for 2022 and beyond.
Early in the pandemic, it was an easier call. Most companies restricted travel entirely, except in extreme cases such as a breakdown that needed repairs. Attending a conference or trade show was almost out of the question, and most were cancelled anyway. But as COVID appeared to wane in early fall 2021 companies began to loosen restrictions. Nearly all types of travel were now allowed for at least half of responding companies, even international trips, according to results from Business Travel Trends & Insights survey conducted in November 2021. But not all travel is treated the same. For example, four in 10 travel managers are still evaluating trips for internal meetings such as training or engaging with team members.
Return on Investment is Paramount
The purpose of the trip must be considered in the approvals process, but it's not the only measurement. Traveler seniority also plays a role; 85% of travel managers said they are currently approving all executive travel. It's not surprising that trips with a more immediate return on investment top the acceptance list. Seven in 10 of the travel manager respondents said they approve travel for sales meetings with customers as well as for servicing and repairs. Six in 10 permit meetings with investors that concern mergers and acquisitions or fundraising, as well as trips for research and product development. Anecdotally, travel managers pointed to increased scrutiny of requests for one-day trips, as well as for trips where multiple employees will be traveling to a client meeting.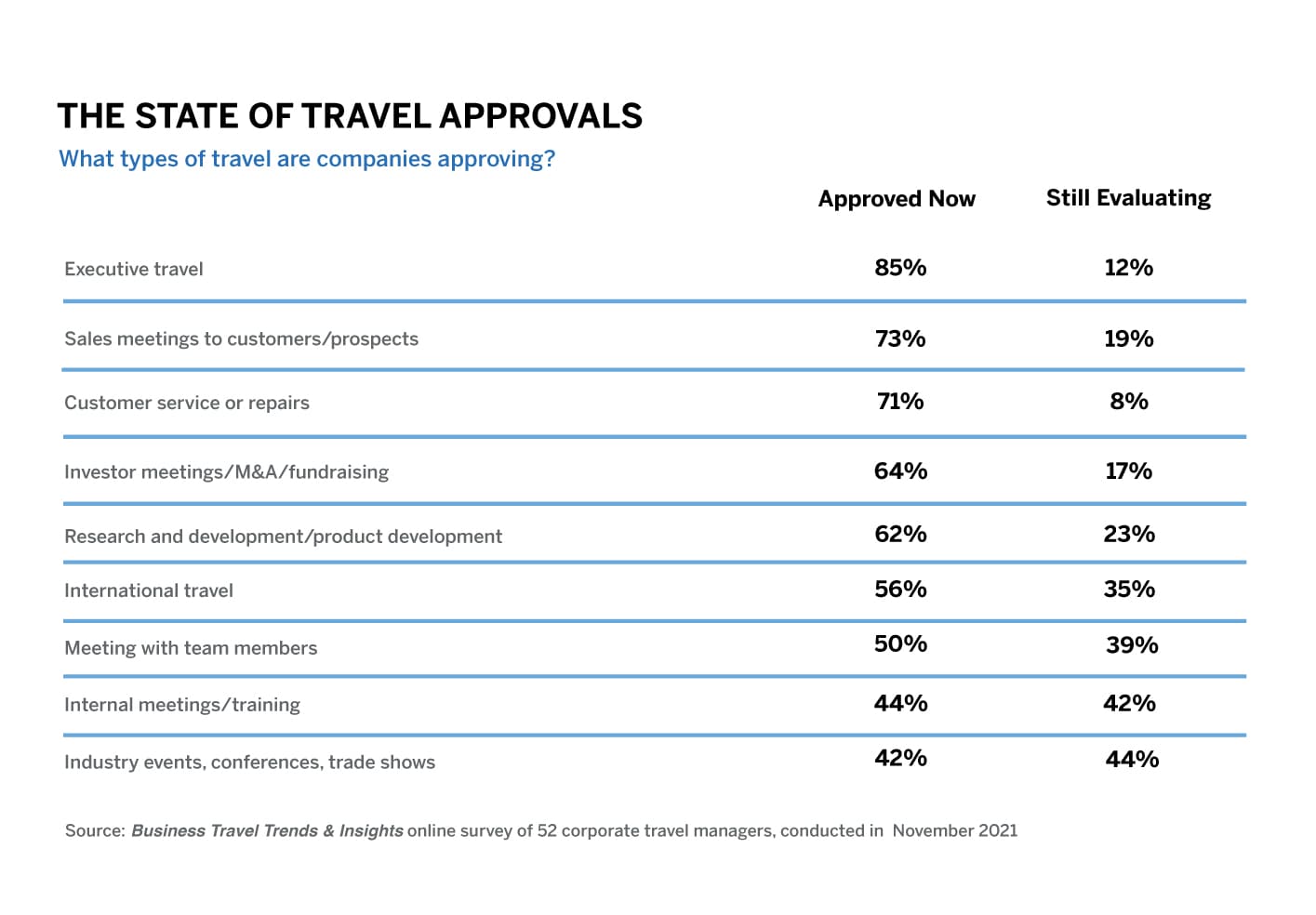 A successful approvals process requires balancing company goals with existing rules and approving what's practical and what's safe. Three-quarters of travel managers said they will review travel policy based on business strategies. However, the realities of COVID mean that nearly six in 10 will review policy based on the course of the pandemic, such as developments around infection rates and vaccinations.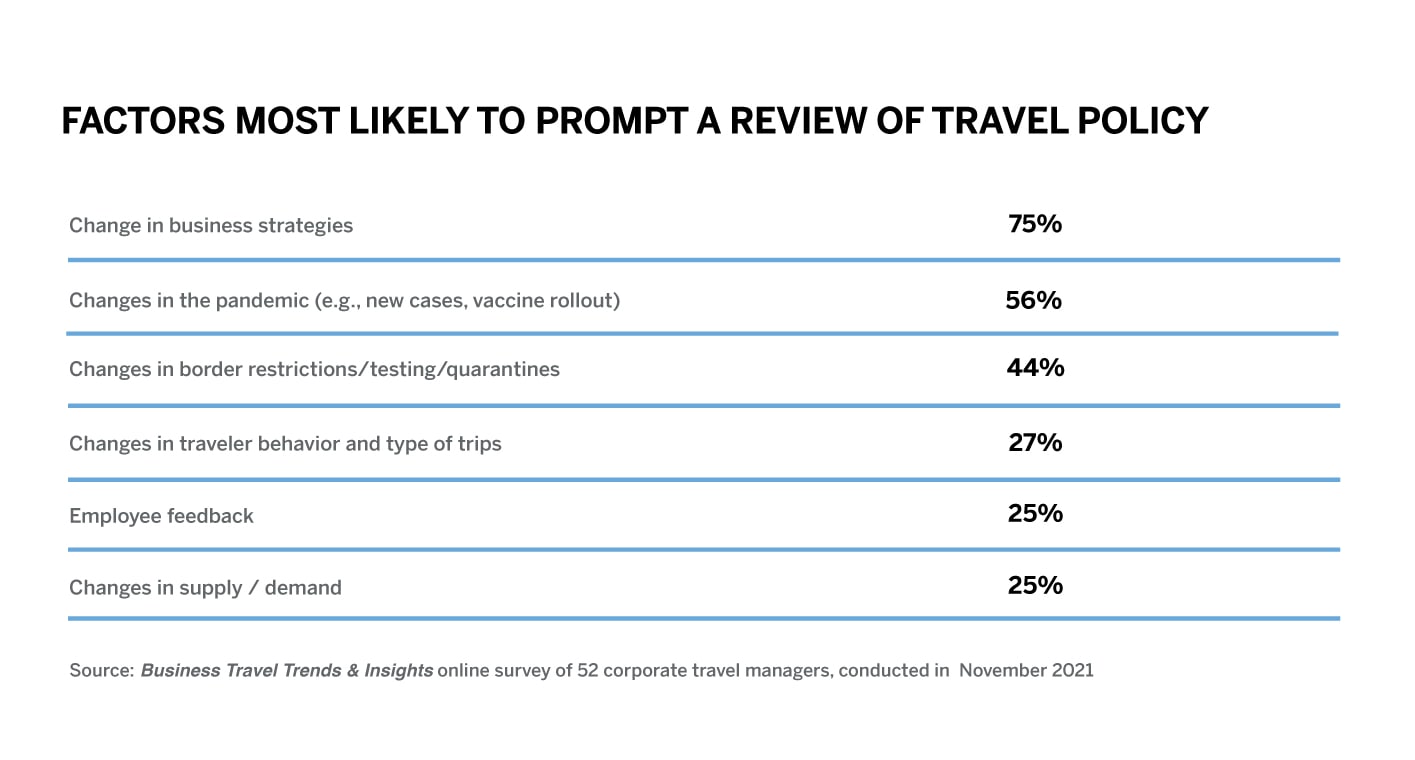 The most scrutinized category is industry events. Although four in 10 companies allow them, the same percentage is still evaluating whether conferences and trade shows should be permitted. As a matter of fact, some travel managers don't believe that large events will ever recover from the shock of the pandemic.
Employees Note Tougher Permissions
For most employees, the approvals process has not changed much, or might have even gotten easier for some types of trips. However, one in four business travelers surveyed said executive travel is more difficult to get approved now versus pre-pandemic. For international travel, as well as events/conferences/trade shows, three in 10 said authorizing travel has gotten a lot tougher compared to the past.
Regardless, travel is happening. Business travelers generally match up with travel managers—two-thirds said executive travel is allowed, followed by customer service and repairs. Half of business travelers said that most types of travel are now approved. But fewer than half said that industry events, meetings with team members, international travel or investor meetings are currently permitted. Four in 10 said their companies are still evaluating whether sales meetings, international travel, or investor meetings should be approved at all.
A Digital Process
Though setting policies can be complicated, the process of managing those policies once they're set can be easy, thanks to automation. Nine in 10 travel managers rely on travel and expense technology and audits to identify violations. Although this process is efficient, there can be setbacks if decisions are based solely on data without regard to employee sentiment as well. Decisions regarding authorizations and exemptions for trips should be fluid and based on ongoing communications between stakeholders. When and if violations are identified, employees would likely have to undergo retraining on policies and compliance. Following the rules is expected: Only 4% said expense approvers are rewarded/incentivized based on compliance.
Considering the shifting approvals process, policymaking, and compliance for 2022 has become more complicated. More than two-thirds of travel managers have said their travel program has become far more complex with travel restrictions, protocols, reporting, etc. Nearly six in 10 also said their executives have a new vision for when and how they will use travel to grow and manage their business. To manage travel permissions successfully, it requires balancing strategy, safety, and costs during a time of unprecedented uncertainty. Automated approvals might be a timesaver but being nimble and responsive to company needs while evaluating the purpose of each trip on its own merit is likely a better approach.