It's nearly impossible to go a week without some news of a disruptive business model threatening to shake up the market: Facebook becoming your bank, Facebook offering movie rental, Google becoming a travel agent, etc.
As Alexander Osterwalder and Yves Pigneur write in their crowed-sourced book Business Model Generation: "Disruptive new business models are emblematic of our generation. Yet they remain poorly understood, even as they transform competitive landscapes across industries."
A business model describes the rationale of how an organization creates, delivers, and captures value. And a disruptive business model is one where a non-traditional industry player enters the mix and threatens to disrupt the status quo.
It took 9 years of research and practice 4,000-plus writing hours, 28,456 Post-it notes, 77 forum discussions, 287 Skype calls, 1360 comments, and 137,757 online views for over 470 contributors from nearly 50 countries to arrive at these nine elements of any business model and arrange them into the visual "Business Model Canvas" you see at the bottom of this column.
Want to read more about pitching new ideas? Check these out:
Whenever you're pitching a new idea, you can use these nine elements to add a level of discipline and forethought to your creativity. Here they are with a few questions to ask for each element.
Customer Segments. An organization serves one or more customer segments.
Key Question: For whom are we creating value? Who are our most important customers?
Value Propositions. An organization seeks to solve customer problems and satisfy customer needs with value value propositions.
Key Questions: What value do we deliver to the customer? Which one of our customer's problems are we helping to solve? Which customer needs are we satisfying? What bundles of products and services are we offering to each Customer Segment?
Channels. Value propositions are delivered to customers through communication, distribution and sales channels.
Key Questions: Through which Channels do our Customer Segments want to be reached? How are we reaching them now? How are our Channels integrated? Which ones work best? Which ones are most cost-efficient? How are we integrating them with customer routines?
Customer Relationships. Customer relationship are established and maintained with each Customer Segment.
Key Questions: What type of relationship does each of our Customer Segments expect us to establish and maintain with them? Which ones have we established? How are they integrated with the rest of our business model?
Revenue Streams. Revenue streams result from value propositions successfully offered to customers.
Key Questions: For what value are our customers really willing to pay? For what do they currently pay? How are they currently paying? How would they prefer to pay? How does each stream contribute to overall revenues?
Key Resources. Key resources are the assets required to offer and deliver the five previously described elements.
Key Questions: What Key Resources do our Value Propositions require? Our Channels? Customer Relationship? Revenue Streams?
Key Activities. Key activities are the actual jobs and operations needed to be performed in order to produce key resources.
Key Questions: What Key Activities do our Value Propositions require? Our Channels? Customer Relationships? Revenue Streams?
Key Partnerships. Key partnerships involve activities that are outsourced and resources that are acquired outside the enterprise.
Key Questions: Who are our Key Partners? Who are our key suppliers? Which Key Resources are we acquiring from partners? Which Key Activities do partners perform?
Cost Structure. The eight previously described business model elements result in a cost structure.
Key Questions: What are the most important costs inherent in our business model? Which Key Resources are most expensive? Which Key Activities are most expensive?
Notice from the Business Model canvas below that the right-hand side is focused on the customer, and represents the value and emotion side of the business. The left-hand side is focused on the company, and represents the efficiency and logic side of the business. You need to think about both to generate a balanced business model.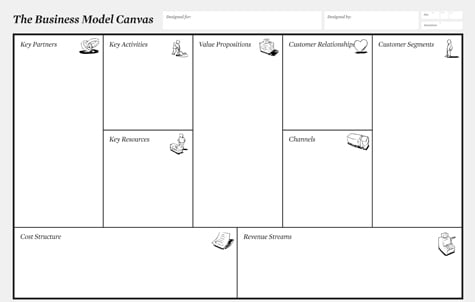 Next week, I'll describe how you might use this framework to disrupt or transform your industry or market. Because no matter how ironclad or innovative it might be, every business model is vulnerable in today's business environment.