Martha. You don't need the surname to recognize this icon. After nearly 40 years cooking, crafting and creating, Martha Stewart and the Martha Stewart brand reign over a supreme global empire—and she's not nearly done yet. The lifestyle pioneer who banked billionaire status back in 1999 has sustained despite challenges and continues to pivot and evolve.
But "reinvention" doesn't quite capture Stewart's approach to staying relevant. "I'm always Martha, but I can do other things. I can fit into a variety of situations that may or may not be business or social or whatever." She shared this insight and more during a recent Business Class: Office Hours live Q&A from her farm in Katonah, NY.
Stewart knows she can do it all because, when you look at her history, she kind of already has. In a show of early pragmatism, she began her career by leveraging a valued resource: her beauty.
"Modeling was great for me because it taught me that I wasn't afraid of the camera. I could stand in front of a camera and look good. And that's really good preparation for the television work that I've done since."
Not that she ever planned on fully depending on looks. Stewart's father always made sure his daughter knew that her value and worth were far beyond all that. "He said, 'Martha, you're a really smart girl. You could probably do anything you set your mind to.' That statement really stuck with me." As a result, self-doubt doesn't trip her up. "I don't listen to that part so much."
And so, after college, Stewart pivoted from fashion to finance; on Wall Street, she worked as one of the only female stockbrokers.
"I remember depositing my checks at the bank and one of the teller girls coming up to me and saying: 'What do you do?' It wasn't so common for women to be taking gigantic checks to the bank to deposit."
That entrepreneurial spirit could not be contained once she started a family. It was then that she launched a successful catering business where she "learned an awful lot about humanity, about people's appetites, about food, about what made a good party, what made a good entertaining evening." Then, through her husband's publishing contacts, she pivoted into her role as author. From there, Martha Stewart Living Ominmedia began. A force that has inspired and informed modern generations on how to live graciously.
A veritable media and merchandise empire, with more ventures on the way. Who can beat that? Well, we won't try, so instead we extrapolated some tips to help entrepreneurs operate like the mogul OmniMartha is.
1. Find the fresh angle.
The 1980s marked the art of women balancing career with family; Martha was at the center juggling the management of home and professional life. That understanding birthed a flow of functional food-focused books.
 "I hadn't written much. I had written a newsletter, but that I thought was just a convenience for my customers..." recalls Stewart. "My very first book called Entertaining sold way more copies than my publisher ever dreamed… [It] was a really good recipe book, but it also told a story. It was a fully illustrated cookbook, which was not common in those days. Now, if you don't have pictures with your recipes, forget it. Nobody wants it…"
Her hunch was right "I just knew it [would sell] because it was a book that not only did I need and want, but I knew that all my friends and every woman in America [did]."
2. Be disciplined.
Precise record-keeping and schedules are essential to Stewart's productivity. She likes lists and accurate calendars—and maintains them religiously.
"I am very organized and knowledgeable about the minute-to-minute schedule every day. I have regularly scheduled workouts with a trainer in my home gym. Daily homemade green juice to give me energy and a basis for good health. Regularly scheduled medical checkups on a doctor-ordered protocol. Daily outdoor activities: walks, horseback rides, all-terrain vehicle tours around my farm, and lots of travel. All of these are essential to keeping me in the best shape to keep up with a busy schedule."
3. Do sweat the details.
Long before content became brand currency, Stewart recognized what it takes to capture people's imaginations.
"I[] help people understand what the heck I'm doing in the stories we post and publish. Every caption is descriptive. Every picture is carefully taken so that you can see the dish. You can see the napkin, you can see the glassware, you can see the environment. It was very important to me that people understand that everything could be delicious."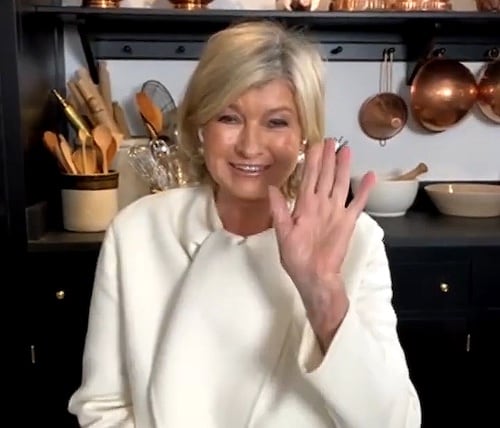 Stewart joined us from her farm in Katonah, NY.
She also understood that the magic starts with ideas and depends on talent. That's why Stewart treats her creatives equal to the corporate suits.
"The beauty part became more and more and more important as I wrote more books. You can't create that just by talking. You convey it by illustrating, by finding photography, by writing.
"We were half creative and half business. Most businesses don't treat the creatives and pay them as well as the business people. So many companies make the mistake of: 'Oh, we need them, but they don't need to be paid as much.' Well, we paid them as much. I'm very proud of that fact."
4. Listen to your friends…and your instincts.
Stewart knew her years living, creating and crafting were legitimate R&D for a hungry audience. And it was her confidante, an executive at major advertising agency, who helped motivate the shift.  
"She said: 'You know, Martha, I love to read how to do something, but I sometimes just want to buy the products. Make the products that you're talking about.'" Subsequently, Stewart launched a major collaboration with the largest U.S. discount retailer at the time.
Although she was in new territory, she never doubted her vision, "I wanted to be able to buy beautiful towels at a really low price." Her retail partner wanted her to focus on towels in "dark shades: maroon, dark green, dark navy and black," presumably more pragmatic because they wouldn't show dirt.
Martha wasn't having that incorrect assumption. "I made pink, sage green, and beautiful baby blue towels. And guess what? Guess which the bestsellers were? People who don't have a big income still want beautiful things."
"I know what I want, I know what I need, and that is a very important way to live. If I need it and I want it, many other people will."
5. Stay hungry.
Stewart still has her sights on new conquests. That includes the fastest-growing social media network. During her first four months on the video-focused networking app, she garnered more than 830,000 followers and 1.7 million likes. "I want to be the mother figure [there]" she says. This ambition seems utterly attainable—even inevitable. All while planning other milestones.
In another personal first, Stewart recently announced plans to open a restaurant. It was a move she resisted for decades. As a hands-on person, she wasn't game for the long hours she knew it would require. Forty years later, things feel different. "It is really trying to master yet another interesting part of living."
She's also involved with a documentary about her life for a major streaming platform. "I don't like to be too introspective... But [making the film] is like going to a psychiatrist because I have to think about the past. Luckily, I have vast archives that I have meticulously maintained—about 500 files, big file boxes—correspondence and diaries and contracts and everything. My whole life."
And finally (or not, as it turns out), she's planning her one hundredth book. "I wanted 100 to be my autobiography, but I'd rather get the documentary done and then the autobiography. That is going to be more like 105."
This interview is part of Office Hours, a series that connects you with entrepreneurs and experts and tips for running and growing a business right now. Find other can't-miss conversations here.