When you look good, you feel good. This is the simple but powerful underpinning that has turned Drybar, a hair salon franchise in the business of confidence, not cuts, into a fixture in cities across the country.
Co-founded by Alli Webb in 2010, Drybar broke from the traditional salon approach of offering cuts and coloring to squarely focus on blowouts. Instead of multiple services, Webb decided to focus her energy on perfecting a single product and on delivering it through a branding presence that borrows the social and community elements of a local bar. The recipe was a success, and the California-based storefront expanded to almost 150 locations across the U.S.
But how does a brand that's so heavily focused on real-life interaction evolve to meet the demands of social distancing? As part of our Office Hours Q&A series on @AmericanExpressBusiness on Instagram, we asked Webb to dive into the details of how she pivoted Drybar in response to the COVID-19 pandemic.
You've mentioned that Drybar sells more than blowouts but sells "happiness and confidence you get from great hair." How do you pivot that in response to social distancing?
We've really been able to stay connected to our clients via social media. I've personally done a number of hair tutorials, live Instagram with and about hair and I've also done some with my boyfriend talking about mental health and relationships, but I think all of that stuff really helps. Drybar has done a bunch of Instagram Lives with people who are showing us how they're surviving. I think it's a lot about social media and staying connected.
We've had to adjust the way we work, the way we communicate, the way we do business. It's very challenging, and there are a lot of roadblocks. But I think that it's being nimble and open that is the key."
— Alli Webb
We're also staying connected with our clients through tutorials showing them the products they can use at home and how to use them. We're still doing a lot of promoting of the product we carry because now more than ever people are doing their own hair and they need to understand how to use them, so that's a big way via Instagram, Facebook and email that we've been staying connected to our clients, and also just keeping them update with what's going on to the best of our ability.
What have you learned about the Drybar community, even after the stores closed? Where did they migrate to (i.e., social media)? And how did it change in that channel? What kind of engagement have you seen?
We've seen a really strong engagement from our clientele, tuning into our Instagram Lives and our hair tutorials — there are a lot of people who have asked for advice and questions for tips and tricks, which is why all the tutorials I've done for other media outlets have been well received because people want to know small things they can do to make their hair look good and make them feel good.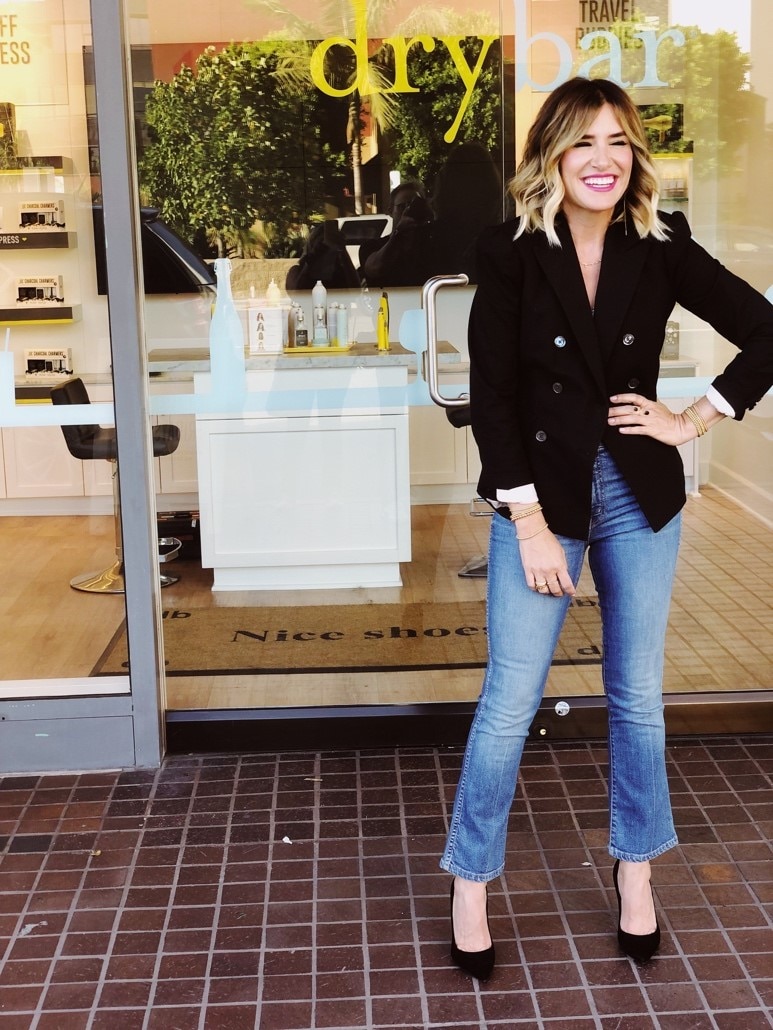 How has the outlook of your investors changed through the course of the outbreak? What's their take on the situation, and what does this mean for continued funding and expansion?
I think our investors and our board has been really amazing in helping us navigate this, really our internal executive team at Drybar has been fantastic at navigating so many of the details that have come up with this. The board has been so supportive and a great sounding board. Right now, we're not actively seeking investment, that's not something that's on the table… we will hopefully as things progress and grow, we will expand, even if it's pushed back a bit.
You'd mentioned that you're now hyper-aware of the customer and the experience — do you have any specific plans for pulling this through the stores as they reopen?
The customer experience is what makes Drybar, Drybar. It's part of the promise we make to our customers. Now, were adjusting to change and evolving that experience to fit that new normal, which will be masks, and gloves and spacing, and all the other things we're putting into place, and that the customer experience will always be the most important thing about Drybar. That, in my humble opinion, is what makes Drybar really special. 
Finally, what would you say to small business owners trying to figure out what to do during all of this?
When contemplating opening a business, similar to us it's really re-thinking how your business used to operate compared to how it can operate now — consider all the things you can do to help people feel safe and that you are really taking it seriously. I think there's been a lot of talk about people not taking this seriously enough in terms of putting in new protocols for cleaning, new protocols for spacing, but I've also seen a lot of businesses do it really well already, especially going and picking up food from restaurants or going to your local drugstore where you have to stand six feet apart. Everything like that is really important right now, and making sure you're doing and thinking through your business before you open. The worst thing you could do is to not take it seriously.
When push comes to shove you just have to re-adjust to whatever is the new normal. I think that is so common for being an entrepreneur — there are a million different unknown variables and things coming at you that you don't necessarily expect or foresee, and you have to be able to quickly adjust. We've had to adjust the way we work, the way we communicate, the way we do business — it's very challenging and there are a lot of roadblocks, but I think that being nimble and open is key.
Watch a recording of a live Q&A with Alli Webb below and stay tuned for our next episode of Office Hours by following @AmericanExpressBusiness on Instagram.