Over the past few months, scores of dormant ovens across the world have been reignited by a wave of amateur bakers, driven to the DIY hobby by shelter-in-place orders and extended social distancing. And every day at 2pm EST on Instagram, they're invited to level up their skills through Bake Club — free live video sessions featuring recipes and expert tips from celebrity chef, founder and owner of Milk Bar, Christina Tosi.
Tosi has built a brand of out baking as an expression of purpose and passion. She's a firm believer in the therapeutic ritual of indulging in sweets — a very human practice she finds critically important amid the anxiety and uncertainty caused by coronavirus. But Milk Bar, which she founded in 2008, is more than just an experiential passion project. Its success in the highly competitive food industry is the direct result of the strategic diligence and business discipline she's practiced over the years, culminating in a world-renowned franchise that's made unconventional desserts like Compost Cookies and Cereal Milk ice cream household names for dessert lovers.
As part of our Office Hours Q&A series on @AmericanExpressBusiness on Instagram, we asked Tosi to dive into the details of how she pivoted Milk Bar in response to the COVID-19 pandemic, how it stacks up with other disruption she's faced, and where she sees the industry going next.
You're no stranger to macro disruption — you opened in November 2008, right in the middle of the financial crisis, and literally had to baton down the hatches ahead of Hurricane Sandy in 2012. Is there an implicit or explicit 'crisis playbook' you follow? What are its general principles?
Every crisis is different. The world outside looks different crisis-to-crisis, it affects people differently and, as such, there's not much of a 'crisis playbook' that one can recycle, other than the deep, yet simple stuff. Be smart, be nimble. Every day, every hour, keep your finger on the pulse of new information, anticipate and be prepared to act, even when it's out of bounds of said anticipation. Dig in. One day, two days, one month can be bad. Go back to basics. Develop a priority and build a decision-making tree to help keep you focused on the most important things first. Lean on your team, depend on them, support them as they share ideas and jump into action. Ask for help. Find ways to help others. The only way out is through.
We're curious to learn about the operational details of a bakery in lockdown. What does a skeleton crew operation look like? Are there certain products you sacrifice, and others you prioritize?
We slimmed our menu down to our core products — cookies, layer cakes, truffles, pie, cereal milk soft serve. Start somewhere, learn and measure as you go. Never react, move with intention. This has been key for us. We touch base each morning, measure the day before. We touch base each week, measure the week prior. We discuss what we might anticipate today or this week. We have seen so much fluctuation and change market to market, store-to-store, as well as online. You must keep your finger on the pulse, set guard rails to what you can afford to lose, or what you stand to gain. Be patient. Listen to diverse perspectives on your team.
Our business looks very different today than it did 50 days ago, but we don't take today for granted. Tomorrow could look worse than day 1, etc. Never freak out, but never believe a productive day will repeat itself tomorrow.
Milk Bar derives its professional purpose from your personal belief that sweets and simple pleasures deserve a dedicated space in our lives. Do you think the 'case for the cookie' has changed at all as people have lost the ability to treat themselves with a spontaneous trip to the bakery amid social distancing?
From what I've seen, it's only grown stronger. A cookie is simple, it's accessible, it is transportable, shareable, delicious, something that nearly all of humanity can connect through, with or because of. People are seeking treats for themselves, to share with others, new friends, old friends, health care professionals and beyond. We could not be more honored to get to help play a role in that.
Even as the pandemic subsides and we inch towards degrees off of reopening, the foodie community may be reluctant to resume dining-as-usual. What trends do you think will take hold in the food community on the other side of the curve? Are any influencing your future business roadmap?
There is no going back, only forward, so let's leave the "resume dining-as-usual" expectations behind. There will be more humanity. We know we will need to show up with a sense of care and sensitivity like never before, we need to give folks even more of a reason to come and visit and we're excited about that challenge. We will see more clever mechanisms for carry out or food delivery experiences that will get us excited about staying home. We will see dining rooms take shape like we've never imagined them. As consumers, it's our jobs to enter in with the same enthusiasm our restaurateurs are imagining re-opening.
This is a tremendous reminder that everything is bendable, and breakable. Let's not take a day or a moment for granted. Budgets, road maps, plans, are all great directional methods, but open mindedness in the 'nowness' of now is key. I have at least 8 things I'm excited about bringing to life through Milk Bar, but I have no clue which ones will work, which ones will stick. That said, I'm excited to chase each and every one of them down.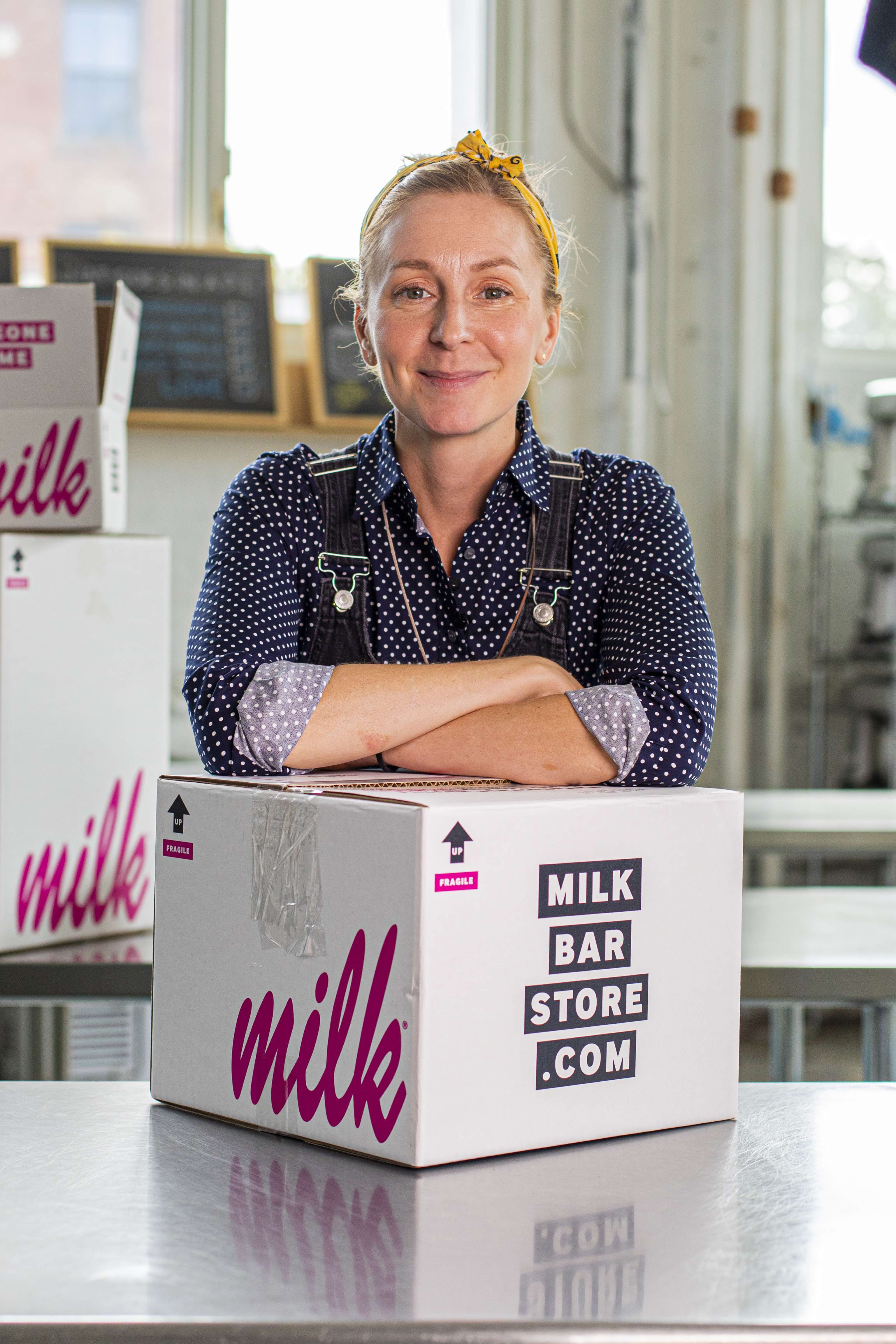 At-home baking has become a hobby for many under quarantine. Do you think we're going to see a micro-scale bakery industry emerge from home kitchens across the country after this is over?
Oh, don't forget about the wonderful health department. Bakeries out of home kitchens is typically frowned upon. Perhaps we'll see more bricks & mortar storefronts if we can find a way to narrow the gap between leases and operating realities of bakeries.
Be smart, be nimble. Every day, every hour, keep your finger on the pulse of new information, anticipate and be prepared to act, even when it's out of bounds of said anticipation.
—Christina Tosi, Chef, Founder and Owner, Milk Bar
I can tell you I'm proud of us, of people at home who are cooking and baking now more than ever- it gives us a sense of purpose, a place for our imaginations to go and wonder, a sense of courage and confidence. A country full of killer home bakers is one I'm ALL FOR.
Finally, what are some tips you'd leave other business owners and restauranteurs?
A few things. Remember that your team comes first, always. Economics comes second. Resilience is key, and there's good in every bad — if you don't seek it out, you've wasted a perfectly good opportunity to grow and learn. And, if you don't learn what YOU need to be good, the rest is irrelevant. Figure out what you need to keep some gas in your tank.
My personal leadership mantra has always been "how you do anything is how you do everything." It's how I opened Milk Bar — it's been a core value since day one. The care you put into sweeping the floor long after everyone has gone home, or when no one is looking will tell you everything you need to know about how great a baker or barista or whatever you will be. It's about being a person of full-time integrity — there's no other way to live life.
Watch a recording of the Office Hours live Q&A with Christina Tosi below and stay tuned for our next episode by following @AmericanExpressBusiness on Instagram.
Video: https://youtu.be/nitrun3hGeo