There was a time when I would avoid eating food at networking events because it's hard to juggle a plate and a drink and eat while also greeting people. Then one day I broke my own habit, and quickly realized that shaking hands was a messy effort … so I switched hands. I ate with my left instead, which made it much easier to shake hands. That one simple switch changed more than my ability to greet people.
Eating left handed meant I no longer avoided conversation while eating. I didn't have that awkward moment of having to clean off my hands in order to shake hands, or be forced during high flu season to be a "hand sanitizer guy" who followed every greeting with some sort of weird cleansing ritual.
Eating left handed made me more approachable. It changed the way I thought about networking events and how I might enjoy them. It is also a great example of a microsolution—and successful people use them all the time.
Microsolutions are "life hacks." They don't usually change your life ... but they can make a difference in dozens of small moments over the course of your life. Together, microsolutions prepare you for success. They make a difference between winning and losing. So what are some other examples? Here are a few more microsolutions, curated from my latest ebook—Always Eat Left Handed.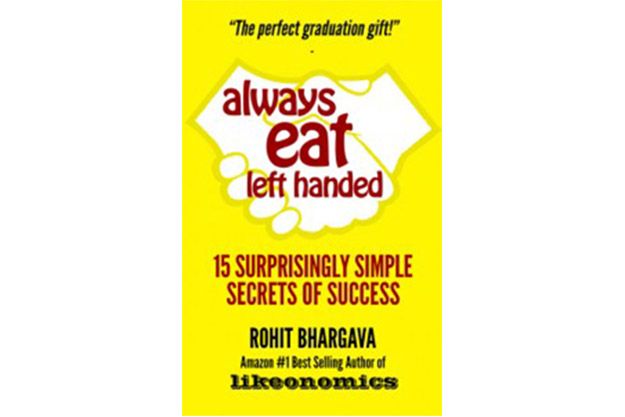 1. Learn how to play the cello. I once saw an actress on stage playing the cello—and that "useless" skill made a big difference in the power of her performance. Anyone can take the requisite courses and earn a degree. Acquiring so-called useless knowledge instead means following your curiosity, and learning skills that may have a value you could never have predicted.
2. Overlap your Legos. If you have ever seen a child build a tower out of Legos, you know that it always starts the same way. They stack Legos one on top of another until the tower falls or breaks. But then, they learn how to overlap Legos to make it stable, and learning that technique changes the way they play. Human connections work the same way. The more connections you have, and that overlap, the stronger your network will be; which in turn creates a more stable foundation for your own career's success.
3. Wear jeans. In creative professions, it has become standard practice to wear jeans to work. Pair that with the increasingly popular open plan "offices," and companies are enjoying an increase in collaboration. This newfound freedom in many workplaces has a valuable side effect ... it helps increase the possibility for unexpected conversations to happen. And sometimes these are the conversations that lead to breakthroughs and innovation.
4. Avoid cauliflower. I passionately hate cauliflower, but I used to hide this fact. For the sake of politeness, I would rarely mention it. The moment I started sharing this personal quirk, an interesting thing happened. People remembered this small fact about me. When dining together, they would proactively mention it. Hating cauliflower was a small personal detail, but it enabled deeper connections for me with others ... because I was not afraid to share an opinion without worrying about who might disagree.
5. Take a class. There is one stunning fact about millionaire self-help gurus that might surprise you. Most spend hundreds of thousands of dollars every year on personal training, experiences and learning. They overspend on themselves—and see the return of the investment in the people they meet and networks they build. What's the conclusion? Overspending on personal development, instead of expensive clothes or jewelry, tends to pay back tenfold over time.
6. Book a window seat. Unlike most business travelers, I have always chosen the window seat. Not only do you get a better view, but you are guaranteed that no one will disturb you if you don't want them to. Window seat travelers control their own destiny (as much as you're able to on a plane, of course).
7. Use a Sharpie. A funny thing happens if you take a thick Sharpie marker and try to write an idea on a small Post-It note. You can only fit a few words before you run out of space. It is a trick I often use in workshops and brainstorming sessions to help marketing teams focus on the really important ideas and concepts and force their brains to simplify. And it is simplicity that helps influence people to take action because they can finally understand what to do.
8. Keep it emotional. There are no less than a dozen bestselling books that all point to the fundamental psychological truth that humans tend to make decisions based more on emotion than on logic. One of the most time-tested ways to tap that emotional well is to use storytelling to engage. History is filled with leaders who led revolutions and inspired citizens through the power of storytelling. They, along with most other successful people, realize that to engage emotions you need to share great stories.
9. Interrupt often. When you hear the advice of becoming a better listener, it's tempting to think that basically means talking less and listening more. It doesn't. Active listening means interjecting with questions. It means interacting to have a real conversation instead of just shutting up and listening. Interrupting ironically can lead to better conversations.
10. Be forgetful. Successful people love to celebrate failure, and how much it contributed to their current successes—but they often leave something out. Failure may offer valuable learning opportunities, but it is the ability to forget the failure that every successful person truly must have. This extends to personal life as well. People who hold grudges tend to hold themselves back. Those who can forget can more easily move ahead.
Read more articles on productivity.
Rohit Bhargava is a marketing expert on building more human brands. "Always Eat Left Handed" is his fourth book, and was an instant bestseller on Amazon, hitting #1 in several categories within the first week of launch last month. He is the founder of the Influential Marketing Group, a professor of marketing at Georgetown University and a sought after keynote speaker on marketing and the future of business.
Photos: Thinkstock