I spent most of my adult life living an almost literal stone's throw from Veselka. And the only way I can really describe it is... just one of those uniquely New York places.
A Ukrainian coffee shop at the corner of 9th Street and Second Avenue in a pocket of the East Village historically known as Little Ukraine, Veselka has been serving up its signature borscht and pierogi for nearly 70 years.
Veselka, which means rainbow in Ukrainian, is the kind of spot where you feel at home the moment you walk in and settle into a table in the bustling dining room. It's not uncommon to see an early-morning job seeker downing a quick breakfast at the counter crossing paths with late-night revelers on their way home looking to fill their bellies before calling it quits. Because, fittingly, in the City That Never Sleeps, Veselka has been open 24 hours for much of its history (the COVID era notwithstanding). On any given night, you might see an A-list celebrity at the next table, just looking to blend in with the locals, which is part of the appeal.
The history goes a little something like this: Veselka was founded in 1954 by a Ukrainian immigrant named Wolodymyr Darmochwal, as a five-and-dime that also served soup and sandwiches. In the years that followed, it expanded to a full coffee shop. A young man named Tom Birchard married Darmochwal's daughter Marta in 1966 and would go on to take over the business. Their son, Jason Birchard, began working there as a teenager, and today, he serves as Veselka's third-generation proprietor, steering it through challenges like the 9/11 terrorist attacks, Superstorm Sandy, and the pandemic, all of which took heavy tolls on New York and its mosaic of small businesses.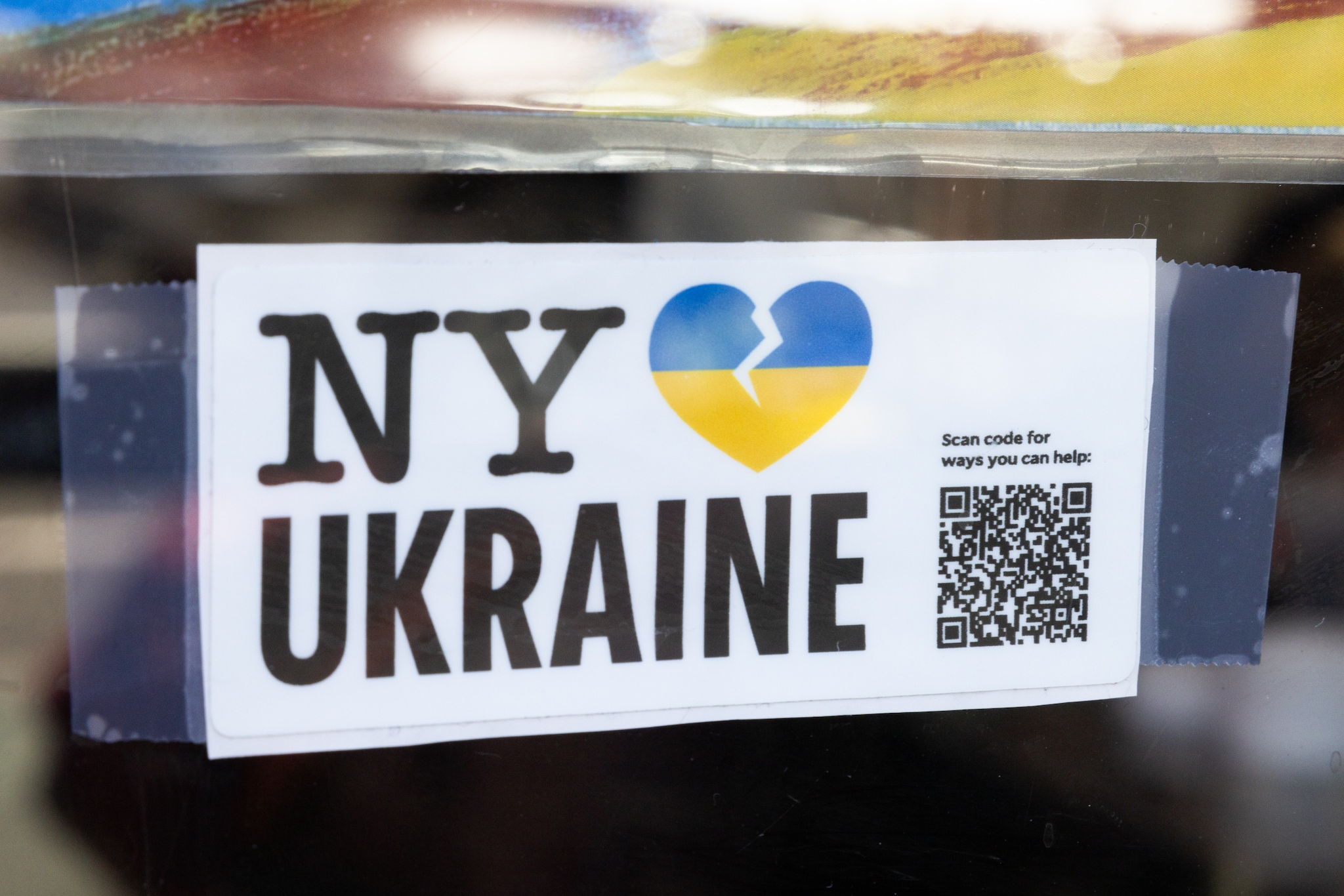 Veselka had already earned its place in local restaurant lore – after all, in a city where the vast majority of restaurants close within the first five years, surviving for three-quarters of a century is no small feat – but a new chapter has been written this year. After just regaining its footing after the struggles COVID posed for all restaurants, Birchard and his team watched along with the world as Russia invaded Ukraine, where many of Veselka's employees immigrated from.
And then the people came. A lot of people.
As perhaps the most familiar Ukrainian landmark in New York City, Veselka became a gathering place for customers looking to show their support for Ukraine. Lines have stretched around the block, business has skyrocketed, and Veselka has done its best to increase awareness of the ongoing war – including raising approximately $200,000 for humanitarian efforts.
I've got to say, as a business owner, I wear many hats, and now I'm playing psychologist, among other things.
– Jason Birchard
I recently sat down with Birchard between busy shifts to discuss Veselka's humble beginnings, the secrets to longevity in business, and how the war in Ukraine has changed everything.
So all this began with your grandfather. Tell us about Veselka's early days.
Veselka began in 1954. My grandfather was a Ukrainian immigrant escaping Russian oppression in the 1940s after the war – go figure. If he were alive today, he'd be very disappointed. He was a very big Ukrainian patriot, but he never lived to see a free Ukraine.
In the beginning, you could buy anything from kitchen staples to cigarettes to knick-knacks. He offered a couple different soups, that was it early on. Over time, he was able to expand it with a short counter, which had a grill. The menu had simple sandwiches, some pierogi, and the same soups, including borscht.
Then your father came along.
My father married into the family at a very young age, at 20, and was here in the business shortly after. My grandfather was ill and died suddenly of a heart attack in 1972. So my father was basically thrown to the fire and learned the ropes on the job. He went through a lot of obstacles. The city was going through its share of issues in the 1970s, but he stuck it out. 
He slowly realized that the neighborhood was beginning to change and increased the menu to include some other, non-Ukrainian items – pancakes, burgers, things like that – but he stuck to the core Eastern European specialties.
I grew up in a family business myself, and I've written about many of them, so I know the next generation can be somewhat reluctant to take over. Growing up, did you think you'd be at the helm one day?
I started working here in the 1980s as a high school kid. Went away to college. When I graduated, I really didn't have an interest to come into the business. But my father talked me into it and I'm glad he did. When I started in 1990, one of my first ventures was taking us 24 hours. My dad had lived in the neighborhood for years and noticed there are a lot of people walking around at all hours. St. Mark's Place is a block away, there are a lot of bars, there's a big student population with NYU, the School of Visual Arts, Cooper Union. So we decided to do it for weekends initially – and it was gangbusters. My dad said, "OK, let's try it seven days a week."
Surviving for nearly 70 years is enviable for any business, but especially a restaurant in arguably the most competitive restaurant market in the world. What's been the secret to Veselka's longevity?
Loyal customer base, loyal staff, and just being here to support the community have been key factors. My father always was a big believer in giving back and he has helped support a lot of the small theaters, theater groups, our local police department.
In times of calamity, comfort food is definitely something that brings people together. They sympathize, they commiserate, they just feel. Veselka means rainbow but we have a sign over the dining room that says "Veselka Is Love." I think people feel love when they're here – they feel loved while eating a bowl of borscht. Everybody can trace back some part of their heritage to Eastern Europe, or knows somebody, or has been to somebody's house and shared this type of food. So now, after all these years, people are just thankful we're still here.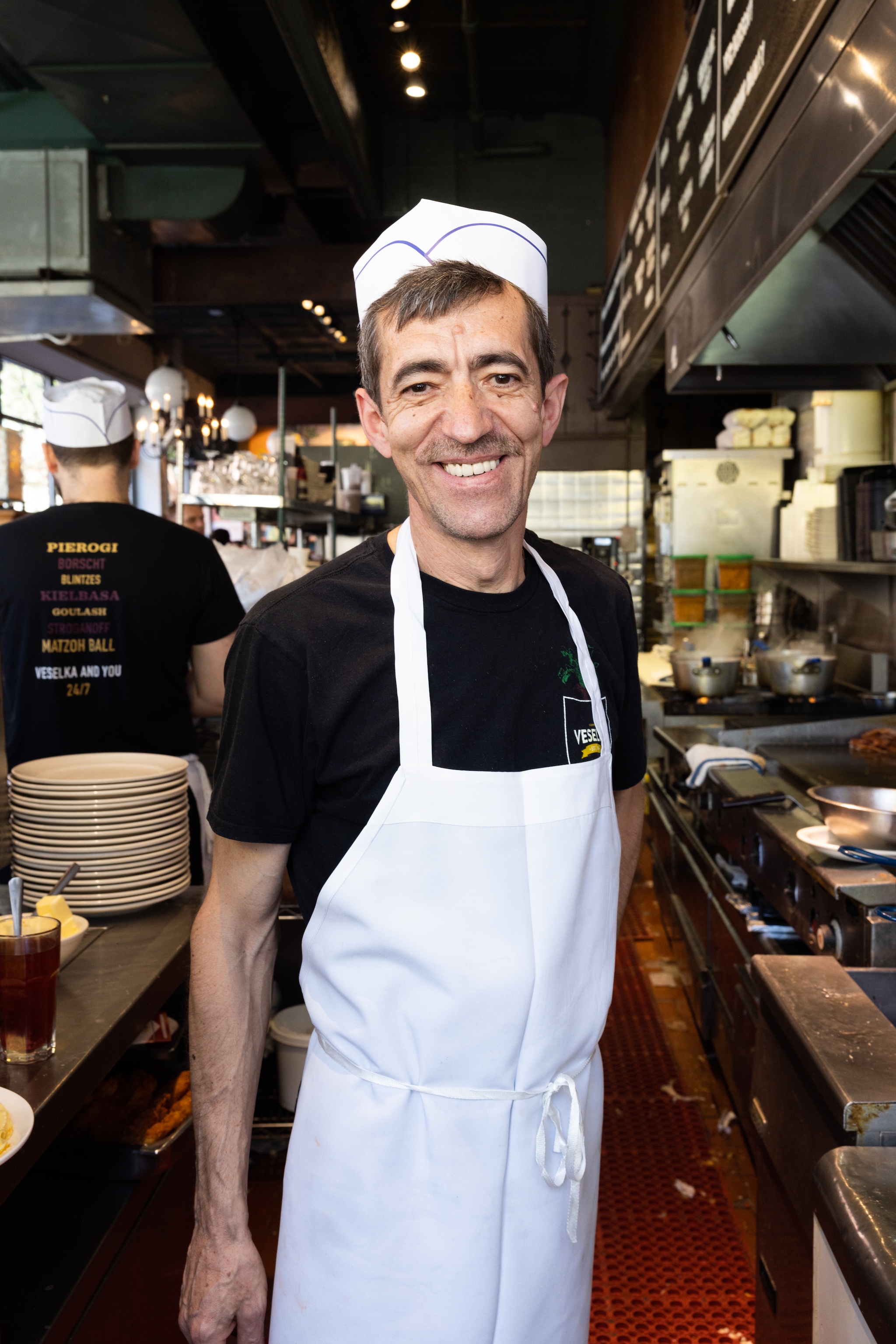 Pictured: Ivan P., one of the cooks at Veselka
It wasn't the first storm that Veselka had weathered, but perhaps the biggest. What did business look like at the height of COVID?
Oh boy, how much time do you have? In March 2020, indoor dining was reduced to 75% capacity, then 50%. Some of my staff members didn't want to work the register, so some of the older managers and I took that on and worked the front door. I knew we were just days away from closing the restaurant for all indoor dining.
My father had just retired, and I didn't want to close, but I thought it was a moral decision to – we needed to do our part in flattening the curve. A lot of restaurants that did stay open did takeout and delivery, but I closed. The next day, I came in and met the chef, put things in a freezer, donated food and whatever I could do. I went home that night and I had symptoms. Slept three or four days, woke up, and I was slowly feeling better. Then my wife started showing symptoms and got really sick. I recovered probably within a week or 10 days, but it took my wife nearly a month.
I think people have forgotten what a nightmare it was early on, especially in New York. What happened after you recovered?
I had a couple of employees that lived locally near the restaurant, and they were saying there was lots of demand for food, a lot of restaurants had closed, the takeout offerings for people in the neighborhood were not there. So about the six- or seven-week mark, after we had closed, I found a core group of people who wanted to come back, who either lived locally or could walk here. We ended up reopening for takeout and delivery on 10- or 12-hour shifts. One shift, let's just do it.
What was the response?
It was a little slow to start, but people were so happy that we were here. They said, "What are your hours? Are you going to be here tomorrow?" Yeah, we'll be here tomorrow. I was working with an e-commerce restaurant platform to the pandemic, and sales were mediocre, maybe 50 boxes a day. But when I reopened the restaurant and restarted, I was doing 100-plus boxes a day, shipping across the country. So that was a real big plus and a drive in revenue. Slowly but surely, I built the takeout delivery hours longer, and then the city opened up outdoor dining. I was able to build a beautiful outdoor cafe, added 40 seats outside in addition to my existing sidewalk cafe. Indoor dining finally re-opened and things just progressed from there.
Morale is an issue for any business owner, but it's that much more challenging when your staff is worried about loved ones in a war zone. How have you kept spirits – and business – up?
You hear the horror stories over there and it's sickening, it's disheartening, it pulls on our heartstrings. We're trying to do our best to just stay focused and hope there will be a peaceful resolution.
I've got to say, as a business owner, I wear many hats, and now I'm playing psychologist, among other things. People are concerned, staff are asking, "When do you think it's going to end? What's going to happen next? What can we do?" We've got to help as best as we can from afar and raise awareness. There's a little backstory on borscht. There's a debate between Russia and Ukraine over where borscht originated. Borscht originated hundreds of years before in Ukraine and is now being considered a heritage dish. So that was a no-brainer for me – all of our Ukrainian borscht sales would go toward Ukrainian relief efforts.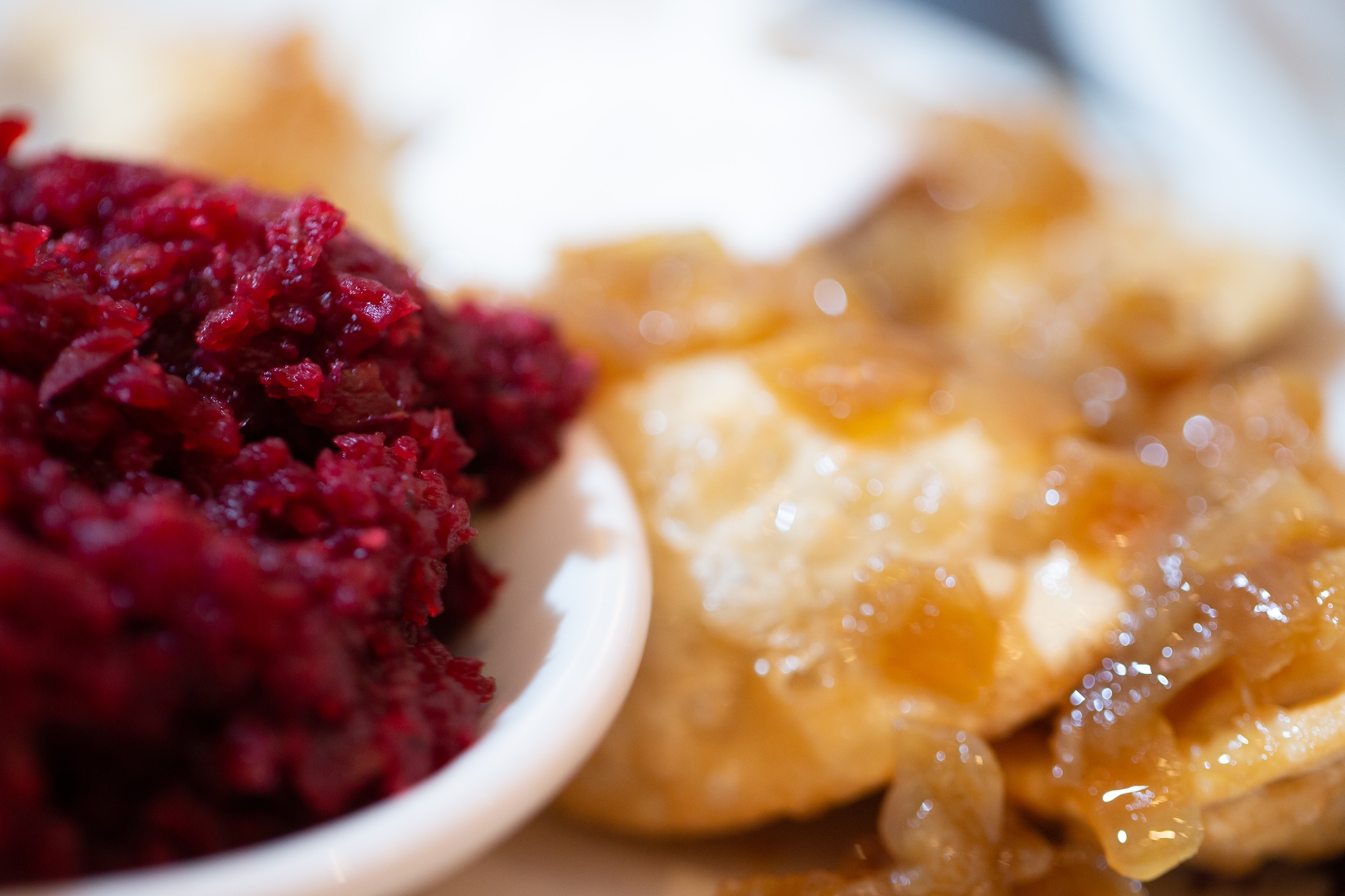 Veselka's beet and horseradish salad and fried pierogi. 
And what's the scene been like at Veselka amid all this?
Well, we've definitely embraced our Ukraine heritage. I've got flags and different signs that people have donated. We've got placards that say "Ukraine is for Ukrainians." #StandWithUkraine is a big hashtag now. Definitely a vibe where you feel like you're in a place of high energy. It's a high tin ceiling roof, so it's typically noisy, it's crowded. There are lines of people waiting to get in from 10 a.m. to 10 p.m. The staff are very appreciative of all the concern. Fifty percent of my staff are of Ukrainian descent, so they are very thankful and grateful for the people who are coming and asking about them.
This is part of An American Experience, a content series highlighting culturally diverse and immigrant-owned businesses. Check out our first episode featuring Diana Jarrar, founder and owner of MAGICDATES. 
Photos: Christopher Lane