While many businesspeople are trying to figure out how to separate work and life, Brian and Lisa Sugar of PopSugar believe they've found the secret: Instead of balancing, they blend. In fact, their decision to start a business and family simultaneously has created a fun office culture. "We brought our daughter, Katie, into the office every day for the first three years of the company," Lisa says. "At first we were worried that her presence would be distracting, but everyone really loved it and would take 'Katie breaks,' where they would cheer her on as she learned to crawl and walk."

The Sugars also include employees' spouses at events, proving that a family-friendly approach to business doesn't have to deter entrepreneurs from hitting the big time. Today, PopSugar has five offices worldwide, hundreds of employees, 20 million unique page views per month and $46 million in venture funding. 

That empire started from Lisa's personal interest in 2005. Working in advertising in San Francisco, she spent nights and weekends trolling websites for the latest celebrity gossip. She wanted to find a site that not only fed her celebrity addiction, but also provided her with the latest trends in fashion, fitness and culture. When she couldn't find a site to quench all her interests, she decided to create her own.
Brian, a serial entrepreneur who helped build and sell companies such as BlueLight and 2Media, created the first iteration of PopSugar as a blog that responded to celebrity news. Lisa says she was "obsessed with writing," and rarely went a day without contributing something to the site. Within months, readership was in the thousands, and the Sugars quit their jobs to work on the site full time.
Nearly eight years later, PopSugar is a media giant. Until late February, PopSugar operated more than 12 independent sites, each focused on a different vertical such as fashion and fitness. Today, the sites have been combined into one—simply PopSugar—with daily video content and a dedicated shopping arm.
There were tons of blogs back in 2005. Why do you think PopSugar attracted such a massive audience right off the bat?

Brian: Back then, most bloggers were writing with a snarky tone. They were the kids in the back of the class, so to speak, making fun of traditional media. Lisa approached her writing differently. She wrote in a simple, clean and approachable tone. I think people were attracted to that.
Did you have funding starting out?

Brian: We started PopSugar one year after doing it as a side project and, by that time, I'd been fortunate enough to sell a few of my companies. We put in $250,000 and Arthur [Cinader Jr., co-founder and son of the founder of  J.Crew] put in another $250,000. Pretty soon we had interest from several VCs and decided to go with Mike Moritz of Sequoia Capital. We landed our first round of financing, $5 million, in October 2006.

How to Make the Most of Your One Shot with Investors
What challenges have you faced along the way?

Lisa: It has been a challenge to stay true to our voice and expand into other categories. So much has changed in our business over the years. Whereas before we were curating stories about celebrities, for example, now we have a staff of 100 people creating original content straight from the red carpet.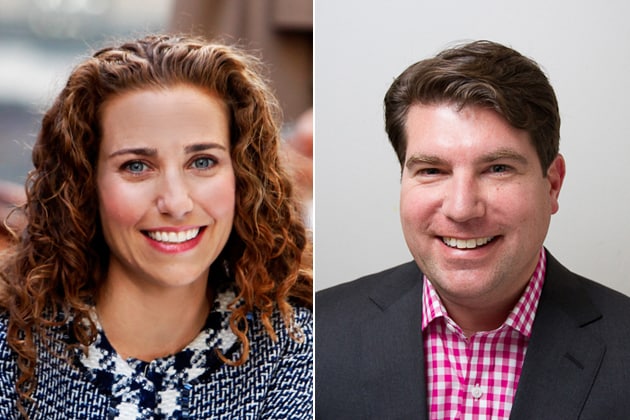 Courtesy of PopSugar 
What is it like to work with your spouse?

Brian: It is great. Our offices are on separate floors, but we are always instant messaging each other. We handle different sections of the business. Lisa commands the content and I'm more interested in the product, partnerships and future technology. My team thinks of her team as our client. We try to impress them as often as we can.

Lisa: I think it works because we've figured out the right times to check things off our lists—be it personal or business tasks. We also make sure to go to the movies every Friday night, no kids.
How do you separate your home and work life?

Brian: We don't have separation, on purpose. We love what we do so passionately, that turning it off isn't fun. We do go on vacations, but even then our computers are there, iPhones are there. I'd say our work/life balance is spread out over 30 hours per day [laughs].
How were you able to establish a fun office culture?

Lisa: Our culture is fast-paced. We are always "on" here. My group is about 95 percent women who are excited to write about things that they would be passionate to write about in their spare time. 
In the early days, we would have happy hours and encouraged employees to bring spouses along to create a family feel. I think it is these things that have set the tone for our culture. We've been able to retain employees for a long time, which feels great.
Why did you decide to combine all your sites into PopSugar?

Lisa: We realized that having multiple sites was complicating our story and our brand. As the company grew, we wanted people to understand the power of one brand. It made sense.

How Dany Levy Grew DailyCandy Into a $125 Million Business
How does PopSugar make money?

Lisa: We have multiple revenue streams. Our revenue comes from on-site advertising, our shopping site and, starting last year, a curated box of products for subscribers. For $35 per month, women can get a box filled with full-size entertainment, beauty, home, food and fashion products. We already have 12,000 subscribers. This summer we plan to launch an essentials box for men, too.
What advice can you give to budding entrepreneurs?

Brian: You need to understand the dynamic range of your life and what you can handle, in terms of highs and lows. Everything you do has the potential of increasing your dynamic range. Know your capacity around that range and be willing to work within it.

Read more articles on how to grow a business.
Katie Morell is an independent journalist based in San Francisco. She regularly contributes to Hemispheres, USA Today, Consumers Digest, Destination Weddings & Honeymoons, Crain's Chicago Business and others.

Photo: popsugar.com