This is a labor of love for me. I love my business. Sometimes, my wife says, "You're always on stage." I live in a very peaceful area in Riverdale, in the Bronx, right over the Manhattan border. It overlooks the Palisades, it's very tranquil, it's almost like I'm in the country. I come home, I detach, I don't want to talk about it.
Business owners of all kinds are facing challenges, and it's always hard to plan for that, but you have to adapt quickly. You have to be open to change.
—Jason Birchard, owner, Veselka
It's been very difficult these last few months, I've got to be honest. But every hard day or stressful moment that I have, I think about people that have had to escape from their town or village or city with just the bag in their hand, their whole lives being displaced. So we've got to think about those people in the big picture of things.
Obviously, the cost of goods has gone up across the board, on top of business doubling. Whether it's a Ukrainian diner here or anywhere, the supply-chain issues have been ongoing since the beginning of the pandemic. And the majority of our stuff is homemade here, so I've been dealing with those issues and I'm trying to find the best substitutes available to me, in terms of whatever raw materials. How am I dealing with it? I dealt with maybe three core vendors in the past that have been very loyal to me and they've run out of things. I now buy from 10 different vendors on a grocery level. I have three different dairy guys. I have three different meat guys. I've had to shop around to find out who can get me what I need.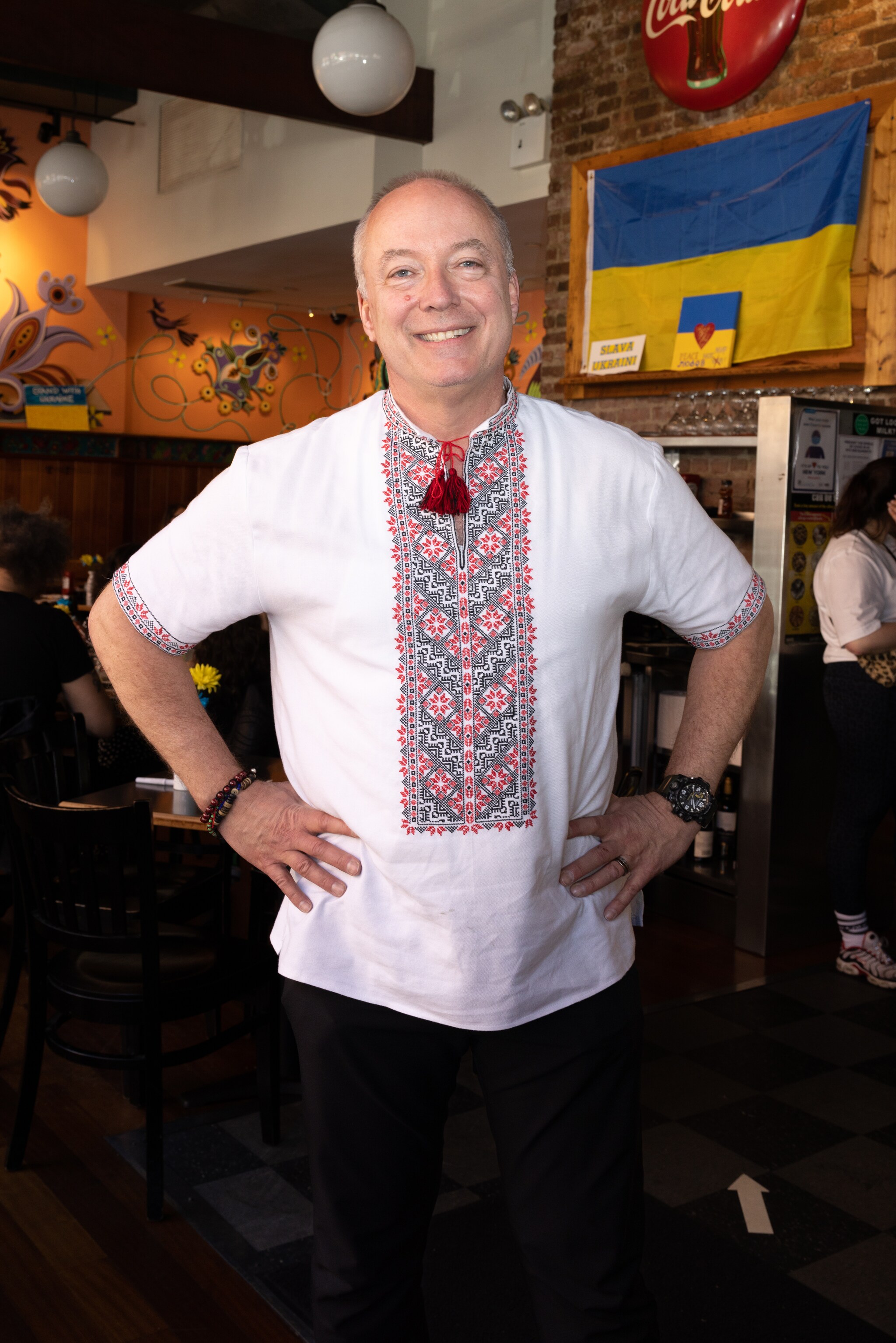 Due to unfortunate circumstances, I had a Ukrainian chef that left me right before the war, in January, but I brought in another reliable guy that's been able to step up his game and he's been overseeing the kitchen and making sure that things are well organized and keeping me abreast of what's needed. And we're crosstraining a bunch of different employees to do different things to fill in the voids.
I just try to be an active owner. There's nothing more to be said. I tend to micromanage, but I'm entrusting my key level managers below me to keep their feet to the fire and try to keep the bigger projects ahead of me. We've done catering pop-ups, we're considering a commissary kitchen, more expansion.
And I've been rethinking my business in general. We're planning a major renovation. I'm taking over the last retail commercial space in this building. But I've always thought about Veselka going nationally, which is where Goldbelly – an e-commerce platform that allows local restaurants to sell and ship across the country – has come in.
Business owners of all kinds are facing challenges, and it's always hard to plan for that, but you have to adapt quickly. You have to be open to change. I've had my blinders on for a lot of my working years. I recently brought on a cousin of mine who is 20 years younger than I am. He's got his nose to the ground about what different loans are available, stays up to date on the latest trends. There's all kinds of new kitchen and cooking equipment that are available now to restaurateurs. Knowledge is definitely power, as they say. I'm a little late to that game, but I am learning now.
With the war going on, it's a difficult balance. There are some days I question what we're doing. Should we be doing this? Are we doing enough? [Editor's note: To date, Veselka has helped raise approximately $200,000 for World Central Kitchen and other organizations assisting the Ukrainian humanitarian effort, according to Birchard.]
I was quoted recently saying that I would volunteer to go to Ukraine. My grandfather [Veselka's founder] was a very big patriot, a very big Ukrainian believer. If he were alive today, whatever age he would be, he'd be there willing to fight. The president of Ukraine has stated that all men age 18 to 60 should come and fight—even if you're in a foreign country, come back. It has crossed my mind. But I'm just doing my best in trying to help raise awareness. We have a very active social media, trying to help spread the word. There have been different concerts and benefits. Everybody's doing their best.
If anybody didn't know where Ukraine was before this, they definitely know now. I think people now realize that Ukraine was an independent country of 30 years. We celebrated this year.
As told to Rod Kurtz
Jason's story is part of a series called An American Experience. 
Photo: Christopher Lane