Over the past few years, there has been a gradual shift of companies automating their accounts payable (AP) processes. New digital alternatives made it easier, more convenient and more affordable to handle payments and track vendors. But before COVID-19 hit, 79% of U.S. businesses still paid at least some bills using paper checks.
The new normal is forcing AP departments to adapt and has turbocharged the digital trend, according to Virtual CFO Kendra James-Anderson, also known as "The Finance Femme." She shares what she's seeing among her clients, and provides key perspective on the landscape of payment systems and how businesses that adopt them are receiving benefits.
Pre-COVID 19 Trends
Even before the COVID-19 pandemic, James-Anderson was seeing an increase in AP automation. "Over the last several years, businesses have been moving numerous tasks to be more digital including AP. Business owners saw the importance of paying vendors quickly and tracking everything on one system," she says.|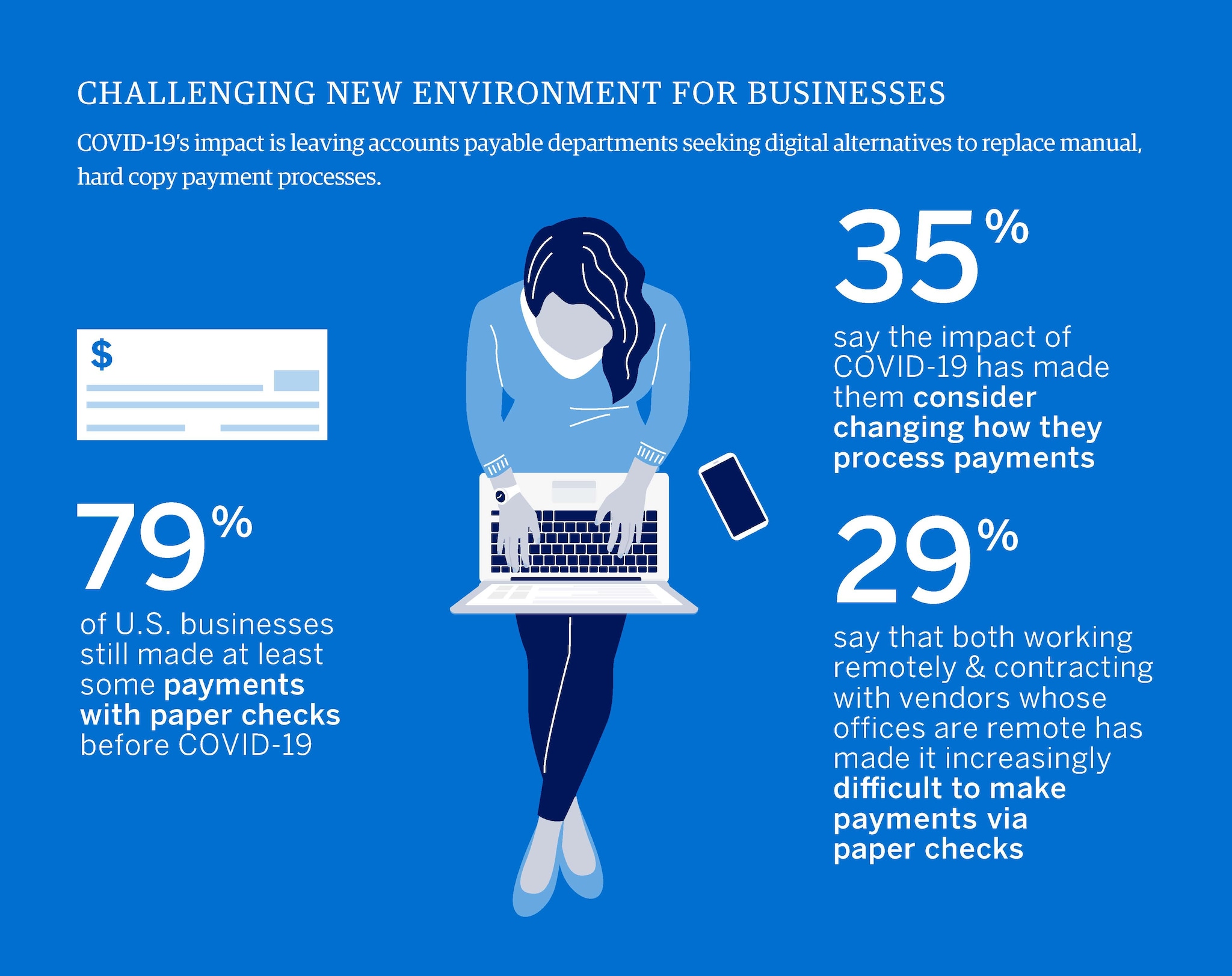 Source: American Express Entrepreneurial Spirit Trendex 2020
James-Anderson believes that over the past decade, people have become more accepting of digital systems, period. "There's more engagement over virtual platforms, more SAAS solutions, and more people working outside of the office," she says.  
With that being said, James-Anderson has seen some hesitation over digitizing AP. "It's a sensitive area, dealing with SSNs, credit cards and other private financial information. There was a slower acceptance for going virtual than other areas," she says.
The COVID-19 Acceleration
As COVID-19 forced physical offices to close, business owners still using paper checks found themselves in a tough spot. "A lot of businesses had to go virtual, but their AP system was based on face-to-face interactions, like having a clerk walk over to hand the CFO paperwork for approval," says James-Anderson. This created all kinds of headaches and tough decisions. Would it make sense to give a clerk the company checkbook to take home?
During this transition, James-Anderson saw business owners running into some problems as they tried to figure things out, such as "a lot of last-minute wires with high fees, a scramble to figure out ACH and direct deposit information, and late payments," she says. "While vendors were mostly understanding of the situation, you don't want to damage relationships by being late."
Given these challenges, it's no wonder that 29% of business owners feel like working remotely has made it increasingly difficult to make payment by paper checks. AP automation suddenly looks even more appealing.
Benefits of Digitizing Payments
In a recent survey conducted by American Express, small and medium business owners who switched to digital payments found a series of benefits.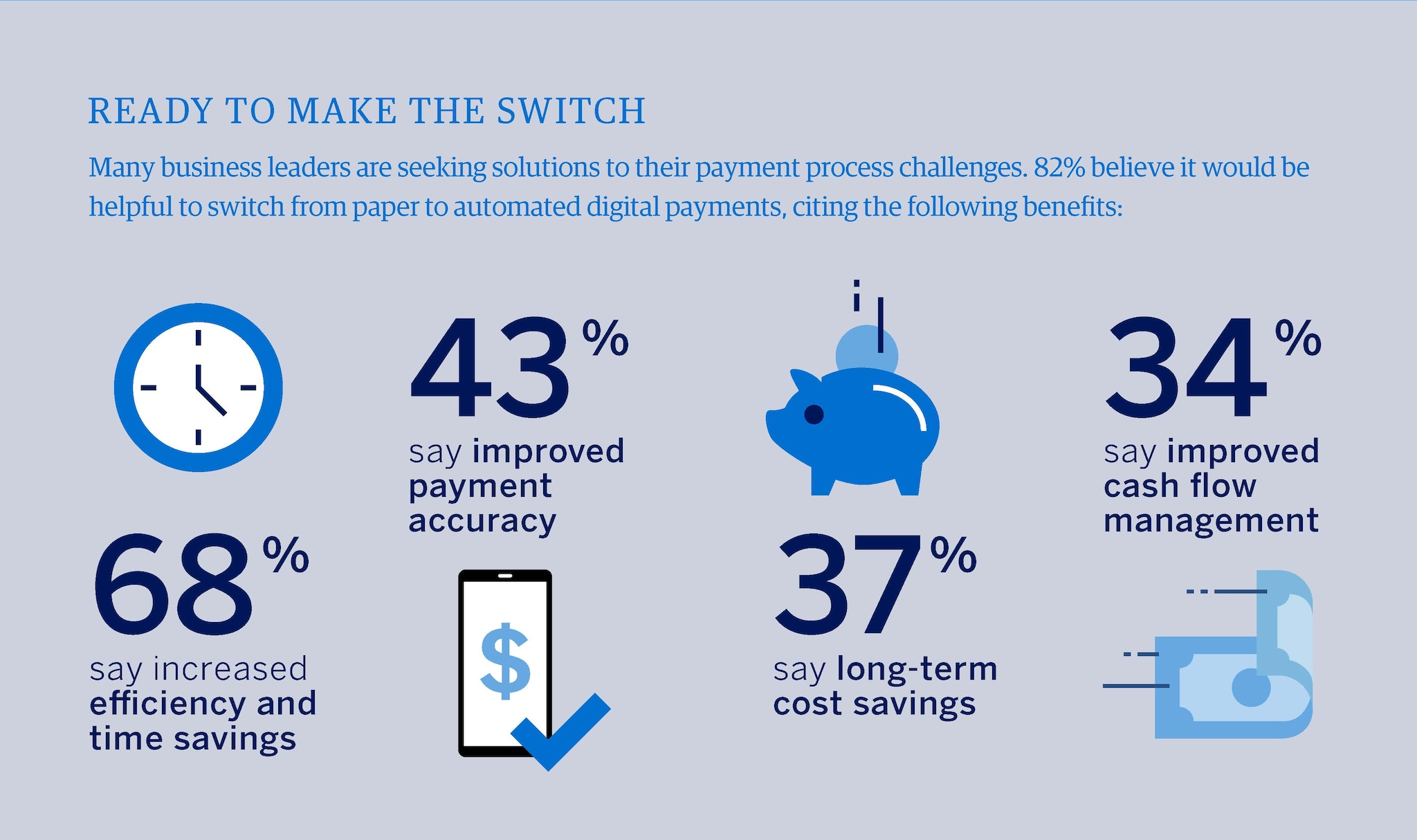 Source: American Express Entrepreneurial Spirit Trendex 2020
James-Anderson agrees that automating AP can increase efficiency. "The finance team doesn't have to manually double and triple check transactions or constantly fill out paperwork." A virtual solution also works with multiple payment options; you don't have to create a custom approach for each vendor or limit vendor selection to only those whose accounts receivable (AR) matches up with your AP methods.
Besides saving time, James-Anderson also sees a boost in morale and productivity from automating payments. "You keep the AP team from filling their day with manual repetitive tasks which frees up their time to focus on process improvement, like finding opportunities to negotiate better payment terms with long-term vendors," she says.
Potential Challenges 
James-Anderson admits that finance professionals as a group tend to be more cautious about changes, especially after using an existing procedure for so long. The COVID-19 crisis has created a situation where AP needed to react, so they are more open to new ideas than in the past.
Still, to create a smoother transition James-Anderson recommends that finance leaders try to get buy-in from the entire department first. To help, leaders could quantify the time the department spends on repetitive tasks and explain that by automating, the team could focus on more high-level work, like cash-flow analysis and vendor analysis. "AP wants to feel like they're contributing to the organization and this will get them more motivated," says James-Anderson.
By working with a program backed by a trusted brand, both AP team members and vendors can  feel more confident in your new digital system versus if you used a popup SAAS solution.
A New Normal
As finance teams get used to automating payments during the COVID-19 crisis, the response has been overwhelmingly successful. Eighty-four percent of businesses feel positive about transitioning to a digital payments system. James-Anderson does not see them returning to their old ways.
"Personally, I'm excited about this trend," she says. "Once people get over the hesitation and see what can be done digitally, they won't go back. They're doing well and it shows they're really ready for this." In an increasingly virtual world, AP automation could be here to stay.
Photo: Getty Images
1: https://about.americanexpress.com/all-news/news-details/2020/The-Entrepreneurial-Spirit-in-the-United-States-Remains-Strong-/default.aspx. Methodology: Findings are based on results of two separate online surveys. One was conducted among a nationally representative sample of 1,000 Americans 18 years of age and older living in the continental United States. The second survey was conducted among 1,000 small- and mid-sized business owners in the United States whose revenue ranges from $500K-$300M. The small- and mid-sized business owner survey was weighted to be representative of US census regions. The surveys were conducted and completed by a third-party vendor between September 8-23, 2020. The margin of error (MOE) for the total sample at the 95% confidence level is +/- 3 percentage points.