It wasn't long after Sonja Rasula lost her job as a designer for TLC's Trading Spaces in 2008 that she had an epiphany. The Los Angeles native had spent the day driving from one end of the city to the other, visiting her favorite boutiques to find just the right gifts for a friend who had invited her to Thanksgiving dinner. Tired and stressed, Rasula concluded there had to be a better way to shop her favorite local shops.
"I remember feeling so frustrated that my whole day was disappearing," Rasula, 39, now the founder of Unique Markets, recalls. "I thought there needs to be something like a mall—an environmentally friendly place where you park your car and get everything you need in one space—but it's made up of all artisanal small goods and independent designers."
Though she had no business or event-planning experience, Rasula started mapping out a plan to open a pop-up market in downtown Los Angeles that would bring hundreds of local vendors together in one place.
"I knew I needed to find space, I needed to find people to sell their goods and I needed to get people there," she says. "It seemed pretty easy."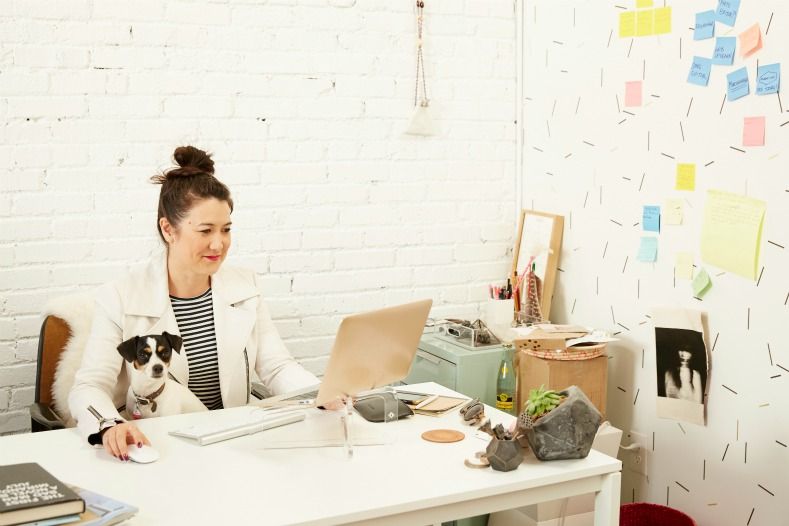 Sonja Rasula, founder of Unique Markets.
Unique LA opened in December 2008 on the 13th floor of a downtown Los Angeles building, with 225 U.S.-based vendors selling everything from strawberry rhubarb jam and pop-culture T-shirts to hand-stenciled wood jewelry and brass chandeliers. Rasula's mother flew in from the state of Georgia to help sell tickets, and her brother-in-law pitched in with courting media outlets to cover the event. An estimated 10,000 shoppers shelled out $10 to enter and partake in perks like family portraits and DIY crafting workshops. "It was instantly successful" and even made a small profit, she says, drawing revenue from the admission fee and the "rent" each vendor paid to use the space for two days.
"I remember it being a little better than breaking even, which wouldn't have even been enough to pay my brother-in-law for helping," she says with a laugh. "But I knew that I had a business."
Motivated, Rasula started planning a second event, drawing from savings she earned while working as a digital-content editor for Fortune 500 companies while in her 20s.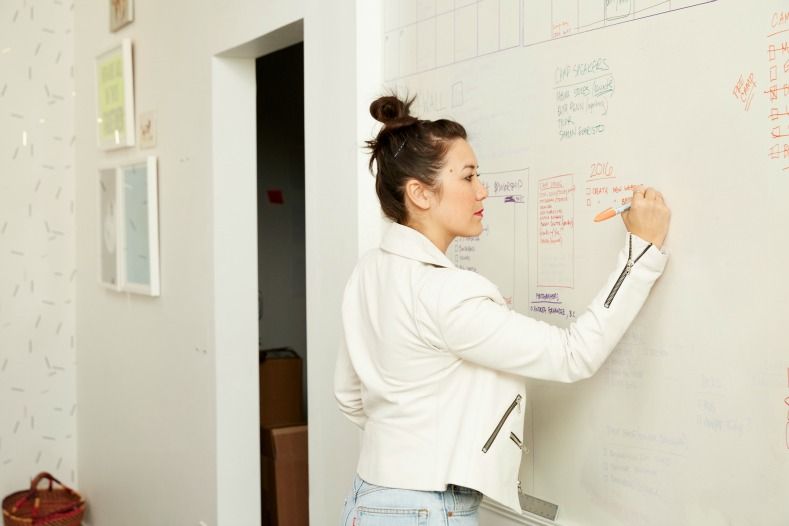 Rasula works on plans for 2016 at Unique's LA office.
Unique Markets now holds three annual American-made shopping expos in Los Angeles (attendance has doubled to 20,000) and has expanded to New York and San Francisco. Plans are in the works to add more cities in the United States and Canada in the next year. Its mission? To help designers and small businesses grow, support the local economy and teach shoppers the value of conscious consumerism.
"From the beginning, my thought was 'go big or go home,'" Rasula says.
Rasula credits the research skills she learned as a college journalism major with helping her bring Unique Markets to reality. "I was taught how to research and how to pay attention," she says. "If you need information you've got to find it. To find and woo vendors, she combed Etsy and other craft-focused websites and knocked on doors all over Los Angeles. "I hit the ground. The hardest thing in the beginning was describing the market to the vendors to get them on board."
As incentive, she offered free show tickets to each vendor, who distributed them to their own networks of clients and buyers.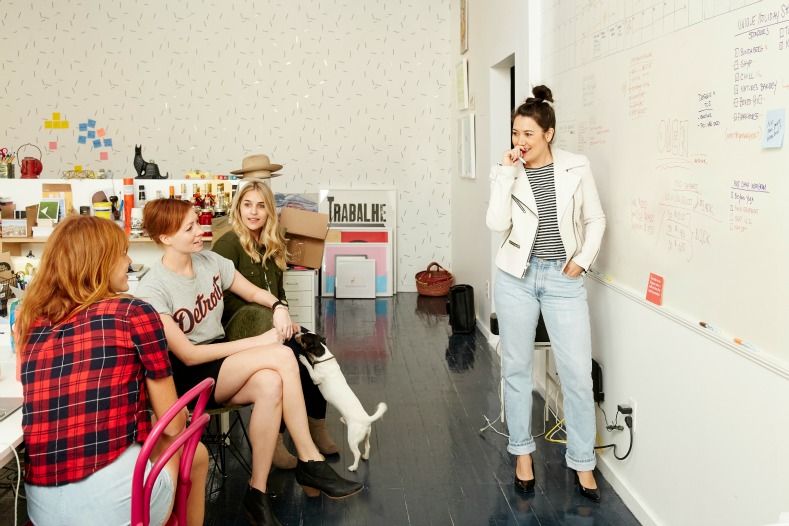 Rasula (far right) speaks to members of her team: (from left) Heather McCallum, Kate Stewart and Suraiya Nanji.
Since Unique Markets made its debut in 2008, temporary shopping events have spread to cities all over the country, with online-based companies such as eBay and Etsy enlisting pop-up shops and events to complement their Internet business.
Despite the increased competition, Unique Markets manages to stand out and continues to draw shoppers in part because of its focus on quality and community, Rasula says. She sticks to the same original downtown venue, but keeps the events from getting stale by adding and tweaking experiences for shoppers: DJs , family portraits and plenty of snacks and drinks are all included with admission. She recently added manicure stations and wants to bring in a barber shop and whiskey tastings for the 40 percent of males who attend the market. She still charges $10 a person and gets a cut from vendors for the space, and added a third source of revenue—from sponsors who offer free samples and promotional information about their products.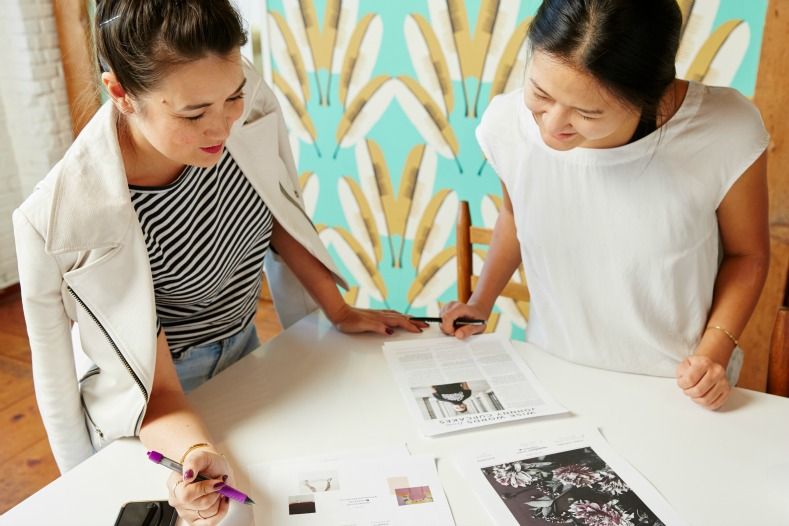 Rasula (left) with designer Joy Elise Park.
"At the end of the day, you have to understand culture and you have to understand human beings," Rasula says. "Unique LA is a brand. We're not going to accept people just to make money—we'll accept people if we think they have something to offer our shoppers."
Nearly 700 vendors applied for 350 slots in December's show, and Rasula has added curator and storyteller to her job description. One of her favorite success stories is Sqirl, which began as a Los Angeles-based small-batch jam operation that has sold its goods at Unique LA since its start. Now, its owner Jessica Koslow, runs a cafe renowned for its complicated comfort food. "To me, she was Jessica, a jam-maker in LA, and now she has a restaurant with a near-cult following," Rasula notes. 
P.F. Candle Co. is another favorite. Originally called Pommes Frites, the company started selling its housewares at Unique LA years ago and soon focused exclusively on its soy-based candle line; founder Kristen Pumfrey now has 20 employees and a factory in East LA. She still sells her hand-poured candles at Unique LA, drawn to its mix of trade-show professionalism and festive vibe. "There's just something elevated about it; people come and shop all day," Pumfrey says.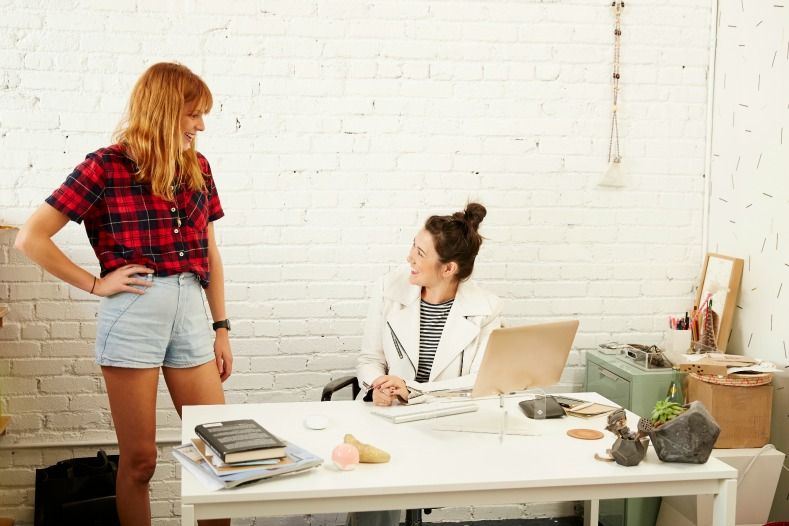 Rasula (right) with event specialist Heather McCallum.
Rasula now employs a team of five, including a director of operations and two full-time events producers. "Like me, they all work as if they were entrepreneurs," she says. "They do everything from changing a page on the website to doing Instagram to managing budgets."
Rasula also runs two side businesses she refers to as "passion projects." CAMP, a biannual four-day mountain retreat, mixes bonding activities like scavenger hunts with Pinterest 101 workshops and speakers. With the help of a Kickstarter campaign that raised $115,000, she is also leasing a former warehouse in downtown LA's arts district, which she gutted and turned into affordable office space for artists and entrepreneurs.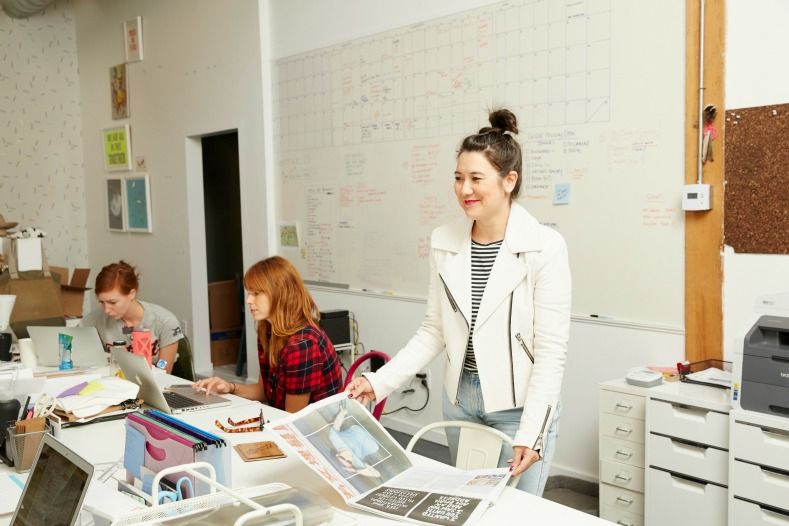 Rasula now employs a team of five to help her grow her company.
Rasula's brief TV experience (she never made it on the air) is now a distant memory and a lesson in life's unexpected turns.
"That was my dream job, so when I got it, I just was over the moon," she says. "Then I quickly realized it was not what I thought it was going to be."
Instead, it led to the launch of Unique Markets, a seven-year-and-counting journey that is clearly a source of pride and glee for its founder. "We really are changing the way people are consuming, " she says, "and that's so important to me."
Photos: Amanda Friedman