Place: Pa'ia, Hawaii 
Population: 2,430 
Best known for: Pa'ia's roots are as a sugarcane and pineapple-canning town, but it later skyrocketed to notoriety as a location for world-class windsurfing and kiteboarding. These days, it's a laid-back spot that's bustling with creative types.  
Least known for: Pa'ia's "Secret Beach" is a stunning, 3,000 foot stretch of oceanfront where those in the know can head to sunbathe. From the street, you wouldn't even know this strip was there, with this isolated beachfront only reachable by walking along a steep and unmarked trail. 
Why it's a retail hotspot: It isn't hard to understand why people flock to the scenic island of Maui, where bamboo forests and a dormant volcano are just a couple of the natural wonders you'll come across. But whether it's locals or tourists, the folks that are drawn to Pa'ia in particular are those who have a strong relationship with the ocean.  
"Most people are probably ocean-minded and beach-going," says Samantha Howard, co-owner of Wings Hawaii, a Pa'ia jewelry, clothing, and accessories boutique that uses "aquatic-inspired" motifs. "Your environment affects who you are and what you do and the things you're feeling. We design for people who have an elevated casual lifestyle."
A lot of people who come in are interested in our shop because of our story, and they want to stay and become friends rather than just buy stuff and move along.
—Samantha Howard, co-owner, Wings Hawaii
Stores in Pa'ia such as Wings are a prime example of how Hawaiian-made goods go far beyond the stereotypical kitschy souvenirs. Much of what is sold by the team at Wings is made nearby in a 3,000-square-foot warehouse that was previously a pineapple cannery. It's where they craft the jewelry, do the metal fabrication of silver and gold with gemstones and shells, and silkscreen their artwork onto tank tops, sweatshirts, and even dishware. Bangles crafted out of shells discovered on the shore are one of the most popular products in the store.  
"Our shell bangles are a staple," says Howard, who kicked off her retail career selling goods at craft fairs and local shops. "All the girls have one or two gold bangles with shells or pearls on them."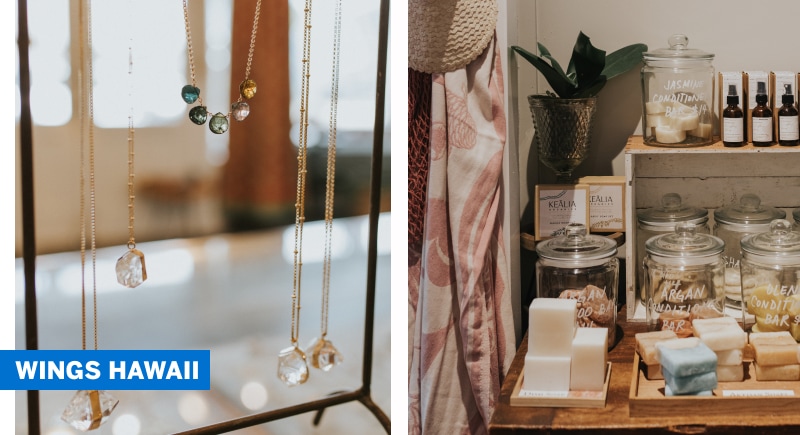 As many brick-and-mortar stores make the move to online only, Wings demonstrates how the role of the storefront in the community is a significant one. 
"We get to have a relationship with our customers by having a store," says Howard. "A lot of people who come in are interested in our shop because of our story, and they want to stay and become friends rather than just buy stuff and move along." 
In their own words: Pa'ia has always managed to move to the beat of its own drum. Joey Scalgione, owner of the boutique Jammin on Maui, says it's that individualism that leads people to Pa'ia. 
"The shops that are here are that much more creative. If you go to the other side of Hawaii or the other islands, you're getting all the corporate world. And then you come over to the north shore, and we're all small businesses with our creative look," says Scalgione, who calls his shop a "hippie boutique."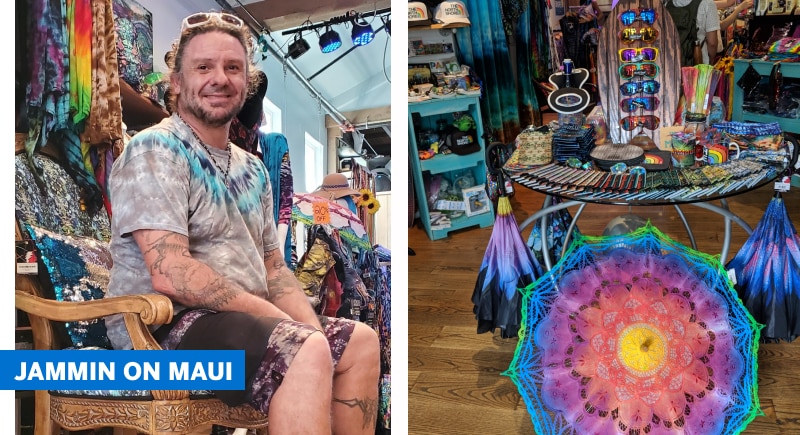 "A lot of the stores that are in Pa'ia are very thought-out. People are very creative. Everyone's store seems to be a little different." 
One interesting way Scalgione works to drive traffic to his store, which has been open for five years, is by hosting live music out front on Friday and Saturday evenings. By creating these dynamic events, Scalgione can draw in the tourists who are walking around exploring the neighborhood, as well as many of the locals who are looking for an interesting music scene. 
"People are blown away by what I'm doing. I'm giving you some of the highest-quality concerts that you'd spend hundreds of dollars for, and you're getting them for free," says Scalgione. "I've been all over the world and I've done all these big events, and what I'm doing in the middle of the little town – the wow factor is just beyond. I'm just having fun."