With a growing business came some growing pains, though, and working with a financial services provider that truly understands his company's main goals and needs, became essential.

Starting out
Ian Fletcher-Price was working in the insurance markets in London throughout the 1980s, but it had become a (literal) pain in the neck. After following a career path he wasn't particularly interested or happy in — all while dealing with growing neck pain from bad posture and workplace habits — life gave Ian a push in a different direction. "I was sacked twice from the insurance market," Ian admits. All was not lost, however. The entrepreneur knew he wanted to create a way to be in charge of his own career. He decided to take on the issue that had caused him grief for years - he'd solve work-related neck and back pain, bringing relief to workers across the globe.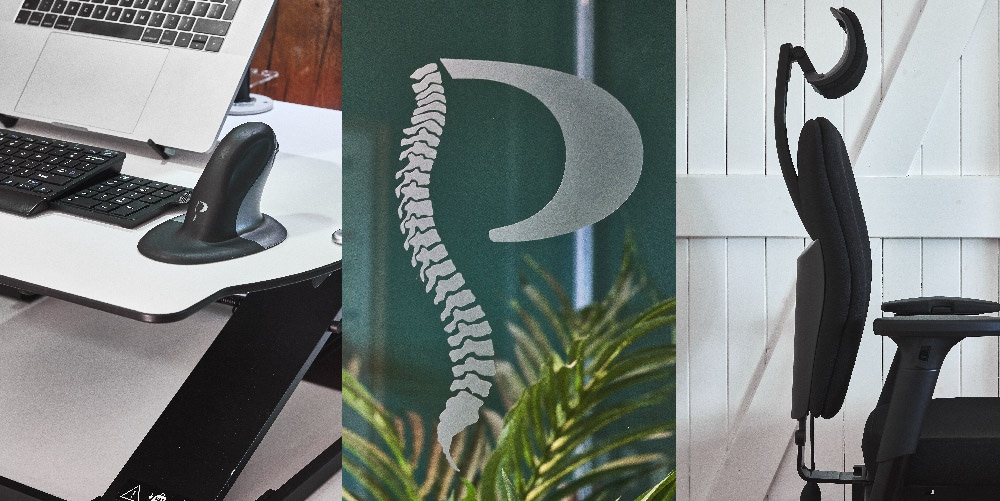 Founding Posturite
Ian felt inspired to create practical and comfortable office solutions for anyone with back pain, so he founded Posturite. This was his idea for a company that would sell ergonomic products for the workplace. At first it was the ultimate "garden shed start-up with no strategic picture," he admits, but he knew he wanted to make it sustainable as his ultimate career.
Over the first few years, Ian and four co-workers — including his mother, who answered phones — built and sold ergonomic products to various companies. Their first product, the Posturite adjustable writing board, wasn't particularly unique, Ian admits, but it was made portable and thin, and was disguised as a blotter to fit seamlessly on people's desks.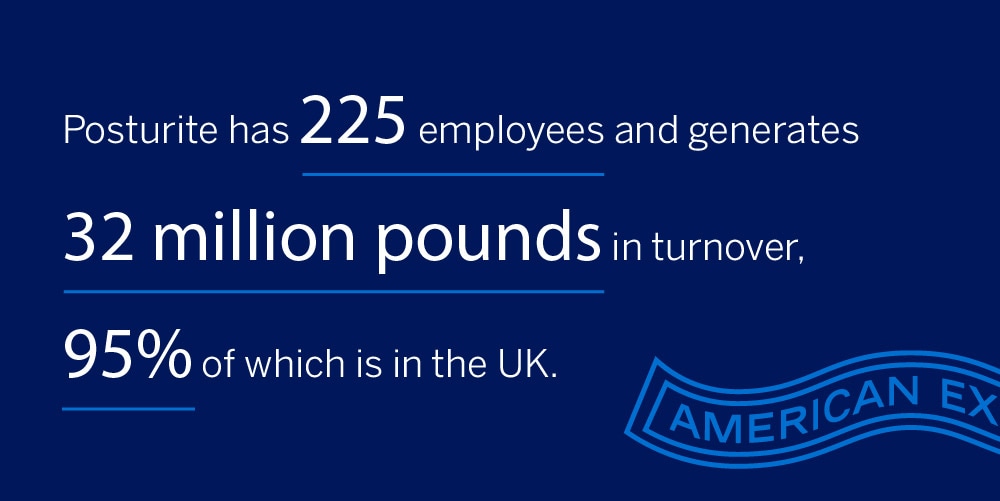 As technology became more relied upon in the workplace, so did the need for more ergonomic products, and the company exploded. Today, Posturite has 225 employees and generates 32 million pounds in turnover, 95% of which is in the UK.
Partnering with American Express
While a fast-growing business was great for Ian, it came with its own challenges: maintaining a healthy cashflow and his increasing need to travel for business.
Luckily, the solution was just an expert call away.
As a business owner, Ian understood the importance of working closely with an established financial institution from the beginning, but what he has come to learn through his more than 10 years of working with American Express is the importance of personalised customer service. Ian uses a range of American Express products, all of which provide specific advantages and perks of their own.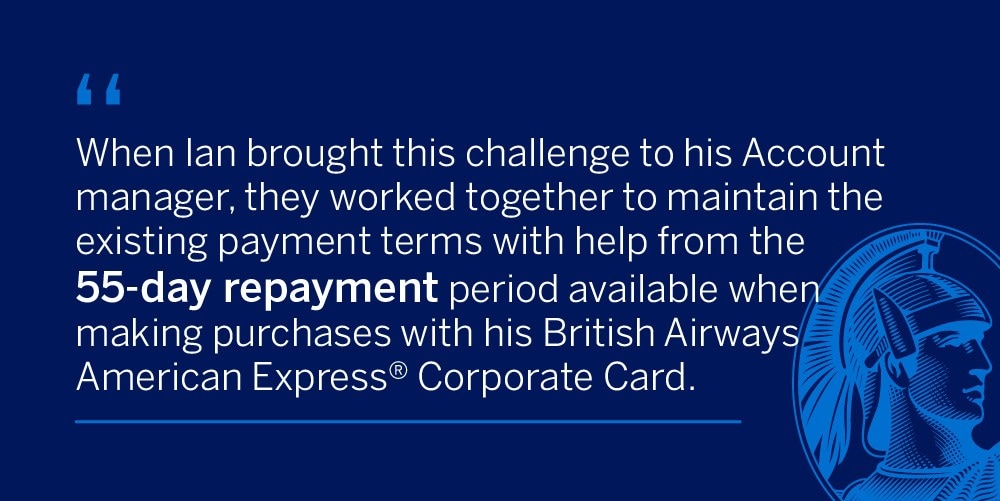 Ian developed an invaluable relationship with his American Express Account manager. Not only did he personally walk Ian through the advantages of different products and reward options specific to his business needs, but he also helped Ian with some cashflow challenges he was facing with one of his main suppliers.
Like many manufacturing businesses, Ian has the ongoing challenge of maintaining a healthy cashflow while needing to pay his suppliers promptly. When his largest supplier had a change in management, this became even more of a problem. His supplier wanted to end the 90-day payment terms Ian had so far been working under. This meant that payments would need to be made earlier, potentially jeopardising cashflow.
When Ian brought this challenge to his Account manager, they worked together to maintain the existing payment terms with help from the 55-day repayment period available when making purchases with his British Airways American Express® Corporate Card. This meant his supplier would get paid earlier and Ian would still have the 90-day payment terms. He also had the added benefit of earning Avios points on every payment he made to his supplier.
"My Account manager was involved in the sales pitch to the supplier, and he had those conversations and led those negotiations," Ian said. "The solution came straight from him."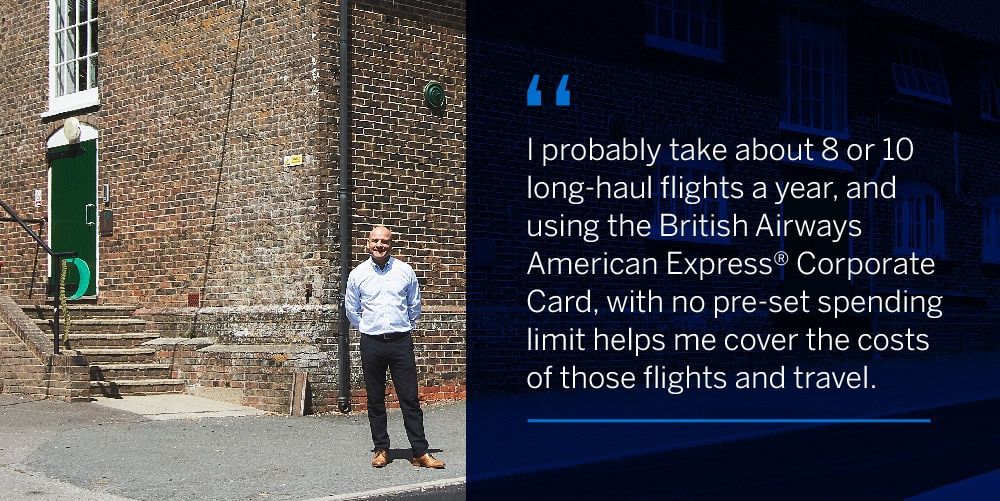 Reaping the rewards of business travel
As Ian looks to expand his business even further, travel is becoming a fundamental part of his workload. The company currently exports to approximately 20 different countries, but they are working on broadening their market base. "I probably take about 8 or 10 long-haul flights a year, and using the British Airways American Express® Corporate Card, with no pre-set spending limit helps me cover the costs of those flights and travel," Ian said.
The travel rewards extend beyond his business, too. With the Avios earned from his business expenses, Ian was able to fly his whole family to South Africa for a once-in-a-lifetime trip. "I was born in Livingstone, by Victoria Falls, but came [to the UK] when I was 6 months old and have never been back," he said. Ian made it a goal to take his two children — now 18 and 19-years-old — back to Africa when the time was right. Three years ago he was able to make it happen, using the Avios earned from his Card.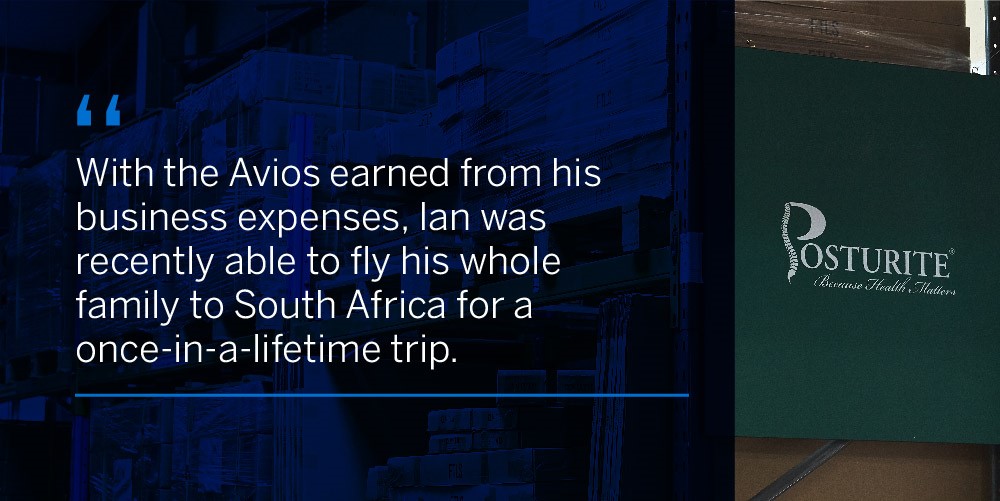 With American Express in his pocket, Ian is able to look to the future for his business, while making the most of the present by providing optimal terms for his most important supplier. "The reputation American Express has is a given," he said, "and I am confident working with them to build my business." 
The British Airways Corporate Card also provides On Business Points for any British Airways spend which can be redeemed for flexible business flights and supports business travel needs. If you want to learn more about the Card benefits or apply, click here.