UK SMEs account for almost half the £2.5 billion spent on Facebook ads each year, with over six million companies advertising on the platform each month.
That's a crowded market, but average clickthrough rates on Facebook are almost double that of Google display ads, and companies can generate sales of £10 for every £1 spent if a campaign is successful. For small firms, Facebook offers a low-cost entry to advertising, with powerful targeting that makes it possible to compete with big names in attracting new customers and generating sales.
However, with 27% of UK SMEs reporting that they aren't generating a return on investment from digital advertising, what do small businesses need to know to create Facebook ads that convert into sales?
How a retailer doubled its turnover in 12 months through Facebook Ads
Lancashire-based gift retailer Daisy Maison started selling personalised gifts through a B2B distributor in 2010. In 2019, owner Shelley Ellison switched up her business, selling direct to consumers through a website, which was promoted via Facebook Ads. Within 12 months, turnover had doubled and to-date, turnover has increased from £200,000 to over £1 million.
Facebook Ads have worked well for the company, generating a typical return of £3 in sales for every £1 spent on ads. At peak times of year, the returns are much higher. In the run-up to Mother's Day in 2021, Daisy Maison was converting 1,000 orders a week from Facebook and generating £10 return on every £1 spent, against an industry average of £2.
For businesses hoping to emulate her success, Ellison recommends starting small and monitoring ad performance closely. Ellison's Facebook Ads agency usually runs multiple ads at the same time, each targeting a slightly different customer profile. While the text and tone might change, all the ads feature clear product imagery – vital in promoting a product that might be new to much of the audience.
Who is our target customer?
What are the barriers to them buying our product or service?
What is our campaign goal?
It's critical to understand your business' sales funnel so that you can identify and engage with your target customer, says Hesford. Within any sales funnel, there is a cold funnel (customers who haven't heard of you), warm funnel (customers who have engaged with your page or visited your website before), and a hot funnel (previous customers). The key to creating Facebook advertising that converts is to know which funnel stage you are targeting and crafting your copy accordingly.
For example, if your company is selling personal training services, the sales funnel should dictate your advertising strategy:
Cold funnel: A clear ad that shows the product and explains key features ("Get fit this summer with a personal trainer in Manchester"). Copy should reassure new customers that the company is trustworthy ("100% satisfaction – or your money back")
Warm funnel: The priority here is to persuade someone who knows your brand to make a purchase. This might be done through a limited offer or reward ("Book by Friday to save 10%")
 Hot funnel: With existing customers you could promote an accessory or add-on product, or an incentive for repeat purchases. ("Join our Sunday military fitness class – 20% off for existing members")
Creating effective Facebook Ads
When it comes to Facebook Ads, there isn't one design that guarantees conversions. Facebook makes it easy for businesses to try multiple versions of an ad and see very quickly which generates the best results. Daisy Maison typically creates three ads at a time and runs them simultaneously to gain quick insights into what resonates with customers.
Some general guidelines for Facebook Ads include:
Use video. Video generally offers better reach than static content, delivering up to twice as many clicks in one recent experiment.
Try carousels: With a carousel you can include a video plus up to 9 images that users can scroll through. Some figures suggest carousels generate 10x better reach than standard ad formats. 
Keep text to a minimum. Facebook used to decline images that had more than 20% text content, and while the rule is no longer enforced the company still says that ads with less text perform better.
Use a clear call-to-action (CTA). Try the do this/for this benefit format, like "Buy now to save 25%" or "Download to boost your wellbeing". Facebook offers great example CTAs for specific objectives.
Watch your language. Facebook Ads can't make assumptions about the user. This means that you can say, "New tool to manage diabetes" but you can't say, "Manage your diabetes".
Are you creating Facebook Ads that convert?
This ad, from food delivery service Out of the Box Food, generated a clickthrough rate of 6% and generated 100% more sales than the company's next best-performing ad.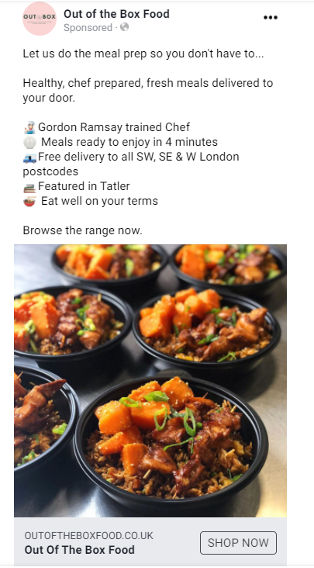 What made this ad work?
The introduction clearly explains what the company does (meal prep) and the benefit to the customer (you don't have to)
Uses a clear, relevant image with no text overlay
Explains what the product is, for new customers
Uses recommendations/credentials to show trustworthiness ("as featured in Tatler")
Measuring the results of Facebook advertising spend
The simplest way to measure the results of Facebook advertising is using ROAS – return on advertising spend. This is calculated by looking at the total amount a campaign generated in sales, and then dividing that by the amount of advertising spend. So, if you spent £1,000 on Ads and generated £10,000 in sales, you achieved ROAS of 10X.
What is a good ROAS? Across the platform, Facebook Ads deliver an average ROAS of around 2.8X for SMEs. Charlotte Sheridan, founder of The Small Biz Expert suggests that for most advertisers, a ROAS of 2 would be considered 'good', while 3-5 would be considered 'excellent' and anything above 5 would be outstanding.
Tracking CPC and CPA data helps you understand how many people who see your Facebook advertising go on to click on your website or complete a specific action (such as making a purchase). On average, Facebook delivers a CPC of £1.25 and a CPA of £14, but in some industries the figures can be higher or lower. "We see that fitness, education and employment generate a high conversion (CVR) rate of 11-14% but travel and technology are below average at 2-3%," comments Peter Marshall, marketing director of digital marketing agency Add People.
Below is a handy chart to give you an idea of the average conversion rates for businesses in different industries: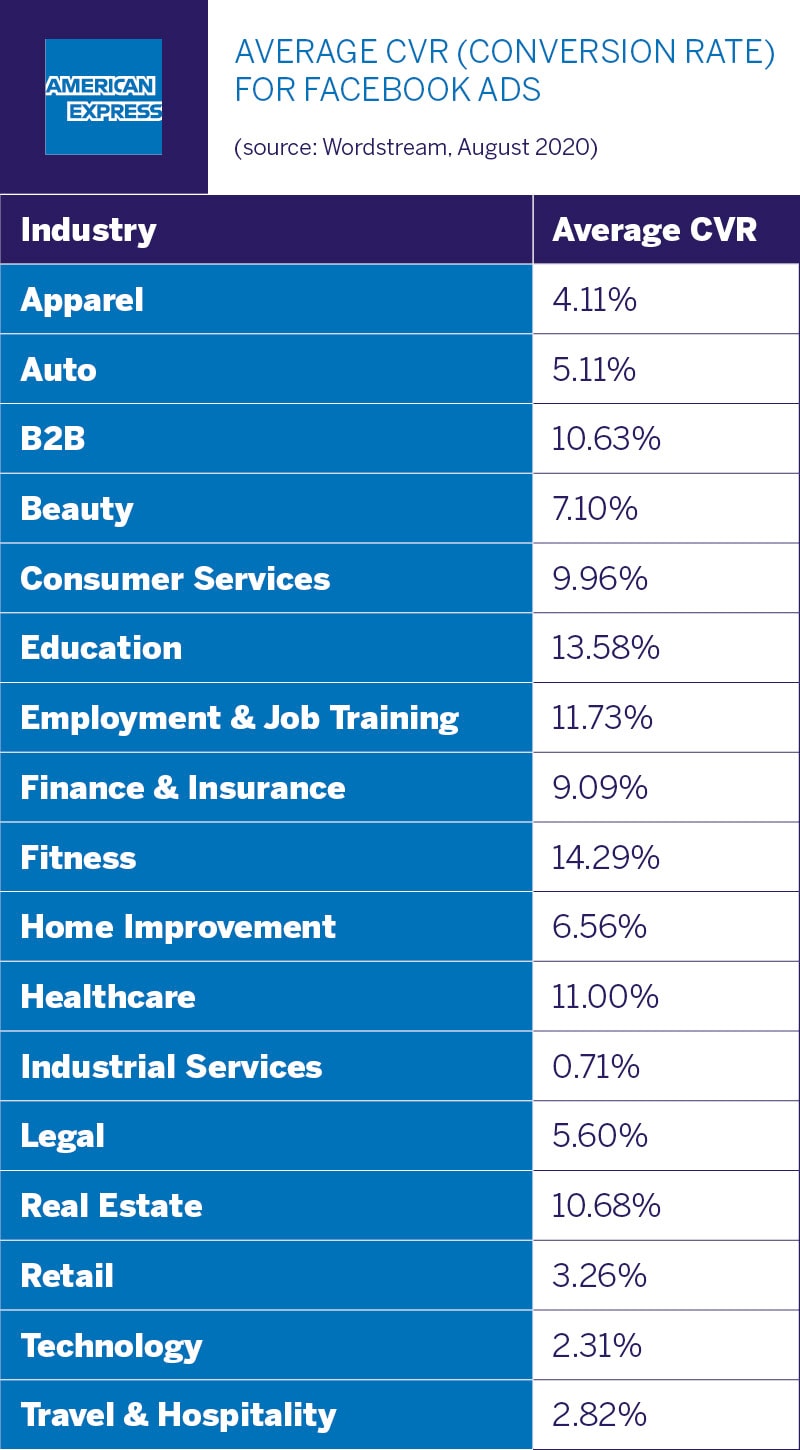 One note of caution: while CPC, CPA and ROAS are all useful, they won't measure the overall return on investment. This data should always be viewed in light of your own company's costs and margins, says Sheridan. "You could have two companies with the same ROAS, but one company has a higher order value, which means lower administration and fulfilment costs, and better overall ROI. You need to view ROAS as part of a broader calculation."
Make the most of your Facebook advertising strategy by using the American Express® Business Gold Card¹, to pay for your campaigns which gives you up to 54 days to clear your balance. This means you can assess the performance of your ads and pause campaigns that aren't driving results before committing to further spend.
The maximum payment period on purchases is 54 calendar days and is obtained only if you spend on the first day of the new statement period and repay the balance in full on the due date. The American Express Business Gold Card has an annual fee of £125 (£0 in first year).