If you are a small business owner, chances are, figuring how to generate leads that will eventually convert to a sale is top of your mind. B2B companies are especially likely to struggle to reach and convert a professional audience using traditional advertising tools. That's where LinkedIn comes in: it's one of the digital marketing tools that can help small businesses. The business-focused network can generate twice as many leads as the next highest social channel [1], and its users have significant influence: four out of five LinkedIn members are responsible for making business decisions [2]. 
As a professional site, it makes sense that products and services aimed at a B2B audience have the biggest impact. Some of the highest CTRs are seen in transportation and logistics (0.67%), healthcare (0.58%) and corporate services (0.5%) [3].  
The amount you spend on LinkedIn advertising will likely depend on your target audience size and your marketing objectives, says Sarah Hughes, Founder of Boost Business Growth. "While a minimum spend can be just £8+VAT a day, the reality is a minimum ad spend of £1,000+VAT per month is more likely." To get the most out of your budget, check out our 5 tips for marketing a small business. 
Rather than buying a set number of ads on LinkedIn, advertisers pay based on how many people view an ad. Each time someone views an ad, this is known as one impression. On average, each impression on LinkedIn will cost around £5.00, so you could expect to reach 200 people with a £1,000 budget. However, as with Google Ads, the exact cost will vary depending on how many other advertisers are competing to reach the same audience. This is why targeting is so important. 
Identify and target audiences with LinkedIn ads 
The main types of LinkedIn ads are:  
Sponsored content: single image, video or carousel image ads that appear in the news feed 
Sponsored messaging: direct messages or ads that appear in targeted members' inboxes  
Both ad types can be used for lead generation by linking the ad to a Lead Gen Form. When the user clicks the Call-To-Action (CTA) in the ad, they can complete a form to join a mailing list, receive further information or download free content.  
One of the key benefits of LinkedIn ads is the ability to target specific audiences based on a range of relevant factors. For example, if you want to target IT managers at small businesses based in the UK, you can create a custom audience using the location, job title and company size filtering options. 
How to set up an LinkedIn ad
Set a location for your ad, which could be an entire continent or as specific as an individual city. Location targeting helps you focus your budget where your customers are most likely to be. 
Click on the 'company' filter to enter specific company names or define the company size and/or industry that you want to target. If you want to target people who are likely to buy an accounting technology product for SMEs, you might target 'accountant' and 'under 1,000 employees' as filters. 
Click on the 'job title' filter to target your audience based on job title or function. For example, you could enter 'information technology' as the job function, and 'director' as seniority. If you prefer, you can target based on skills, such as a specific accounting qualification, using the 'skills' filter. 
LinkedIn also allows you to reach people you already know. Using the Matched Audiences feature, you can serve ads to key companies and decision-makers. 
Optimising ads for maximum ROI 
The key to getting value from your LinkedIn ads is to test, test and test again. Try different creative, formats and audiences – without blowing your budget. "Don't be afraid to start small, and make sure you have a budget that is proportional to the benefit you're hoping to achieve," says Ronaldo Violante, Performance Media Manager at digital advertising agency Digitas. 
Experts advise running simple A/B testing to begin with: showing the same content to two different audiences or showing different content to the same audience. Then keep a close eye on the Campaign Performance report to monitor what performs better against your goal. When you've determined the winner, test that against another iteration and so on.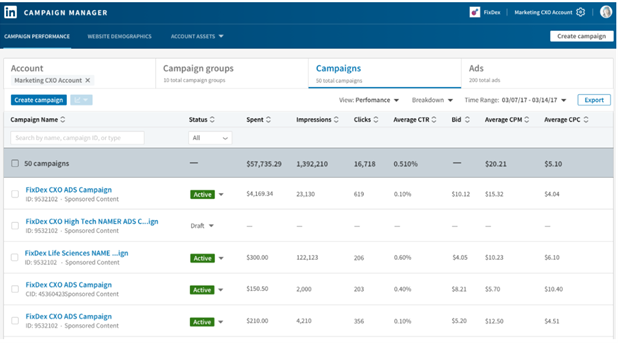 Example of a Campaign Performance report in LinkedIn Campaign Manager [4] 
Top tips for testing LinkedIn ads 
Don't hyper-target: The most successful LinkedIn ad campaigns typically target between 60,000 and 400,000 people. Any smaller than that, and it can be hard to generate enough clicks to make it worthwhile. 
Ignore age: Using age as a criteria can cause advertisers to miss a significant portion of their audience, so try targeting based on criteria more suited to B2B ads, such as years of experience, job function or specific skills. 
Keep the creative fresh: Use eye-catching images; including faces can be a good way to portray personality. 
Make it snappy: Try and keep your ad copy to 1 or 2 sentences to keep the character count down.
Track your performance: An ROI of 4x on LinkedIn advertising spend is a realistic target for most B2B companies. aim for CTRs of over 0.5% for feed ads, and conversion rates for content downloads of over 15%. 
For more useful insights into generating ROI on your social media advertising, listen to our Business Class: Money Minutes podcast episode Make Your Social Media Budget Work Harder. 
The power of LinkedIn Lead Gen Forms 
As LinkedIn Lead Gen Forms can be integrated into your campaigns, they minimise friction and hassle for customers. This means fewer drop-offs: the average conversion rate [1] for a LinkedIn Lead Gen Form is 13%, a whopping five times higher than that of landing pages.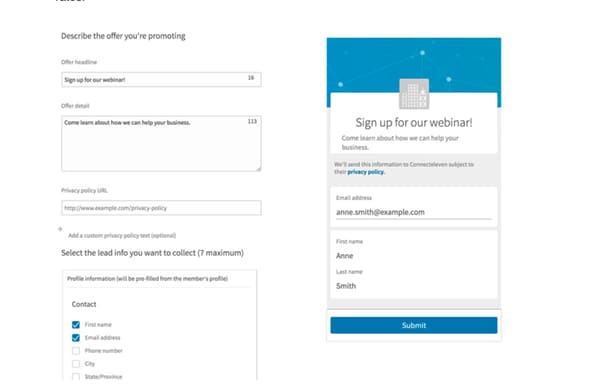 LinkedIn Lead Gen Form [5] 
To get the best results from Lead Gen Forms, don't ask too much of your potential customer. Remember that LinkedIn will auto-complete their name and contact information, and every additional question you ask after that will reduce completion rate. 
LinkedIn provides advertisers with templates for forms, and it's easy to access leads within Campaign Manager. You can either download the leads directly or you can integrate Lead Gen Forms with compatible marketing automation and CRM platforms, such as Marketo, Oracle Eloqua and Microsoft Dynamics 365. 
Ensure your LinkedIn lead generation campaigns are optimised effectively with the American Express® Business Gold Card. It is acccepted on the site and many other social media platforms, with a payment period of up to 54 days¹ allowing you to assess the performance of your lead gen campaigns and define a strategy that works best for your business. Plus, you can earn 1 Membership Rewards® point for every £1 spent.²
The maximum payment period on purchases is 54 calendar days and is obtained only if you spend on the first day of the new statement period and repay the balance in full on the due date. 
Membership Rewards points are earned on every full £1 spent and charged, per transaction. Terms and conditions apply.
Sources
[1] LinkedIn Lead Gen Forms Playbook
[2]  LinkedIn Marketing Solutions
[3] TheB2BHouse, Linkedin Ad Benchmarks 2021 – An Always Up-to-date Guide
[4] LinkedIn, Analyze your campaign performance