50 Quotes from Successful Women Entrepreneurs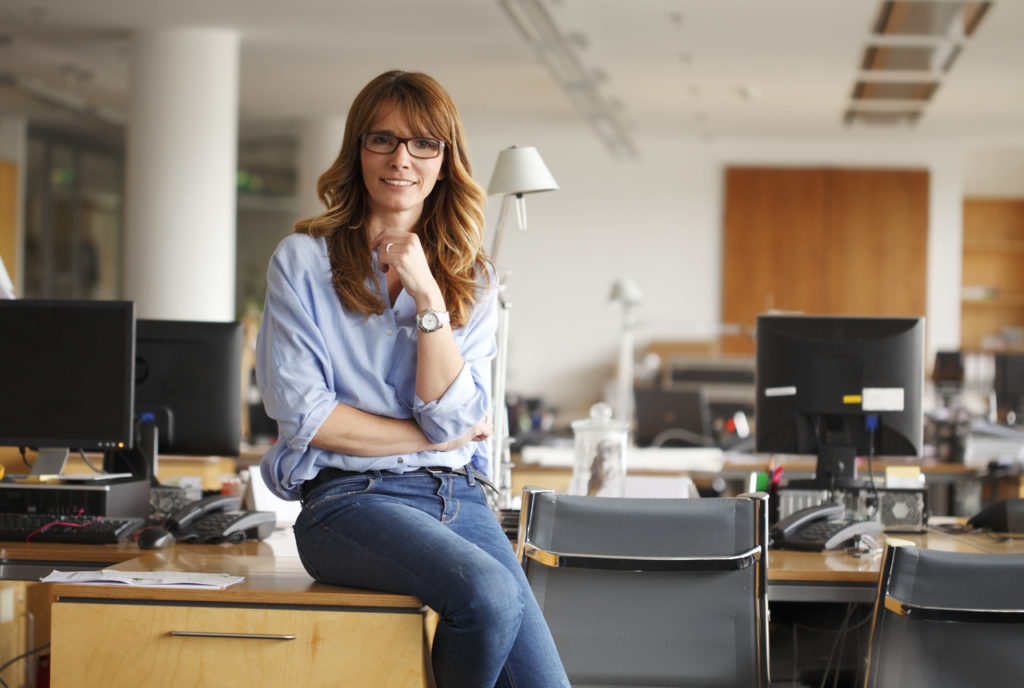 Because October is Women in Small Business Month, here are a few inspirational words from some remarkable women who have achieved great success.
To be considered a successful entrepreneur these days could mean many things, but mostly it requires a degree of ambition and a positive result. As more women gain the strength and courage to just 'go for it,' successful women are becoming more prominent in our society. Not only does their success stem from ambition, hard work, and inspiration, it also comes from their ability to fight against adversity, and not take no for an answer. We can all learn from their example.
No matter who you are or what you do, these women are inspiring and can give you the motivation to start working towards your success. So, take a five-minute break and let their words sink in!
On Leadership
1."As a leader, it's a major responsibility on your shoulder to practice the behavior you want others to follow." – Himanshu Bhatia Founder and CEO, Rose International Inc.
2. "It is within everyone's grasp to be a CEO." – Martha Stewart, Founder, CEO, Martha Steward Living OmniMedia
3."You cannot shake hands with a clenched fist." -Indira Gandhi, first Indian Female prime minister, leader of the Indian National Congress
4."A woman with a voice is by definition a strong woman, But the search to find that voice can be remarkably difficult." – Melinda Gates, Cofounder and Co-Chair of the Bill & Melinda Gates Foundation
5."It's our choices that show what we truly are, far more than our abilities." – J.K. Rowling, author
6. "It took me quite a long time to develop a voice, and now that I have it, I am not going to be silent." – Madeleine Albright, Czech-born American politician and diplomat
7. "If you have knowledge, let others light their candles in it." – Margaret Fuller, American journalist, critic, and women's rights advocate
8."Never doubt that a small group of thoughtful committed citizen can change the world. Indeed, it is the only thing that ever has." – Margaret Mead, American cultural anthropologist, author, speaker
9."The first problem for all of us, men and women, is not to learn but to unlearn." – Gloria Steinem, author and activist
10."When I dare to be powerful, to use my strength in the service of my vision, then it becomes less and less important whether I am afraid." – Audre Lorde,  writer and feminist
11."The most courageous act is still to think for yourself. Aloud." – Coco Chanel, fashion designer
12."Making the decision to not follow a system, or someone else's rules has allowed me to really dig into what my own strengths and gifts are without spending time feeling jaded or wasteful." – Ishita Gupta, Founder, Ishita Gupta Media and Fearless Magazine
13. "Entrepreneurship is the last refuge of the trouble-making individual- Natalie Clifford Barney, playwright, poet, and novelists
14. "Women need real moments of solitude and self-reflection to balance out how much of ourselves we give away." – Barbara De Angelis, author and consultant
On Success
15. "Luck is where preparation meets opportunity." – Robin Chase, Founder, Zip Car
16. "No matter what, expect the unexpected. And whenever possible, BE the unexpected." – Lynda Barry, author
17. "Don't just stand for the success of other women- insist on it." – Gail Blanke, President and CEO, Lifedesigns
18. "There is no scientific answer for success. You can't define it. You've simply got to live it and do it." – Anita Roddick,  Founder, The Body Shop
19. "Success is about creating value." – Candice Carpenter, iVillage.com
20. "Define success on your own terms, achieve it by your own rules, and build a life you're proud to live." – Anne Sweeney, President, Walt Disney
21. "We need to accept that we won't always make the right decisions, that we'll screw up royally sometimes – understanding that failure is not the opposite of success, it's part of success." – Arianna Huffington, Editor in Chief, Huffington Post
22. "I always did something I was a little not ready to do. I think that's how you grow. When there's that moment of 'Wow, I'm not really sure I can do this,' and you push through those moments, that's when you have a breakthrough." – Marissa Mayer, CEO, Yahoo
23. "When you're an entrepreneur you have to go in feeling like you're going to be successful." – Lillian Vernon, Founder, Lillian Vernon Corporation
24. "What I wanted was to be allowed to do the thing in the world that I did best – which I believed then and believe now is the greatest privilege there is. When I did that, success found me." – Debbi Fields, Founder, Mrs. Fields Bakeries
25. "I became successful due to several reasons. I never gave up and I never let anyone or anything get in my way. I use the power of positive thinking to tackle obstacles and challenges so they don't defeat me." – Lillian Vernon, Founder, Lillian Vernon Corporation
26. "You are more powerful than you know; you are beautiful just as you are." – Melissa Etheridge, singer
27. "I think the key is for women not to set any limits." – Martina Navratilova, tennis player and coach
28. "So often people are working hard at the wrong thing. Working on the right thing is probably more important than working hard." – Caterina Fake, Cofounder, Flickr
29. "I've learned from experience that the greater part of our happiness or misery depends on our dispositions and not on our circumstances." – Martha Washington, First Lady of the United States
30. "There is no royal flower-strewn path to success. And if there is, I have not found it, for if I have accomplished anything in life it is because I have been willing to work hard." – Madam C.J. Walker, first female self-made millionaire
31. "The thing women have yet to learn is nobody gives you power. You just take it." – Roseanne Barr, actor
32. "If you are committed to creating value and if you aren't afraid of hard times; obstacles become utterly unimportant. A nuisance perhaps, but with no real power. The world respects creation; people will get out of your way." – Candice Carpenter
33. "My best successes came on the heels of failures." – Barbara Corcoran, American Entrepreneur and 'Shark' on ABC's Shark Tank
34. "Never give up, for that is just the place and time that the tide will turn." – Harriet Beecher Stowe, author
On Motivation
35. Women shouldn't be afraid to put themselves forward." – Sarah Wood, Cofounder & COO, Unruly Media
36.  "Don't limit yourself. Many people limit themselves to what they think they can do. You can go as far as your mind lets you. What you believe, remember, you can achieve." – Mary Kay Ash, Founder, Mary Kay Cosmetics
37. "I love to see a young girl go out and grab the world by the lapels. Life's a bitch. You've got to go out and kick ass." – Maya Angelou, author and poet
38. "We cannot change what we are not aware of, and once we are aware, we cannot help but change." – Sheryl Sandberg, COO, Facebook
39. "Don't be intimidated by what you don't know. That can be your greatest strength and ensure that you do things differently from everyone else." – Sarah Blakely, Founder, Spanx
40. "How many cares one loses when one decides to not be something, but to be someone." – Coco Chanel, Founder, Chanel
41. "Just don't give up trying to do what you really want to do. Where there is love and inspiration, I don't think you can go wrong." – Ella Fitzgerald, jazz vocalist
42. "I really love what I do. It's extremely motivating to me." – Jenny Craig, Founder, Jenny Craig
43. "Courage doesn't always roar. Sometimes courage is the quiet voice at the end of the day saying, ' I will try again tomorrow.'" – Mary Anne Radmacher, author, artist
44. "No one can make you feel inferior without your consent." – Eleanor Roosevelt, former First Lady of the United States
45. "Whatever you do, be different – that was the advice my mother gave me and I can't think of better advice for an entrepreneur. If you're different, you will stand out." – Anita Roddick
46. "Don't compromise yourself. You are all you've got." – Janis Joplin, American rock singer
47. "You gain strength, courage and confidence by every experience in which you really stop to look fear in the face. You are able to say to yourself. 'I lived through this horror. I can take the next thing that comes along.' You must do the thing you think you cannot do." – Eleanor Roosevelt
48. "The glass ceiling that once limited a woman's career path has paved a new road towards business ownership, where women can utilize their sharp business acumen while building strong family ties." – Erica Nicole,  Founder and CEO of YFS Magazine
49. "Don't let others define you. Define yourself." Ginni Rometty, Chairman and CEO, IBM
50. "Never be ashamed! There's some who will hold it against you, but they are not worth bothering with." – J.K. Rowling, author
So, dive in, get out of your comfort zone, and learn how to become the best you can be. If we have learned anything from the brilliant success of women like Arianna Huffington, Sheryl Sandberg, and Anita Roddick, it's that nothing will happen if you don't try hard and work hard!
What other nuggets of wisdom have motivated you? Tweet us at @AmexBusiness! If you're interested in learning more about American Express Business Blueprint™, visit our business loans for women page.