How to Create a Referral Program that Increases Cash Flow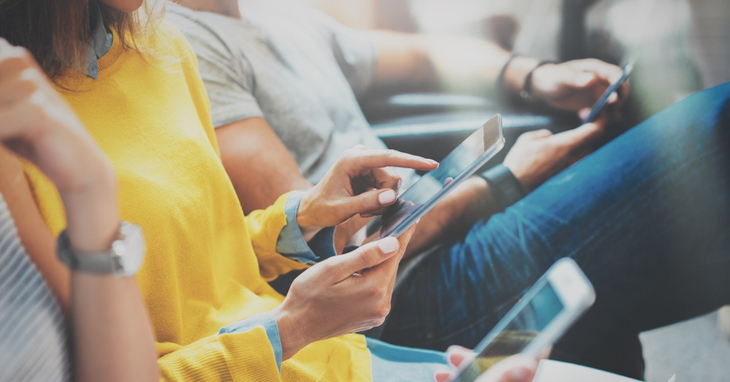 Everyone wants an easy way to up their cash flow. But, easy doesn't always mean results.
Whichever way you spin it, you're going to have to do a little bit of work to get the results you want. With that being said, there are ways you can get to where you want, without having to spend too much money or put in too much effort.
Referral marketing, in this aspect, is a great option for businesses who want a relatively hands-off approach to bringing in leads and earning that extra cash flow. Though there is still a little bit of work that must be done in order to prime referrals to happen.
But is it really worth the effort?
Why a referral program is good for cash flow
Referral programs are great for stimulating word-of-mouth marketing. This increased word of mouth can help you establish more brand awareness, build your reputation, and even result in higher ROI.
Increased customer base
A larger customer base means an increase in cash flow.If people are referring others to you, you're going to get more exposure to leads.
According to the New York Times, around 65% of new business/customers generally comes from referrals.
That means more than half of your customers could be coming in via referral.
Better leads
Some of the best customers you may ever get are those who are referred to you. A referred person may have been sent to you solely because someone knew they needed the service or product you provided. Because your customer has specifically sent their friend to you, there is some level of built-in trust.
In fact, according to Nielson, "84% of people trust recommendations from people they know. Making them the most influential form of advertising".
Better for your marketing budget
A referral program can be a great way to effectively promote your business without having to go overboard on the budget. It's relatively inexpensive to get started and to maintain. And even if you offer a discount or a cash reward, you'll still be able to make more than you spend.
Here are some statistics that prove it's worth.
How to create a referral program that sets you up for cash flow
Now that you understand why referral programs benefit your business, let's discuss how to create a program that is sure to increase your cash flow. Here's how to get referrals…
1. Use an incentive
You may find that word of mouth can happen on its own. A happy customer who loves what you do will talk about you. But, sometimes customer incentives can be great driving points for sharing to occur.

You may want to offer both customers and their referrals some sort of incentive. The trick is to think about your brand and business type before settling on a reward because if people don't think the reward is worth it, they likely won't put in the effort to share.
Cash/Gift Card – This is great for all business types but especially for those who sell a one time buy item, like a car or mattress.
In store credit – If you have a business where people may buy from you multiple times, like an ecommerce or service-type business, you can offer credit or a discount. This can keep customers happy enough to keep spending money at your business.
Special perks – Think of a VIP club, or a group who gets offered all the best or new products first. You could even offer special treatment for referring members – like a special parking spot or an early access party.
Entry for a drawing – This can be a good one for any business, but can be even more rewarding for businesses with repeat customers as they will be incentivized to purchase more if it means they will acquire another entry. However, the reward has to be pretty outstanding in this sense, like concert tickets or something else of value.
2. Use provoking headlines
You need to grab the attention of your customers. You can do this by using punchy and short sentences that are easy to understand.
You can kick them up a notch by including benefits to the customer as well. A good referral program headline will accomplish these three things:
Explain the gist of the program.
Give insight to any benefit to joining.
Intrigue the user to join.
Some of the most used (and for good reason) include headlines as such.
Give $50, Get $50
Refer a friend and get $10
Share and get rewarded
Spread the word and get 20% off
As you can see, they all are short and to the point. But they also say what the customer has to do and what they would get for doing so.
Here is an example from Upserve, who sells restaurant software. It provides a pretty hefty incentive that is sure to catch the eye.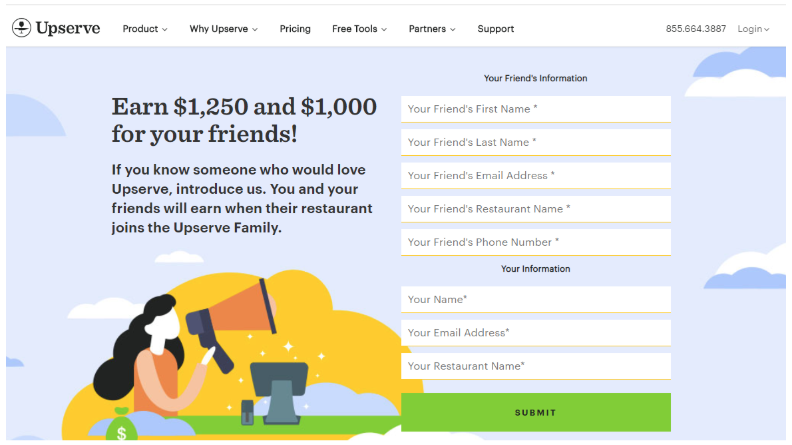 3. Don't overcomplicate the process
If you make the process of referring overcomplicated, it can deter people from sharing. So, you'll want to be sure that once your customers are in the zone to refer, they are able to do so quickly and easily.
The process needs to be convenient for the referring party. Meaning, let them know what you want, and give them the breadcrumbs to complete the desired action.
To make it even easier, allow the user to refer right from the same page. By offering a quick email message or social media sharing option directly from the landing page, users can complete the desired action without having to jump through hoops.
And the same should be said for the new customer's experience. They shouldn't have to jump through hoops either. The easiest way to do this is to use cookies that can tie the referrer directly to the referring customer as soon as the referral link is clicked.
The Fiverr referral program, is a good example of this. They offer an easy-to-refer form for the customer. The customer has a few options for referring as well, including email and social media.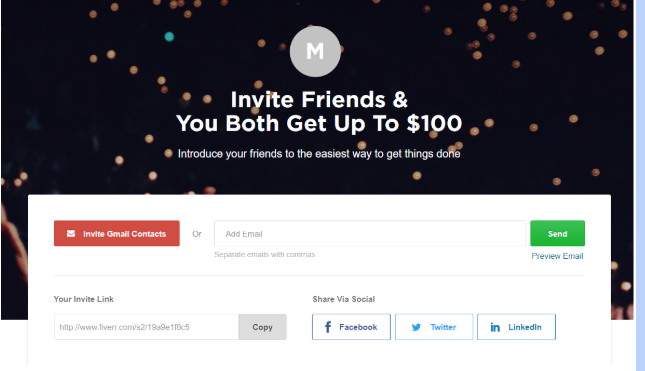 The referred customer receives a nice message, followed by a clear call to action.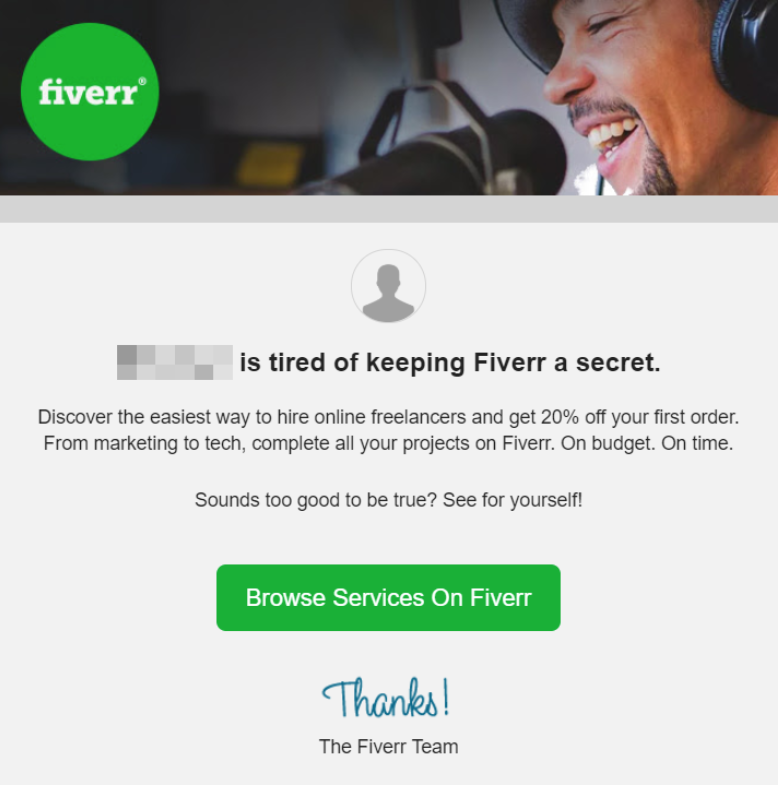 4. Provide clear messaging
Again, this can't be mentioned enough. If there is any confusion on what the customer or their referral has to do, they will likely give up before trying.
So be sure to provide very clear and direct messaging. Don't scare them with a bunch of confusing wording, or a long list of jumbled instructions.
It's important to remember that the more convenient it is for someone, the more likely they will be to do you the favor of referring.
No one is required to refer, but if the messaging is clear, and the process isn't overly complicated… You're likely to have customer happily refer you.
5. Show your appreciation
This is one important aspect of a referral program that unfortunately can be easy to overlook.
You may be thinking, you got the referral, and the customer got their reward. But, if you want to keep this relationship alive and in good health, you'll want to thank your customers for their efforts in referring.
By sending a quick thank you email right after the referral is made, you can nourish the relationship, and potentially create a foundation for future referrals (from that customer) to happen.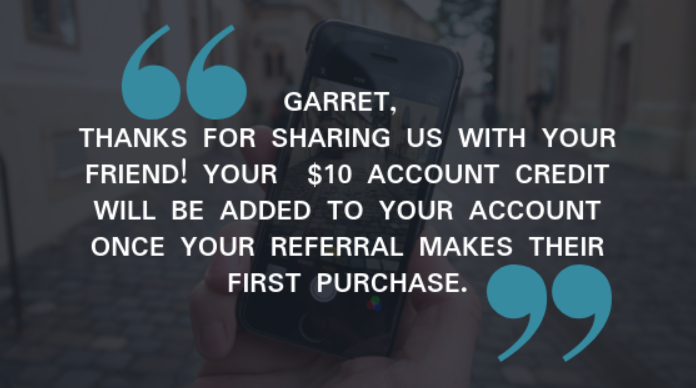 The best part is, you can automate this process. By triggering a thank you email to send at some point after a customer send a referral, you can essentially have a set it and forget it process instilled, that can yield great results.
Closing thoughts
A referral program, when designed right can have a positive effect on your overall cash flow. You just need to be sure you cover a few minor points so that your program is a success.
Offer an incentive worth referring for
Use catchy headlines to draw attraction
Make it easy for referring
Use clear phrasing and wording, to alleviate confusion
Be sure to say thank you
If you follow these few tips, you'll likely have a successful and profitable referral program.
Author Bio:
Megan Mosley is the marketing specialist at Referral Rock, a referral marketing software company, where they believe every business has the potential to increase their word of mouth. When she's not working, she enjoys sipping on coffee and hanging out with her family.