How to Grow Your Small Business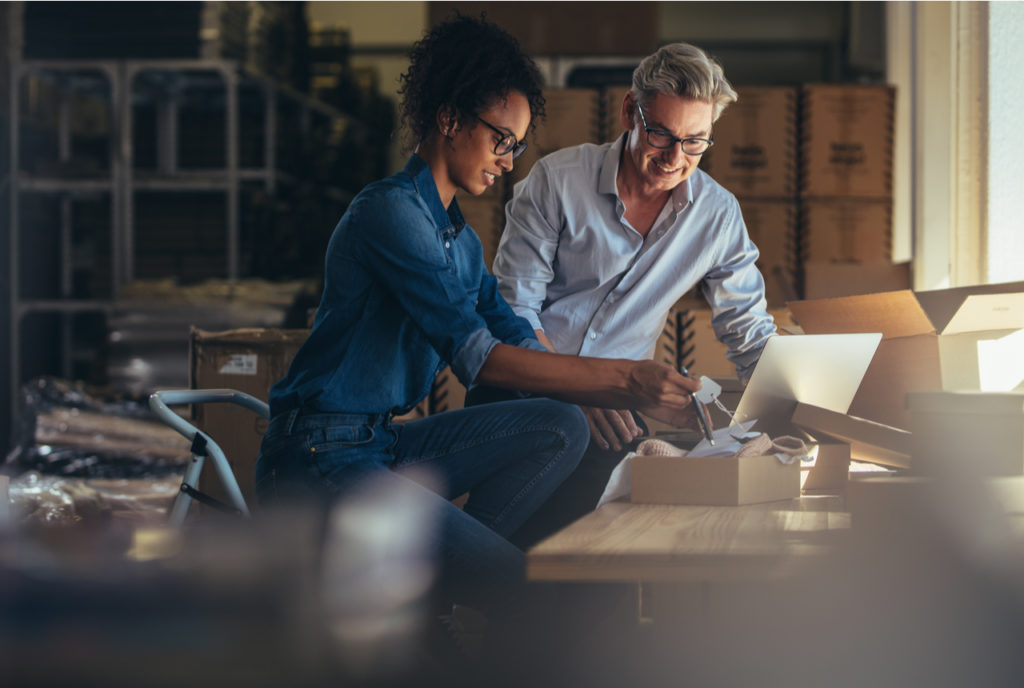 One exciting aspect of business ownership is when you're ready to start growing. When people think of business growth, they may be fixated on expanding your current physical business or opening a second location. However, business expansion can happen in a few other ways as well:
Expanding your customer reach
Creating a mobile app or developing your website for mobile
Creating or updating your website
Offering additional products or services
Opening a second location
Expanding your physical location to a larger one
Franchising your business
Many small business owners find that each stage of business growth brings new rewards and new challenges. If you're the founder of a fast-growing startup, and you have big ambitions for growth, it can be hard to know exactly the right time to take the leap and scale your company is.
Here, we'll break down what you need to know before expanding, from preparing your business to getting additional insurance, as well as how to expand in other ways, like franchising or mobile development. We've broken it down into six chapters:
What to ask yourself
Preparing your business
Making sure you're covered
Growing your profits before expanding
Franchising your business
Expanding to mobile
What do you ask yourself
Here are eight questions that business owners should ask themselves to make sure their revenue is stable enough – and that their business is really ready – for massive growth:
1. Can we attract interest from investors?
Business loans can be a great way to help your business grow during the early stages, but often, if a company is going to rapidly scale and achieve massive growth, it needs the help of outside investors, such as angel investors or venture capital (VC) investors.
Investors will give you money upfront in exchange for a share of equity ownership in your company. If you take money from investors, you lose a percentage of ownership in your company, but ideally, in the end, you'll all share in the profits from your company's growth.
2. Is our company well-automated?
Ideally, you need to be able to do the same business operations that you're already doing, but with consistent, repeatable processes at a much larger scale.
3. Do we have the right leadership?
Starting a company requires certain skills and personality traits – but running a fast-growing company and leading that company through massive growth often requires different skills. Not all entrepreneurs are the same. Some company founders discover that they need more help with running the company during the rapid-growth stages. This is why it's important to make sure your company has a great leadership team with a good mix of skills and personalities.
4. Do we have a strong company culture?
As your company grows, it's crucial to make sure that the company culture – the character and values that are most essential to what your company is all about – doesn't get lost in the shuffle. Your company culture needs to be more than just "you" as the owner. The company needs to begin to have a personality of its own, with core values that can be taught and internalized among lots of employees. It can be a bit esoteric and hard to define but preserving the core elements of the company culture is essential.
5. Are customers coming to us?
Is your company still hustling hard to find new customers and make sales, or are you starting to get lots of referrals, word-of-mouth and inbound sales inquiries? Once your company is starting to develop a big enough reputation that you are seeing lots of attention and customer interest, even aside from your usual marketing channels, that's a good sign that your company might be ready to scale.
6. Are we on track with our business plan goals?
You have to walk before you can run, and you need to make sure that your company is already growing steadily before you can grow fast. If your company is already profitable and is already meeting or exceeding your existing goals from your current business plan, this is another good sign that you might be ready to expand further.
Hopefully, you've already demonstrated that your company has a good niche within your market and that there are lots of customers out there who want to buy what you sell. The next stage is to take your product to a much larger pool of customers.
7. Do we have a predictive revenue model?
Are you already able to predict, fairly accurately, where your revenue comes from? For example, if you run a certain amount of PPC ads or Facebook ads or make a certain number of sales calls, do you already know how many new sales leads you're likely to get from a certain amount of spending or a certain level of activity?
By keeping careful records of your existing sales and marketing metrics, you can determine whether your current revenue model is scalable. If you already have consistency in your current marketing activities, you'll be likely to succeed at an even higher level by investing in additional growth.
8. Do we have a great accounting system and cash flow forecasting?
Ideally, your company should already have a good accounting system in place – whether it's online accounting tools and/or the help of a certified public accountant – but not just for taxes; your business needs to have accurate cash flow forecasts, so you can evaluate your anticipated sales, fixed and variable costs and other factors that affect your overall cash flow.
Before your company can grow, you need to know that you have good enough visibility into the financial operations of your company. As your company scales, the financial side will get more complex. So, make sure you have a good foundation in place already by understanding your cash flow.
Scaling a company is one of the most exhilarating journeys in business, but you should be careful not to take the leap until you're ready. Make sure your company's financial strength is at the level that it needs to be – with steady, promising growth – and make sure your company operations and team culture are ready to bring on new employees and start serving new customers.
If your company is already performing exceptionally well at this current smaller scale, you'll be more likely to successfully replicate the components of your success at a higher level.
Preparing your business
Even if you've created a business plan that delves somewhat into future plans, these are typically just rough estimates of what you think might happen down the road. Yet as you begin to get into the groove of your day-to-day business, it's very easy to lose track of what you need to do keep propelling growth. Yes, there's a lot to consider when you think of taking the leap from being a startup in its infancy to a maturing business.
What should you be looking at now to ensure growth is possible down the road? Here are some of the common considerations worth exploring when you have high hopes to take your business to the next level.
1. Scalability
There are more solo entrepreneurs and micro-businesses now than ever before. Anyone with ambition and a great product or service can start selling on sites like Etsy or Amazon. But not every business is cut out for being bigger than a one or two person operation.
There's a lot more that goes into growth than making more sales. These numbers have to be supported by modifications to operations, production, staffing and location. In some cases, this is feasible but not always. If the business is built around a skill you have or a product you make, it may be difficult to scale your business up. Of course, this isn't always the case, particularly if you can train others.
2. Vision
It's important to ask yourself: What will your business will look like if it grows and profits increase? Could you juggle more customers and still have time for a life outside of your business? Do you want the added stress and responsibility if this happens?
Not every business's growth trajectory is the same. For some, it might mean becoming a multi-million dollar global enterprise. For others, it could be as simple as ramping up sales enough to be able to leave a day job. Defining your interpretation of success is critical for preparing for growth, and there is no stock answer that is right for everyone.
3. Inventory
If you sell products, inventory is a key consideration when preparing for growth. In fact, inventory management is one of the most challenging aspects of growing a business. Would you be able to get more of what you're selling if there was greater demand?
If you're making handicrafts and already maxed out on what you can do, the answer may be no. However, if you have a supplier who will happily provide you with more inventory, your business might be well positioned for growth. This leads to the issue of cash.
4. Funding
Growing a business takes money. Cash on hand to buy inventory, hire help and increase marketing efforts is often a necessity unless you're independently wealthy. This is why it's critical to do ongoing cash flow projections to be able to assess how much funding you may need before you start doling out more to support your small business's growth.
Bank loans are one option, but often traditional lenders are reluctant to provide financing unless there is substantial collateral, established business credit and a detailed business plan. Consider other options like online lenders, peer-to-peer loans or merchant cash advances to help you grow your business.
5. Equipment
What works quite fine when you have a few customers can become incredibly slow and inefficient when the business begins to grow. Everything from credit card processing devices and printers to packaging machinery and delivery trucks may need to be evaluated before you hit the next step in your business's growth. Not having adequate equipment can have a substantial impact on your bottom line.
6. Vendors
Maybe you've been using that neighborhood printer to create brochures and packaging for you. While it's great to support a local business, if they can't support your growth, it might be time to move on to a vendor who handles larger accounts. Almost every business in growth mode hits the point of having to change vendors. It's well worth your time and effort to sit down with them and ask if they can support your growth. If they can, then you might be able to grow together. If not, it's fair to move on.
7. Employees
Having the right people in place is a necessity to sustain growth. And these people should be who you believe will help you run your business when you've reached the next level. In other words, hire employees who you feel confident can be successful in the size of the company you're striving to achieve. They'll be your support team as you journey to get there.
8. Headquarters
Many small businesses start in garages or on kitchen tables. But most can't be sustained in these makeshift spaces. When you consider your goals, envision where you can make these happen and how much that will cost you on a monthly basis. Having the right place to grow your business can be pivotal to not only giving you enough space to grow but also to how your customers view your business.
9. Marketing
Increased marketing is usually the driver of more business. Do you have competitors who have more market share than you? Find out where they advertise and how they manage their online marketing efforts. They might be worth emulating, or you might gain some valuable insight into what you can do even better.
10. Exit strategy
Every entrepreneur should consider what they envision for the last chapter of their business. Perhaps you'd like to pass it on to your children, or maybe you have high hopes of it being bought by a larger competitor. Defining how you want to "close up shop" is very important to your growth strategy and can dictate a lot of the decisions you make along the way.
Are you ready to grow?
It can be incredibly exciting to consider the possibilities of where your business can go and how much it can grow. In fact, this excitement is often exactly what propels individuals to become business owners in the first place. With unlimited possibilities, entrepreneurship is undoubtedly an amazing experience that can deliver a tremendous sense of pride and satisfaction whether you're happy with remaining a solo entrepreneur or decide to reach for the stars when it comes to growth.
Making sure you're covered
If you're expanding to another location, offering new products or services or are opening an online store, you'll need to double check to make sure your insurance is up-to-date. If you don't have business insurance, you should do so right away.
Unfortunately, bad things happen to the most conscientious business owners.  While it's a nice thought, things like good luck and positive thinking won't protect your business from losses.  Luckily, insurance for small business can protect you from every direction.
The term "business insurance" is a broad term that really encompasses all the different types of coverage available to protect business owners from losses. Through business insurance, you can:
Cover property
Cover business vehicles
Insure against legal claims against the business such as liability or workers' compensation
Provide health insurance for your employees, etc.
Why do I need business insurance?
Even if you don't think your business has enough assets to be sued, or if you believe because your business in incorporated, you're shielded from personal liability through a so called "corporate veil," you still may need business insurance.
Why? Think about it: We live in a very litigious society; one spilled hot coffee, and people are immediately calling a lawyer. In this day and age, anyone can be sued. Judgments can be collected through wage garnishments and bank account seizures. Even the protects of being incorporation can be broken under some circumstances.
And, more seriously, the smaller your business is, the more likely that you can be held personally liable for debts through your personal assets. Is that something that you are willing to risk?
Your business needs insurance because of the many risks and potential threats to its successful and continued operation. Understanding what types of policies are available and choosing the right policies for your business can help protect you and your venture as much as possible.  Don't your employees, your customers and you deserve to be protected?  Carrying the right insurance for your business can help safeguard your business. Insurance can be a legal obligation, too. Here, we'll break down each.
For employees
You'll want to carry insurance that protects your employees.  Any employee who has an accident or a health condition that could be related to their work or work environment may be entitled to financial support for medical bills and lost earnings if you're found to be negligent.  Employers' liability is a legal requirement if you have employees – even on a part-time or casual basis.
For customers
You'll also want to carry insurance to protect your customers and the public. Yes, your customers – they are the ones most likely to sue if something goes wrong. If your products or services cause injury to a customer or member of the public, your business could face compensation claims of hundreds of thousands of dollars. Product liability insurance can ensure payments are made for you.
For yourself
And, you won't be able to run your business if something happens to your business assets. You'll want insurance that provides protection for your business assets. Theft or damage to your premises, equipment or vehicles can happen at any time and could leave you unable to work. A failure of a key supplier or customer could mean financial problems. Whatever the risks you face, the right insurance for your business can provide protection tailored to protect you from them.
Don't think that because you own a home business, none of this applies to you. One reason small home business owners forgo insurance is confusion over what may be already covered by a homeowner's or a renter's policy.
But most business owners have little or no coverage from their homeowner's policy. What's more, if you file a homeowner's (or renter's) claim for losses sustained by a previously undisclosed home-based business, your insurer may refuse to cover it or cancel your policy.
Whether you are doing business at your home, or out of an office, you're smart to have insurance. The amount of your sales doesn't matter. The amount of loss you could face should something go wrong is what counts.
What are the types of business insurance, and why would I need them?
Insurance coverage is available for every conceivable risk your business might face. We'll break down a few below.
Workers' Compensation
Workers' compensation is a form of insurance that covers your employees medical and rehabilitation costs and some portion of lost wages if they're injured on the job.
Typically, carrying workers' compensation insurance that covers these costs means employees give up their right to sue your business for negligence — and in turn, you're providing them peace of mind knowing they can recover for work-related injuries without the complexity of a lawsuit.
Workers' compensation insurance is also required virtually everywhere.  It varies state by state, so make sure you check. Once you have a certain number (usually that threshold is one) of employees, you're required to carry workers' compensation. And, in states that don't require it, be careful: Your customers might not do business with you unless you carry it.
Business Property Insurance
Business property insurance, or sometimes called commercial property insurance, provides protection for your property, as well as inventory or assets, against loss or damage caused by theft, an accident or some other means.
Your business property insurance protects you even if the property is away from your place of business when it is damaged or lost. The policy covers your costs to replace or repair the property and, in some instances, compensates you for items that cannot be replaced.
If you don't own the building where you do business, you'll only need to cover the contents. The basic commercial property insurance policy will protect your investment in fixtures, furniture, office equipment, inventory and the supplies that you store either at your business location or off-site.
So why carry it? Unless you're a company that has little invested in premises and little inventory, it's essential to your business just as homeowner's coverage is for your home.
Could you run your business without your property for even a day?  And, if you're ever going to need financing, carrying property insurance will be a requirement. When you do get it, be advised that most basic policies will exclude losses from natural disasters like earthquakes and may limit claims and losses from water, utility failures and other perils. Be sure that you get the right insurance and riders for your situation and location.
General Liability Insurance
General liability insurance is coverage that can protect your small business from a variety of claims including bodily injury, property damage, personal injury and others that can arise from your business operations. This insurance also covers damage your company might cause other people, their reputation or their property.
You've heard already heard the story a hundred times: a restaurant gets called into court for serving hot coffee. You just have to turn on the nightly news to see every small business owner's nightmare of unmerited lawsuits.
Unfortunately, if your business is hit with a lawsuit, no matter how outrageous the claim, you'll still spend valuable time and money taking care of it.
Companies that should carry liability insurance include:
Stores, offices or storage spaces that the general public can enter
Products that, if they fail, could unintentionally hurt or destroy someone/something
One means of defending yourself against both warranted and unwarranted claims is by purchasing liability insurance, which protects your business against accusations of injury to people or other properties.
Why should you carry liability insurance? Well, if protecting your from the cost of frivolous law suits isn't enough, policies shield you from the expense of out-of-court settlements, litigation and judgments awarded by courts. Could you pay these costs and still run your business? If damages are filed against you or you're sued, general liability insurance covers the insurance company's investigation and attorney expenses, any judgment or settlement, medical expenses in case of injury and bonds if they must be subsequently posted.
Liability insurance can also cover things you may not have thought about, such as something called an "advertising injury". Yes, you can even injure someone with your advertising. Your company may inadvertently violate someone's copyright in its marketing, and you can be sued. Liability insurance keeps you covered.
Business Owner's Policy
So, if you decided that you need both property and liability insurance, a business owner's policy may be a perfect fit for your business. A business owner's policy (also called a BOP) is a special type of business insurance designed especially for small and medium-sized businesses.
General liability insurance and property insurance are bundled together into a single policy, saving you money while offering you the protections that you need.  t's an extremely cost-effective option for businesses that require both types of insurance.
However, specific business types like manufacturers and most construction companies are ineligible for these policies. Business owner's coverage is usually available to companies with up to $3 million in revenue, though sometimes larger companies can get it.
Where do I get small business insurance?
This might be the easiest question to answer. Once you know what insurance you need, and understand why you need it, getting it is easy.  As a savvy business owner, you should know that shopping around is your best option. Getting multiple quotes from multiple vendors will result in the best price for you. You wouldn't just go to one dealership to buy a car, would you?  And you wouldn't pay sticker price for sure.
While looking and applying online is a quick and easy answer, you should do your due diligence and find yourself a reputable, licensed insurance agent. Finding a good insurance agent is as important as finding a good lawyer or accountant. Sure, buying insurance can be intimidating, and it's difficult to ascertain who is trying to take advantage of you and who is giving honest advice.
That's why you should start by asking other business owners you know and others in your industry about what types of insurance they carry and who they bought it from.  Insurance is one of the most important aspects of your business, and one of your more expensive annual costs. So, finding someone that understands you and your business is critical. Whether it's an agent that works specifically for one insurance company or a broker is up to you.
Commercial insurance brokers can help you find policies that match your business needs. Brokers can usually offer you the greatest choice because they typically represent many insurance carriers. Brokers receive commissions from insurance companies when they sell policies, so it's important you find a broker that is reputable and is interested in your needs as much as their own.
Make sure your broker understands all the risks associated with your business. You should always look for one that has a license. State governments regulate the insurance industry and licensed insurance brokers. Many states provide a directory of licensed agents.
Always remember that basic policies discussed above are just the first building blocks of your insurance coverage. There are hundreds of other types of insurance policies that you could add, depending on the kind of business you run. Some, like medical malpractice for doctors and hospitals, are absolutely essential while others may be more trouble than they are worth. But forgoing insurance for your small business altogether is, excuse the bad analogy, an accident waiting to happen.
Growing profits before expanding
Before expanding, you might be looking to boost profits to help cover the costs. We asked business owners and entrepreneurs to share their best tip to quickly boost profits, and here's what they told us worked for them.
1. Rapidly grow profits by doing unexpected acts of appreciation for your customers.
Gene Caballero, co-founder of the lawn care company GreenPal, said signing up customers is the easy part, but getting them to talk about the company and refer more business was more difficult. His idea revolved around doing something nice for his customers' pets. Gene bought $100 worth of dog bones and cat nip and started sending the treats to his customers, thanking them for their business.
"We saw the emails and Yelp reviews skyrocket. People were thanking us for going the extra mile, saying how they can't wait to tell their friends about our service. Mission accomplished! And they will never think about lawn care service again without thinking of us first. Powerful word-of-mouth advertising at a very minimal cost."
2. Partner with someone who has already built up a sizable audience.
Dave Schneider, owner of Ninja Outreach, recommends teaming up with a partner with a wide reach: "If you can partner with someone who has a large audience and they are willing to promote your product/service, it can drive your business forward in a big way."
Ninja Outreach partnered with AppSumo, which has a newsletter base of 750,000; they announced their product and they quickly sold more than 4,000 units.
Carl Mazzanti, owner of eMazzanti Technologies, agrees and says, "Partner with larger suppliers to share their marketing resources, outsource marketing skills you don't have and collaborate your way to success."
3. Be ready for the growth and be willing to take risks.
Jesse Harrison of Zeus Legal Funding says people are often scared of growth.
"They have all the resources that they need to grow, but they just can't handle growing. There are psychological reasons behind it; they think they are not good enough or they can't do it. It has to do with that negative voice that always comes to your mind when you're about to do something," Jesse says. "To grow rapidly, you need to take risks. You need to risk everything. Every highly successful business owner that you [can] name has risked it all at some point. That's for the psychological aspect of growth."
4. Create a professional, active online presence.
Tony Mena, who works with Homeland Security Protective Service, says sales have soared over the past three months thanks to a newly-implemented online presence and strategic social media branding.
"Before I became involved, the sales person and owner did everything the 'old school' way, which was basic networking by phone and handshakes. They had a website that was full of grammar mistakes and wasn't SEO friendly. I revamped everything making it modern and professional…the calls started rolling in," he says.
5. Determine who your best customers are and find more like them.
John Paul Engel, president of Knowledge Capital Consulting, recommends creating a customer profile.
"In almost every business, 80 percent of the revenue comes from 20 percent or fewer of the customers. Figure out who your best customers are and find more of them," John says. "Form an archetype (profile) of the customer."
6. Pay attention to the smallest details.
Dennis M. Najjar, co-founder of Accounting Department, says, "Too often, business owners focus on the big deals, the 30,000-foot view and the major projects. Yet, in the details – the small recurring residual fees or the growing roster of small but repeat clients – is where the money is. It isn't often the entrepreneur's natural ability to focus on the minutia, so assigning someone to manage these details will help keep them monitored and in check. The small numbers in the aggregate add up to a large volume and potential growth."
7. Simply do the best job you possibly can for the customers you have.
Speaker and author Barry Maher says, "There's no marketing anywhere nearly as powerful as a satisfied client. Or as cheap. What's more, your best clients are likely to recommend your business to customers who are similar to themselves. So, you'll get more of the customers you want the most."
8. Don't be scared of advertising.
Pete Abilla, founder and CEO of findtutorsnearme.com, says moving forward with advertising was the best tip he implemented to grow his business. "At one point, I was afraid to advertise online, for fear of losing money. Then a friend showed me how to use advertising mediums such as AdWords and others. Then, I saw traffic coming to my site and revenue: traffic rose 42 percent and revenue tripled!"
9. Think big.
Alexia Bregman, CEO of Vuka Natural Energy Drinks, says don't be afraid to go for it.
"For several years we didn't feel we were in a place to hire a sales brokerage but at the beginning of 2015 contracted with the largest broker in the country, and literally doubled our business," Alexia says. "As small businesses, we're sometimes afraid of the big boys, and you certainly have to get everything lined up to handle the growth, but taking that big step was a big deal for our business. We're on track to triple sales this year."
10. Offer value for free.
Joleena Louis, Esq., of Joleena Louis Law, provides her expertise for others and says being a resource for people means growing profits.
"I've seen a dramatic increase in profits since I started offering free webinars, guides and tips through my blog and email list. I'm seen as a resource, so people keep returning to my site.
11. Renegotiate contracts with vendors.
Joe Riviello, owner and CEO of Zen Design Firm, says, "Renegotiate with your current vendors to receive better rates. This is especially true if you are a product-based business. If your vendors feel your business is valuable, they'll be willing to renegotiate a lower wholesale price in order to maintain your relationship."
12. Show up.
Tammy Cannon, owner of Cannon Online Marketing, says nothing replaces the face-to-face contact. "The number one way to rapidly grow your profits is to show up! Technology is an amazing tool that allows us to run the business we love, but it will never replace the value of showing up and meeting people face-to-face. My business doubled once I joined local business groups."
13. Empower your employees.
Alan Guinn, managing director of The Guinn Consultancy Group, Inc., says, "There is simply no better way to rapidly grow profits and improve the revenue of your business than to engage those with whom you work and empower them to act with the authority and stature of management and ownership."
"When empowered employees know and understand the reasoning that you believe in them, expect them to take the correct actions, understand that they are creating their own motivation for doing the right thing and they recognize that they are responsible for both taking ownership for their decisions and decision-making, your profits and revenue grow exponentially."
14. Develop your sales process.
Yoan Ante, CEO and founder of Power Cleanouts LLC, says everything has a process and sales is no different.
"Whether you are selling ice cream cones, power tools or home cleaning services, develop and know your sales process. If a customer reaches out to you and you're not closing the sale, find out why and make the necessary changes. Don't underestimate the power of a solid sales person or team."
15. Advertise on Facebook.
Bob Bentz, president of Purplegator, says Facebook advertising works.
"If you can only do one thing, do a very narrow cast of your advertisement to a highly-targeted Facebook audience. If your business is a lumber yard, for instance, you could find people within a 10-mile radius of your store who are 'currently remodeling their homes.' Facebook advertising remains a bargain."
16. Raise your rates.
Locksmith Teddy Poulos, owner of A-Access Lock & Key, says increasing your rates is key.
"All my years in business, my competitors would lower their prices, thinking they would get more work. They found themselves working harder and actually making less money. A lot of them are now out of business. So, if you have calls and seem to be a little too busy, raise your prices. Sure, you may lose a few price shoppers, but you will make up for it with better-paying customers and actually work less and make more."
17. Always follow up.
Dave and Bella Breth, owners of Apple Pie Business Consulting, say their tried-and-true tip is to follow up with all customers, current and potential.
"Our clients, as well as us, have experienced at least (on average) a 20 percent increase in sales by just following up. Many times, it's sending a handwritten note such as a 'just because' card, sometimes it is an email and other times a personal telephone call to inquire how their product is working for them.
18. Do a "process" audit and cut the waste.
Nicki Morris, business consultant and coach and president of the Neoteric Group, says her advice is to reduce costs and expenses.
"Conduct a process identification and improvement exercise to identify areas of 'waste' – identify tasks and processes in the business that do not add value to the customers or employees." She says you'll save money and improve profits by eliminating those unnecessary tasks.
Franchising your business
As a business owner, you've probably heard of franchising as a way to scale your business and make more money. It's a proven model that works. In fact, it works so well that you're probably familiar with popular franchises like Subway, Hampton Inn and 7-11. Hampton Inn alone has expanded to more than 2,000 hotels worldwide thanks to franchising.
On the flip side, you've probably also heard some horror stories of people losing all their money due to a failed attempt at franchising. While it's true that you run the risk of losing your money, that doesn't have to happen to you. In fact, if you do careful research and answer some important questions, you'll be able to determine whether or not franchising is the right move for you.
What kind of franchise works for your business?
According to the Small Business Administration (SBA) website, there are two forms of franchising. The first is product or trade name franchising. This means the owner owns the name or trademark and sells the right to license to the franchiseé, similar to what internet entrepreneur Danielle LaPorte has done with her Desire Map licensing program.
In LaPorte's case, she's selling what she calls a business in a box. It's a system she sells to workshop facilitators who want to use her Desire Map process. If people want to run their own workshops in the same manner, they can purchase the license to do so.
The second form of franchising is business format franchising. This means the franchiser and the franchisee have an ongoing relationship, and the franchisor provides site selection, training, product supply and marketing plans. They may also have to provide assistance with securing funds. This is the model we see with franchises like Subway or 7-11.
You have to decide which franchise your business qualifies under and then make a decision based on that. The SBA has a lot of resources that will help you get started.
Are you willing to put in the investment?
While franchising allows businesses to take advantage of many economic benefits that they may not be able to afford individually – such as market dollars, supply chain demand and buying power – a sizable investment is still required to franchise your business.
As the franchiser, you would have to invest in infrastructure, marketing, support and training the franchiseé. Granted, the franchiseé is responsible for running the actual business, but that doesn't mean you won't have to continue putting money into the franchise.
For some business owners the investment in both time and money is more than acceptable when expanding their business, but for others, it's a consideration worth looking into. If you're not careful, you can lose a lot of money when trying to franchise, so consider the financials very carefully.
Can your operations be duplicated?
The success of a franchise depends on whether the business operations can be easily duplicated. You'll notice that every Subway is run the exact same way. There isn't a single Subway on the planet that deviates from how the business make's it's money.
Many business owners considering franchising realize their businesses cannot be easily duplicated. Sometimes this is because the owner's personality is too connected to the overall brand, so much so that the brand cannot stand on its own. Other times it's because the business itself has not yet implemented systems to make it more scalable.
Are your profit margins large enough to attract franchises?
In order to attract individuals to open up a franchise and potentially invest a lot of their own money into the business, there needs to be a clear benefit to doing so.
The first question you'll be asked is whether or not your businesses is making a large profit. If franchisees are to invest, they want to make sure they will be getting a return.
The actual timeframe for a company to become profitable is nearly impossible to estimate because there are several factors that go into it; however, a good rule of thumb is that it takes about three years before a company starts bringing in enough money to cover expenses, pay the owner a salary and still have plenty of money left over.
How long have you been in business?
A big mistake that often times happens when people try to franchise is that they jump the gun too soon. Just because your young business is experiencing rapid success, doesn't mean you should franchise.
It takes time to work out the kinks of a business and keep it profitable. If your business is only a few months old, you don't have enough information to make an educated decision about franchising.
Plus, as we mentioned earlier, it could take up to three years for your business to be considered profitable and therefore worthy of a franchisee's attention.
Only you can make a decision
While these guidelines are meant to give you a rough idea of when you should franchise, you're the only one who really knows the answer. Just do yourself a favor and make sure to research as much as possible before jumping in. Also, make sure to consult with your accountant and your attorney so you can gather all of the information you need to make an educated decision. The last thing you want is begin the process of franchising only to realize you weren't ready for it.
Expanding to mobile
With the steady increase in technology in the past few years, more and more customers are turning to mobile solutions when it comes to consumer behavior. In fact, consumers spend 69 percent of their media time on smartphones, and 88 percent of users who search for a type of business will call or visit the business by the next day.
Mobile apps can help a consumer find your company's nearest location, compare prices, get coupons and vouchers, write reviews, and make a purchase. Mobile apps are one of the fastest growing markets and industries in the United States at the moment due to the fact that people have more access than ever to information while on the go.
Mobile apps have become the easiest platform for consumers to make information more easily accessible and also get it quicker. So, does your small business need a mobile app? And if you do decide to go the app route, how do you make one?
Why you need a mobile app
Although there are a variety of other channels you can use for conversion, sales and advertising, they may come at a much steeper price than creating a mobile app. For example, print advertising is expensive and doesn't deliver high returns so much so that most large businesses have made the switch to mobile platforms.
What's more: Mobile advertising rates are the second lowest among all advertising mediums, costing less than digital, print and broadcast channels.
So, because mobile apps have higher conversion rates than most other mediums and comes with cheaper advertising costs, it only makes sense for small businesses to create an app.
Besides being a less expensive method of engaging with your customers, mobile applications can also get your business noticed by a whole new demographic. Mobile apps are one of the fastest growing markets in the world, and more people are turning to their mobile devices to keep them connected. Creating a one puts you on the mobile map!
Because the number of mobile users increases dramatically each day, creating a mobile app and making your website have mobile capabilities makes it more likely for potential customers to find you while they are on the go.
Mobile applications also have the power to deliver your advertisements directly to your consumers. Apps have the ability to use social media integration, push notifications and frequent user incentives to get your business noticed.
How to create a mobile app
Before you start building your app, you have to make some key decisions. Are you going to outsource the app, and have it built for you? Or can you build it in-house? Or will you choose to use an app development service? And what is your budget?
Outsourcing your app
There are many app design companies that give you a variety of options when it comes to building an app for your business. Here are two great options:
Fueled not only builds custom mobile applications for businesses but it also works on branding, websites and web apps. Fueled creates apps for iPhone, iPad and Android. Plus, the company strives to build apps that are used every single day and bring in more business for its consumers.
Sourcebits creates custom mobile, cloud and web development services. It's considered a global leader in design and engineering and is known for its innovative style. Sourcebits has worked with Disney, GE, Coca-Cola and many more top companies.
App development
There are also plenty of services that allow you to manage and create your own mobile app. These tend to be much more standardized applications that run on templates, and some of them just sync your website to mobile, but there are still a lot of great options out there:
Using a platform like Bizness Apps to create your mobile app makes the process simple. Simply sign up, select the type of app you want, and then enter the information requested by the platform. It's that easy!
AppsInstitute is another platform that makes building your mobile app extremely easy, and it has various pricing plans to fit every budget. The build process is free comes with an easy-to-use drag and drop feature and also offers online chat support.
If you have the technological capabilities, building an app in-house would be preferential because then you can explicitly design the app to your exact specifications.
Business expansion can happen in a variety of ways. From offering additional products or services to franchising, you can grow your business how you like, whenever you're ready. No matter how you do so, you need to be sure you're prepared and not just jumping into it blindly. With this guide, you should be able to navigate your business expansion to success.